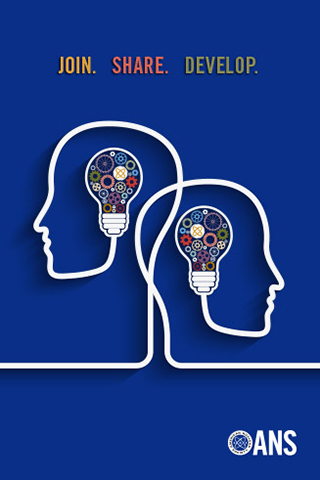 Join. Share. Develop.
The American Nuclear Society is a professional organization of engineers and scientists devoted to peaceful and beneficial applications of nuclear science and technology. Its more than 11,000 members come from diverse technical backgrounds covering the full range of engineering disciplines as well as the physical and biological sciences within the nuclear field. They are advancing the application of nuclear technologies to improve the lives of the world community through national and international enterprise within government, academia, research laboratories and private industry. These individuals represent a broad spectrum of organizations, from utilities and manufacturers to educational institutions, national laboratories and government agencies - approximately 900 members reside overseas in 60 countries.
The Society's main objective is to promote the advancement of engineering and science relating to the atomic nucleus. Other purposes are to integrate the many nuclear science and technology disciplines, encourage research, establish scholarships, disseminate information through publications and journals, inform the public about nuclear-related activities, hold meetings devoted to scientific and technical papers, and cooperate with government agencies, educational institutions, and other organizations having similar purposes.
All nuclear science and technology fields benefit from ANS's activities and programs. Individual ANS members can take advantage of numerous opportunities to achieve personal career objectives and professional growth; they can also influence the Society's activities and attitudes, and ultimately, public opinion. ANS serves as an advocate for individuals and organizations having a stake in nuclear science and technology. Our Washington, D.C. office acts as a technical resource to senior policy and decision makers. ANS produces position papers on the nuclear science and technology issues of our times, publishing these in print and on our website. As a member, you can directly influence the future of nuclear through ANS standards development, public information efforts, paper presentations, meeting organization and attendance, and committee and steering group participation. ANS membership provides opportunities for professional expression and recognition and gives you the chance to mix with all levels of the nuclear community through the ANS national organization and numerous U.S. and international local sections and student sections.
Knowledge – to gain a professional edge
With a large assemblage of experts within its membership, ANS leads in the development and dissemination of the latest developments in nuclear science and technology that promote its safe, efficient and effective application.
Articles, papers and books (Journals, Nuclear News, Proceedings, Transactions, Monographs)
Conferences, workshops and webinars
The development of Standards
Division membership (two included free with ANS membership)
Online and in-person networking
Learn new technologies. Sharpen your skills. Advance your career.
Credible voice in support of nuclear
It is the goal of ANS to increase awareness of the safe, effective and efficient applications and contributions of nuclear science and technology and to establish itself as a credible and trustworthy source of information on nuclear science and technology.
The general public
Regulators and legislators
The Center for Nuclear Science and Technology Information
Congressional Seminar Series
Teacher workshops
Position Papers
ANS has created numerous materials to assist members in making a difference by helping to share the nuclear story with the world.
NEW in 2018: ANS Engage. This tool connects you with your elected officials, enabling you to join other ANS members in advocating for the nuclear policy issues most important to you. You will receive periodic emails informing you of impending legislative and/or regulatory action on major nuclear issues. You can opt out from these emails at any time.
Networking and collaborating – for professional fulfillment
Connect with colleagues, peers, leaders in your field, mentors and old friends. Benefit from collaboration, exchanging insights and exploring possibilities.
ANS Collaborate – virtual networking site exclusively for ANS members
ANS Mentor Match where those fresh in their careers are able to connect with seasoned professionals through an online database and discussion groups
Conferences, workshops and meetings
Online discussion forums such as Facebook and LinkedIn
The Nuclear Cafe – the ANS blog for all things nuclear
Volunteering and participation in divisions, local sections and a wide variety of committees
Members only community at ans.org
Included in Membership:
ANS Collaborate- provides the tools for you to virtually exchange information, connect with peers, ask questions, and share knowledge and resources with nuclear professionals around the world.
ANS Mentor Match, utilizes an online database which provide Mentoring Discussion Group with information archives to help members find, connect, and share insight with other members.
ANS Policy Wire- Stay current on federal legislative and regulatory developments impacting nuclear science and technology.
Membership in two specialty divisions of your choice, providing information and networking opportunities in your areas of professional interest.
Nuclear News magazine, providing you every month with the latest worldwide developments in the nuclear field, plus exclusive interviews with the movers and shakers shaping the profession. The renowned Nuclear News Buyer's Guide is also published and distributed to members annually.
ANS News, reporting bi-monthly on the activities of the Society, including public outreach, position statements and honors and awards, plus providing news about members.
Nuclear Headlines, links to nuclear-related news coverage and is updated every 15 minutes from 25,000 global sources.
Access to the newly redesigned online Member Center with its exclusive content for members, including the ANS member directory.
Access to the Career Center in the Member Center of the ANS Web site, where open positions are posted and you can store your résumés.
Representation with regulators and legislators on behalf of the nuclear community.
Substantial savings over the non-member registration fee at ANS meetings (the difference could pay for your membership).
Discounts on the Society's Standards, Radwaste Solutions magazine, books, and other publications.
NEW in 2018: free searchable online access to current and archived issues of the Society's three highly regarded technical journals, Nuclear Science and Engineering, Nuclear Technology, and Fusion Science and Technology.
NEW in 2018: free electronic subscription to ANS Nuclear Standards News.