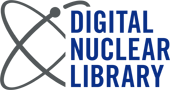 ANS Digital Nuclear Library
Welcome to the American Nuclear Society Digital Nuclear Library! This central repository contains all the digital content of the ANS Journals and other materials from Scientific Publications. The central location allows for easy navigation and efficient searching for current and archived research and abstracts, including:
35,000 Archived Articles: Select a specific journal or relevant key words to search from hundreds of issues and thousands of articles. All journals are indexed in Web of Science, Engineering Village, Google Scholar, and CLOCKSS, and the articles contained within are searchable by DOI.
Publication Catalog: Access a digital version of our publication catalog, which includes a comprehensive list of ANS publication, all hyperlinked to their location in our store.
Search the Digital Nuclear Library
ANS Journals
Access articles published in the most current issues of the ANS Journals:
ANS E-Books
ANS Magazines
Both print and/or digital subscriptions are available. Your print subscription INCLUDES online access for an unlimited IP Range of desktop users at your company, laboratory, or academic institution. Archived issues are fully searchable by title, topic, or author.

Published since 1959, Nuclear News is recognized worldwide as the flagship publication serving this important segment of the power industry. This monthly magazine reports on the latest developments in the nuclear field, a large part of which concerns nuclear energy–in particular, the 543 power reactors that are in operation or forthcoming throughout 36 countries. News reports cover plant operations, maintenance, security, international developments, waste management, fuel, and industry.
All past issues from 2008 to present are archived online. These issues are fully searchable by title, topic, or author.

Radwaste Solutions is a specialty magazine providing dedicated coverage of the waste management, decommissioning, and environmental remediation segments of the nuclear industry. Articles discuss the generation, handling, treatment, cleanup, transportation, storage, and disposal of radioactive waste.
The archive contains all 126 past issues, from 1994-present, and is fully searchable by title, topic or author.
Last modified March 29, 2018, 9:01am CDT