Join the ANS Social Media Team!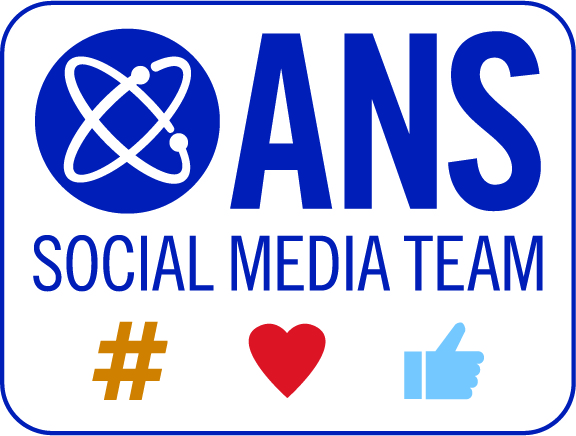 Love social media? Are you a Twitter, Facebook, Instagram or LinkedIn user? Then join our Team!
The ANS Social Media Team started in October 2016 as part of the Society's public outreach efforts. The purpose of the Team is to network and share pronuclear messaging via the ever-growing, and ever-changing, platform of social media. The members are made up of ANS national members. To become part of the Team we ask that you have at least one active social media account, such as Twitter, Facebook or Instagram.
And it's not a very time-consuming group to participate in. Simply agree to the following:
Be an ANS national member.
Follow ANS social media Twitter, Facebook, Instagram, LinkedIn, and LinkedIn discussion page.
Share, like, and retweet out as many of the Society's postings that you see.
Use the #ANSMeeting hashtag for any and all ANS meetings that you attend or write about on social media.
Share/retweet Team member Twitter and Facebook posts.
Write a minimum of one story per year for the Society's blog, the ANS Nuclear Cafe. (You are always welcome to write more.)
Wear your ANS Social Media Team pin at all ANS meetings and events.
Participate (when you can) on the few telephone calls we have during the year.
Join the Team (when possible) at the ANS national meetings.
Plan to participate and share ideas at the ANS Social Media Team and ANS Speakers Bureau joint session at the national meetings.
Recruit new members for the Team. Talk to friends, colleagues and other society members about the Team. Help to grow the network.
The Team is made up of many talented and creative people, like you. Aside from traditional social media, we have other platforms that our Teammates use as vehicles to have their collective voices heard. RadioNuclear.org is the podcast that ANS sponsors and is hosted by Teammate Doug Hardtmayer. We also offer livestreaming opportunities run by LASC, a subcommittee of Professional Development Coordination Committee. Bring your ideas to our conversations, or email Linda Zec, the Online Communications Specialist, with your ideas to grow the Team as well as options to expand our networking capabilities.
Interested? For more information about the ANS Social Media Team, contact Linda by phone 708-579-8240, email, or cell 708-522-6378.
If you are unable to join the Team for any reason, we still do ask that when you are tweeting your nuclear-related messaging to consider using the following hashtags: