ANS Livestreaming Program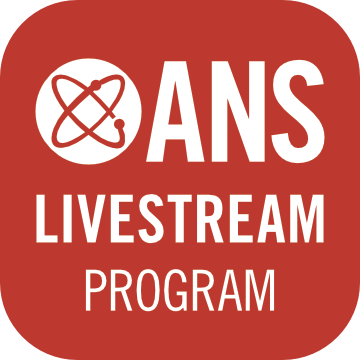 The American Nuclear Society (ANS) is excited to invite ANS national members the opportunity to participate in the newly-established ANS Livestreaming Program! The ANS has established this program to allow ANS national members the opportunity to share local and regional nuclear events with the larger ANS community. This way, all ANS members have the opportunity to see some of the amazing speakers and presentations happening all over the country and virtually attend.
ANS members are encouraged to apply to livestream Local Section, Student Section, Employer, Partner, and other events, speakers, and presentations that they find interesting and that they believe will also interest the majority of ANS members. A committee made up of volunteer leadership from ANS national committees and staff from the ANS communications department will review applications on a monthly basis and provide instructions and assistance to the applicant once approved to livestream.
Livestreams will be broadcast on the ANS Facebook Page and applicants are required to have a smartphone with an active Facebook account and access to wifi at the event or strong cell phone service. Applicants are also encouraged to have a phone tripod and/or microphone, for which minor financial assistance, after justification, is potentially available from the ANS Young Members group (see application).
National members can submit an application or contact Brett Rampal, Chair of the Livestreaming Acceptance and Selection Committee (LASC), or Linda Zec at ANS HQ, for further questions.
Applications are due by the 21st of each month for events taking place in the subsequent month, with applicants being notified before the first of the month of their acceptance and required next steps.
Upon approval, the applicant will be furnished with instructions and tutorials as well as forms that must be completed (speaker releases, etc.) before being giving final access and permission to livestream.
Thanks again for your interest and please apply today!