"There is no Democracy in the United States"
"They built cancer factories on earthquake faults"
"A long-term low dose of radiation may be worse than a high short one"
- Anna Gyorgy, author of the book No Nukes, at University of Massachusetts DuBois Library Exhibit reception, October 2, 2012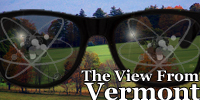 Each year, the University of Massachusetts' Dubois Library stages a program and exhibit on an aspect of social change. This year, the subject was the rise of the anti-nuclear movement, titled To the Village Square: An Experiment in American Democracy.
As noted in the introduction to this event, the anti-nuclear movement is "thick" in the New England region, and the presentations at the event explained how this came about. The exhibits and documents of the movement's founding will be archived at the library.
The venue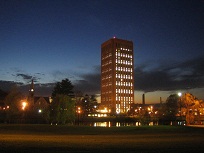 The program took place in a reception area in the lower level of the multi-story Dubois Library tower. This reception area is open to an adjacent study area, where students were busy at computers. Chairs and refreshments were set up, along with enlarged photos on easels, photos in display cases, and a monitor with a slide show of pictures.
About 40 people were in attendance, including two or three students and faculty. The audience largely consisted of older adults; several were recognizable from Vermont Yankee public meetings.
Right away, I met Professor Gerald Peterson of the UMass Amherst Physics faculty, whom I got to know at a Selectboard meeting in Brattleboro, Vermont, where I had been commissioned to present a program on nuclear power. Also attending was Gregory Bangs, a chemical-nuclear engineering student from UMass Lowell. We met at a previous ANS Northeastern Section Meeting. He and other students expressed an interest in public outreach, and I encouraged them to attend this event.
At 4:40 p.m., the program began with an introduction of the speakers. This was followed by the two speakers, questions and answers, and refreshments.
The documentarian and publicist
First to speak was Lionel Delevingne, a French photojournalist. He came to this country in 1968 "to be a part of something." He attended the Vietnam War protests in Washington, DC in 1972, and wound up in Montague, Mass. (about 20 miles south of Vermont Yankee.)
Delevingne read Rachel Carson's and Barry Commoner's books, and commented on Commoner's death two days before. "They provided a way to look at the environment as a whole," Delevingue said.
In the Vietnam era, photo magazines were a principal news media. Delevingne documented the actions of the movement and sold the stories and photos to these outlets.  Movement actions included Sam Lovejoy's toppling of the meteorological tower at the proposed nuclear power plant site on Montague Plains in Massachusetts-eventually, area farmers helped stop the plant from being built. He then covered the activists who went to Seabrook, N.H., to inspire the opposition to those plants. Delevingne believes that the anti-nuclear movement went from Montague to the world.
France is not a democracy, he feels, and nuclear power there is a state industry. Accidents are covered up, he said.
The founder
Anna Gyorgy spoke next, her first public address in English in 25 years. She now lives in Bonn, Germany, a center for many United Nations agencies working on sustainable development. She is active on many issues, such as global North-South equity and women's rights.
She was in Montague, working in a co-op, when the new nuclear power plant was proposed. She recounted that power company officials took the town's Selectmen out to a steak dinner at Howard Johnson's restaurant, and spoke of tax revenues for the town. She had read Poisoned Power: The case against nuclear power plants by John Gofman (published in 1971) and became active, gathering supporters. After writing pamphlets, she and the supporters decided to write a book, and 52 activists worked on it. Each had something different to contribute to the book, No Nukes: Everyone's Guide to Nuclear Power, published in 1979.
The activists agreed that the movement must be peaceful. They also decided that they needed to offer an alternative to nuclear power, and so began promoting conservation, efficiency, and alternative energies. Einstein's direction to "Take the movement to the village square" guided them.
Gyorgy made a series of statements that indicate her beliefs:
Germany shut down eight old nuclear plants, yet exported power the first winter. Talk of impending shortages was "all lies."

In Germany the anti-nuclear movement is inter-generational, now into the third generation.

Local movements around nuclear plants, like the one against Vermont Yankee, are the backbone of the movement.

It's not enough to have facts and people alone. A strategic discussion in needed.

President Obama's "All of the above" energy policy is a disaster.

All different movements should join together-she is excited by the Occupy Movement and came home to see it.

Public education is fine, but the education she received while working on the 1984 presidential campaign for Jesse Jackson was irreplaceable.

Delevingne's pictures caught and spread the spirit of the movement.
Gyorgy displayed a copy of a bar chart of a Gallup Poll, showing the low confidence in Congress. "Democracy has to be won and fought for over and over again. The future depends on it," she said.
Questions and answers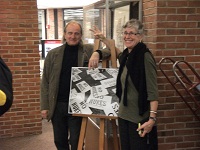 Together Delevingne and Gyorgy took questions:
Can the internet overcome corporate media?
-  Perhaps not. For example, Wikipedia deleted all its information about Lionel (Delevingne) because it was pre-digital. Alternative energies and localization must be our way.
Can climate change be solved with nuclear power?
-  No. Nuclear power makes CO2 in its mining and life-cycle processes.
What are the effects of the Three Mile Island and Fukushima accidents?
-  They are well documented. People don't drop dead right away. There are future health effects. Chernobyl is "20 years of cancer in the making." The movie "Chernobyl Heart" is great. There is a synergism between radiation, air, and food contamination. The soil around Chernobyl is contaminated, but the food grown there is sold in the common market.
What do you think of the Patriot Act? Has it made energy a state secret?
-  The reaction to 9-11 seemed like a coup. These are dangerous times. The US is creating problems and exporting them.
Have you given up on the US? What do you think of Churchill's "Democracy is the worst form of government except all others?"
-  We don't have democracy here.
Additional discussion after the Q&A
When talking to Gyorgy and asking about a plan to transition to a fully renewable economy while still maintaining an economy, she said it has been done by a researcher at SAIC.
Doug Black, from the Walama Restoration Project in Eugene, Oregon, said that he believes in localization, as they are doing it in Eugene. He noted that we are "all in the same boat." When asked if jet airline travel and ocean liners would exist in a localized economy, he said perhaps we could go back to sailing ships! And he added that no one has all the answers.
Prof. Peterson reported to me that the UMass Amherst Physics Department hosted a conference: "Climate Change and the Future of Nuclear Power." It was reported that the relationship between CO2 and earth's temperature has been found to be logarithmic, such that a large increase in CO2 is needed to affect a small temperature rise...
Opinion
Some nuclear opponents are *very* afraid of radiation-this is the underpinning of all their actions. And the basis of their fear seems clear. It comes from John Gofman's work and books-Poisoned Power (1971, 1979) and Radiation and Human Health (1981)-based on the idea that *any* amount of radiation is harmful. Gofman is of course quoted in "No Nukes."
It seems that we nuclear energy advocates won't make the progress we want, until we directly confront and abolish this issue.
Right now, the dialog on the issue is stuck on: "Any amount of radiation is harmful" vs "Radiation is natural and low levels are safe."
I am thinking about developing a one-page "elevator speech" addressing these points:
1. What did Gofman say, and why is it wrong based on current knowledge? What does the evidence say?
2. Based on the limited facts available at the time, was he "right" then?
3. If he was not right at that time, where did he go wrong?
4. Gofman's views generated a lot of opposition. Was he seeking perfection, not considering risk vs. benefit?
Dr. Gofman died in 2007 and maintained his beliefs to the end.
___________________________
Howard Shaffer has been an ANS member for 35 years. He has contributed to ASME and ANS Standards committees, ANS committees, national meeting staffs, and his local section, and was the 2001 ANS Congressional Fellow. He is a current member of the ANS Public Information Committee and consults in nuclear public outreach.
He is coordinator for the Vermont Pilot Project. Shaffer holds a BSEE from Duke University and an MSNE from MIT. He is a regular contributor to the ANS Nuclear Cafe.