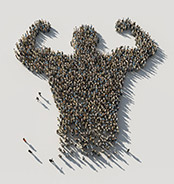 We have restructured and expanded the former Patron and Benefactor program and placed it under a new umbrella, the ANS Champions Program. This enhanced program:
Adds a new giving level of Advocate with a contribution of $100. Patrons at $500 and Benefactors at $250 remain unchanged.
Separates the dues component from the contribution for clarification in tax reporting*:

ANS dues are considered a business expense with limitations in deductibility
Contributions to ANS as a 501(c)(3) non-profit organization are fully deductible

Simplifies participation in corporate matching gift programs because the amount of the contribution is clearly presented.
Become an ANS Champion! There are four ways to contribute:
Select Patron, Benefactor or Advocate when you renew your ANS membership
Complete and submit the online form
Print out, complete and mail the form
Call ANS Customer Service at 800-323-3044
As a token of our appreciation, ANS Champions will receive:
Support Level
Patron
$500 +
Benefactor
$250 – $499
Advocate
$100 – $249
Recognition in the Champions Honor Roll
Lapel Pin (First Time Donors)**
Trunk Organizer/Cooler **
Convertible Cooler/Duffel Bag **
Lunch or Snack/Time Cooler **
** With ANS Logo
Demonstrate your pride in and support of your professional society and its mission to promote nuclear science and technology to benefit humanity.
*The American Nuclear Society is a 501(c)(3) non-profit organization. Therefore, contributions made to it are tax deductible. Consult your tax advisor for details.
Last modified October 19, 2017, 1:41pm CDT