Be an ANS Champion!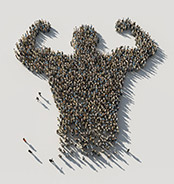 Show your support of your professional society and the future of nuclear by becoming an ANS Champion. Your contribution will help further ANS's mission to advance nuclear science and technology.
Becoming a Champion helps ANS:
Offer professional development opportunities.
Provide a forum for sharing information and advancements in technology.
Engage the public and policymakers through communication outreach.
Support student scholarships and award programs.
There are three levels of giving:
$500+
$250–$499
$100–$249
Patron
Benefactor
Advocate
There are four ways to become an ANS Champion:
Select Patron, Benefactor or Advocate when you renew your ANS membership
Complete and submit the online form
Print out, complete, and mail the PDF form
Call ANS Customer Service at 800-323-3044
The American Nuclear Society is a 501(c)(3) non-profit organization. Therefore, contributions made to it are tax deductible. Consult your tax advisor for details.
Last modified February 27, 2019, 9:42am CST