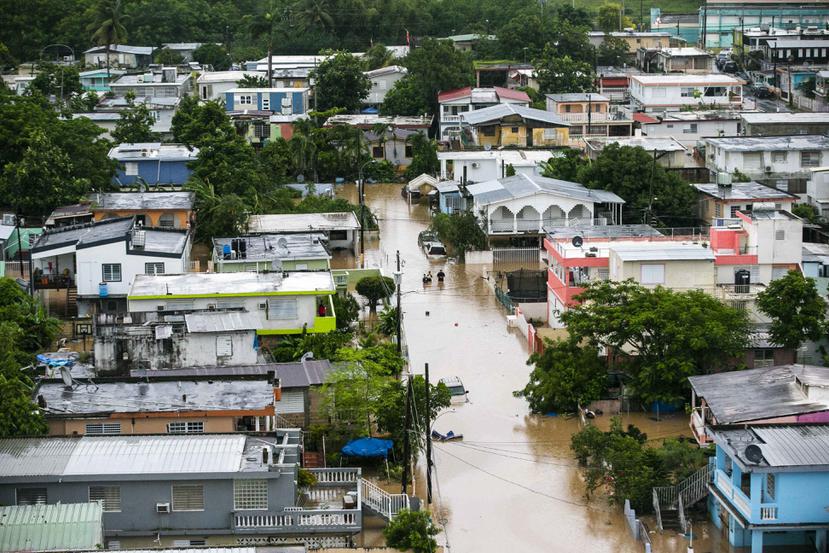 Hurricane Fiona slammed into Puerto Rico on September 18 with powerful winds and massive amounts of rain, resulting in mudslides, flooding, loss of power and water, wrecked homes and businesses, destroyed roads and bridges, and some deaths. Students from the American Nuclear Society student section at the University of Puerto Rico—Mayagüez (ANS UPRM) and other student groups have responded by distributing bottled water, nonperishable food items, cooked meals, first aid, personal hygiene items, flashlights with batteries, and other supplies, and by raising awareness of community needs and asking for monetary and food donations. In addition, ANS has established a fundraising drive for monetary donations to support students' efforts in assisting ANS UPRM members in Mayagüez. The donations are being used to meet a number of needs during this challenging time.
Effects of storm: When Fiona hit Puerto Rico, it was classified as a category 1 hurricane, with winds reaching 85 miles per hour. It was not as powerful as Hurricane Maria, the category 4 storm that whipped the island with 155-mile-per-hour winds in 2017. Nevertheless, Fiona poured 12 to 20 inches of rain on much of the island, with some areas receiving almost three feet of rain. The resulting flooding and mudslides put communities under water and necessitated the emergency rescue of many people by the Puerto Rican National Guard. According to the Puerto Rican Department of Health, officials confirmed at least 11 deaths as being linked to Fiona, including one directly related to the storm and 10 that were indirectly related. Much of the island's infrastructure, including its power grid, was severely affected.
Power restoration: According to a Reuters report on October 5, an estimated 101,000 homes and businesses remained without power. LUMA Energy, which operates the power grid, stated on October 6 that it had restored power to 1,417,952 people (97 percent of all customers). That represents a much faster pace of power recovery than that after the more powerful Maria, when it took 11 months to bring power back to all customers. At that time, the grid was being run by the Puerto Rico Electric Power Authority, which later declared bankruptcy.
ANS UPRM president Desiré Rivera Borges, who is leading the student section's disaster relief efforts along with section vice president Calleb Diaz, provided her own estimation of the current situation on October 6: "At the moment, power has been restored to over 90 percent of the north and east regions of the island, and close to 80 percent of the southwest area, where our campus and most of our students are located. While most power distribution issues have been addressed, power production remains an issue. Given that most of the island's power plants are located in the south and were in the path of the eye of the hurricane, they were damaged, and we experience daily power outages. The power and internet/signal situations have been unstable. We expect the power grid to remain unstable for the upcoming month. Some areas and students are still reporting lack of access to clean water, as well."

Other problems: Rivera Borges continued, "As the power and water situations stabilize, new problems are being identified. These include multiple blocked roads, areas that are not expected to receive reliable water and power for several more weeks, and a potential leptospirosis outbreak."
Student initiative: The ANS initiative to help with hurricane relief in Puerto Rico began with the students themselves. ANS UPRM immediately sprang into action after Fiona, and ANS student sections at other universities came together to help their peers in Puerto Rico. Katy Worrell, president of the ANS student section at the University of Tennessee–Knoxville, had the initial idea of starting the fundraising drive. Rivera Borges organized a conference call on September 27 to coordinate support efforts, including arranging logistical support from ANS. Subsequently, ANS set up an online donation page and prepared a pdf document on the fundraising drive to send out to ANS's local and student section lists.
Student activities: Rivera Borges noted ANS UPRM's efforts to raise funds for disaster relief for the student community "[have] been done in collaboration with the American Society of Mechanical Engineers UPRM, Institute of Electrical and Electronics Engineers UPRM, and Computer Alliance of Hispanic-Serving Institutions UPRM, as part of the UPRM Student Support Alliance." She said, "These donations are then used to purchase nonperishable food items, which are placed in grocery bags or boxes and handed out to students on campus. We are also collaborating with Come Colegial, a student group that specializes in distributing student aid. With them, we are able to provide warm meals for a cost of $4 per student." The cost per student for clean water is also $4, and for nonperishable food and hygiene and first aid it is $15.
Rivera Borges added, "We have been sponsoring these events by providing funding to cover the cost of the meals and volunteers to help spread the word and hand out donations. Solar-powered cell phone charging stations that were donated to the Student Support Alliance by local groups are also being set up around campus." In addition, lantern devices have been donated by local groups.
Although the current relief efforts are focused primarily on helping the students of ANS UPRM, she said, "As our members' needs are met, we hope to expand outreach efforts to other student groups within our campus."
Donations: Rivera Borges is expecting fundraising efforts to last for at least a month. "So far, we have raised a little under $500, and we would like to impact all 150 currently registered ANS UPRM members."
The online donation form asks for the name of the individual or group (anonymity is an option), the contribution amount, and payment information. Donations can be made in honor of another person. All donations are tax deductible, as allowed by law.
"We are basing our fundraising model off of the Come Colegial structure," Rivera Borges explained. "I was part of their board of directors for five years, when we distributed a total of more than $2 million in disaster relief aid after Hurricane Maria and earthquakes and during the COVID-19 pandemic. We'll be including more detailed information on the logistics of our current efforts in our final report at the end of the year. We hope that these efforts can help our students get through this rough patch and focus on their studies."