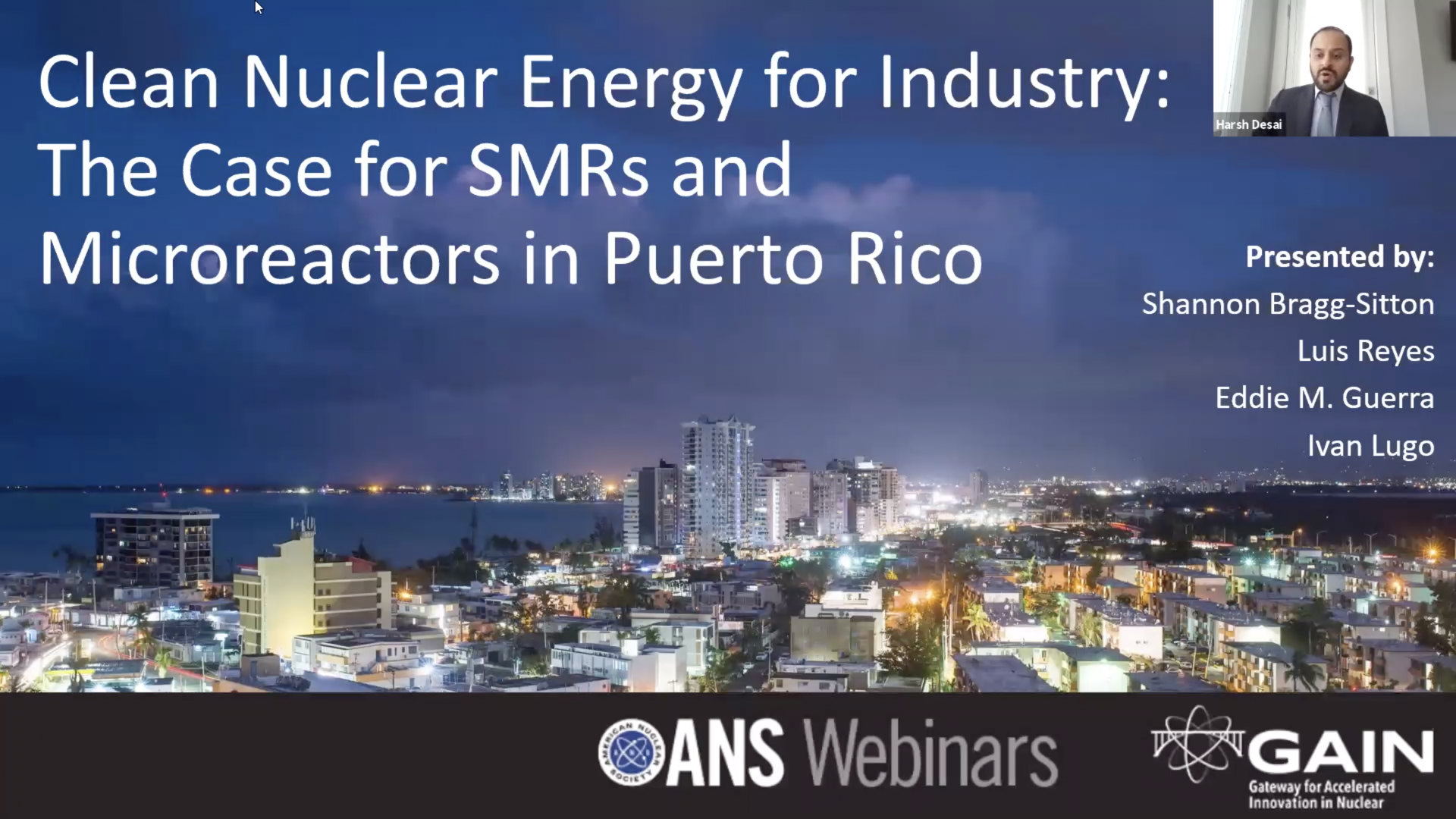 The ANS Young Members Group and the Gateway for Accelerated Innovation in Nuclear (GAIN) on June 18 presented a webinar on the rapidly developing prospects for advanced nuclear in Puerto Rico. Behind those bright prospects is the Nuclear Alternative Project (NAP), which led a Department of Energy–funded study on the feasibility of using small advanced reactors to meet the island's power needs.
The study concluded that Puerto Rico needs new baseload generation and that small modular reactors and microreactors would fit the island's territory's planned grid. NAP is close to submitting a proposal to the DOE about reactor siting, and potential collaborators are taking note.
An expert panel: The webinar, Clean Nuclear Energy for Industry: The Case for SMRs and Microreactors in Puerto Rico, brought together the voices of NAP, a non profit organization of Puerto Rican engineers in the nuclear industry founded in 2015; the DOE; and Puerto Rican industry. Harsh Desai, of the Nuclear Energy Institute and past chair of the ANS Young Members Group, moderated the discussion.
It's real: Shannon Bragg-Sitton, the lead for Integrated Energy Systems at Idaho National Laboratory, represented GAIN and the DOE as she talked about using energy effectively and efficiently when there is no one-size-fits-all solution. Puerto Rico is currently dependent on imported liquified natural gas for much of its energy needs—needs that nuclear may be able to meet. Bragg-Sitton discussed the DOE's stepwise approach to integrating alternative uses for nuclear power—such as heat storage and hydrogen production—at existing light-water nuclear plants while preparing for similar applications of future advanced reactors. These plans are real, she said. "These demonstrations are on the way."
Unique opportunity: Luis Reyes, chair of the technical advisory board for NAP and former executive director of operations for the Nuclear Regulatory Commission, talked about Puerto Rico's rich history of nuclear research and education, which is being revived with the help of NAP. Nuclear is a "key enabler for pharmaceuticals and other manufacturing to improve the lives of the community," Reyes said. "I think it's a unique opportunity that needs to be seriously considered."
Energy to prosper: Eddie Guerra, senior engineer at Arup Energy Group and cofounder of NAP, said that Puerto Rico needs an energy mix that will allow it not only to survive, but to prosper and grow. Guerra described the result of interviews of more than 3,000 Puerto Ricans, who, somewhat to his surprise, overwhelmingly support NAP's work. "We found that 94 percent of them responded on a positive note that they are open to study the option of nuclear power," Guerra said.
Even before Hurricane Maria hobbled Puerto Rico's electricity grid in September 2017, Puerto Ricans have been facing high energy costs. Ratepayers are at the mercy of imported fuel, Guerra explained. Investing in nuclear energy would drastically reduce the portion of energy costs invested in fuel. "Most of the investment would stay in the island,paying good jobs for people to operate the plants," he said.
Stability for industry:Ivan Lugo, executive director of Puerto Rico's Industry University Research Center , spoke about the power needs of the island's substantial pharmaceutical and medical device industry. Manufacturing centers have been forced to install backup generating capacity and are seeking reliable power from the grid instead. "I believe that we have a great opportunity in our hands," he said. "We are at a changing time."
Watch the webinar here.