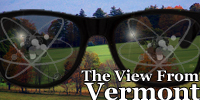 A few days ago, the Connecticut Section of the American Nuclear Society invited Howard Shaffer and me to give a talk on "Pro-Nuclear Activism." Well, it is true, we have been very actively pro-nuclear in Vermont. So, armed with our recent experiences, our presentation was an effort to convey "lessons-learned," or perhaps "best-practices" of pro-nuclear activism.
It was our story of what works for nuclear advocacy. And, a lot of "what works" can be summarized in three words: Just Show Up!
(Speaking of which, may I also recommend readers peruse "The future of nuclear at #MOXchat" posted yesterday at ANS Nuclear Cafe-exemplifying much of what we are talking about here.)
Hearings and public meetings
When we think about nuclear advocacy, we think about hearings, public meetings, and pro-nuclear rallies. These events are essential for "showing up" for nuclear power.
If there is a hearing:
Be there
Be with a friend
Be visible
Being there is what makes all else possible.
Bring a friend so you aren't alone. At the MOX meeting in Tennessee, ANS had arranged for a coffee room (with cookies!). In this room, nuclear advocates could chat, eat (until the cookies ran out), and decompress from the hearing. This was a brilliant idea and made the hearing much more fun for the people who attended.
Be visible (e.g., wear a pro-nuclear shirt or button) so you can identify your friends, and reporters can also identify you as pro-nuclear.
May I add, socializing and having fun are important. Pro-nuclear people can sometimes encounter a "brownie-deficit." Pro-nuclear people need to get together, even if ostensibly it's to have brownies and coffee. We need to schmooze and plan our activities: letter-writing, hearing attendance, sign-making, and so forth. Nuclear opponents munch brownies and have potlucks, and thus they WANT to show up for another meeting. We need to do the same.
Other ways to be there
However, if our only chance to support nuclear energy is when we can attend a hearing or rally, opportunities for pro-nuclear activism would be few and far between. It is important to be publicly pro-nuclear-frequently! As Howard Shaffer says: We will always need pronuclear outreach. We emphasized this at the Connecticut Section ANS meeting, and you can see our viewgraphs here.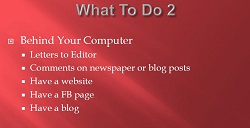 There are many things you can do from the relative safety of your computer to support nuclear on a constant basis. You can write letters to the editor. You can write on the web-print newspapers have websites, and if you see an anti-nuclear article, you can usually go to the website and comment on it. If you see a pro-nuclear article, you can do the same, showing that you agree with the article.
Easy does it
Supporting pro-nuclear is not all or nothing. Many of us are scientists and engineers, and sometimes we think we have to do a whole research project before we can write anything. But we can just share a pro-nuclear opinion, too. Your opinion counts!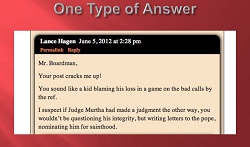 For example, we included two viewgraph examples of pro-nuclear comments to web articles. Both of the web articles were on Vermont Digger, an online local news organization. When Judge Murtha ruled for the Vermont Yankee nuclear power plant in federal court in January this year, one online commenter suggested that Murtha was inappropriately pre-disposed to Vermont Yankee. Lance Hagan responded: "I suspect if Judge Murtha had made a judgement the other way, you wouldn't be questioning his integrity, but writing letters to the pope, nominating him for sainthood."
That's a pro-nuclear comment that didn't take a lot of work to research. But it's an opinion, and a voice that is heard. And it certainly counts as a public pro-nuclear statement.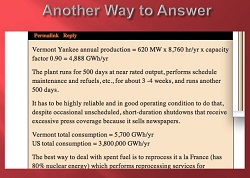 The second comment explains why it is impossible to replace Vermont Yankee with renewables. It is written by Willem Post, a member of the Coalition for Energy Solutions with me and Howard.  (Willem Post blogs at the Energy Collective.) He wrote a fact-filled, excellent comment. In fact, it's the gold standard for comments. <click image to enlarge>
I am giving these examples to show that you can answer with an opinion, or answer with well-researched information. But the important thing is... to answer!
For further reference, check this string of pro-nuclear comments on a Vermont Digger article about a Vermont Yankee protest.
Make it real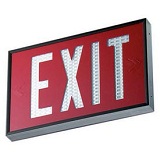 Unfortunately, our slides don't show Howard Shaffer's great use of props to make things real. Often, this can make all the difference. Howard bought a tritium self-illuminated exit sign, and he takes it to meetings. It contains more tritium than was spilled in a pipe system leak at Vermont Yankee-yet, it can be ordered through the mail! Howard points out that hazardous materials cannot be sent through the U.S. mail.
Howard also carries a fire-starter for a gas grill. Any ordinary gas grill serves as an example of a controlled chain reaction. A small spark starts a fire, and the size of the fire is controlled by the fuel one gives it. Thus, we are surrounded by controlled chain reactions...in our cars, furnaces, and gas grills. Howard gives a terrific presentation, because he makes it real.
Our Connecticut meeting had a good mixture of students and old-timers. There are all sorts of people in nuclear energy. Similarly, there are many ways for people to be pro-nuclear activists. Choose something to do, and start today!  And then, invite a pro-nuclear friend over and have some cookies together.
_________________________________
We want to thank the Connecticut ANS Section for their hospitality, and for everything they did to make the meeting a success. Special thanks to Uli Decher and Shawn Downey for all the work they did before the meeting, and for mounting the presentation on their website so quickly.
Photos from the Connecticut Local Section meeting.
Steve Skutnik's eyewitness account of the Chattanooga meeting.
____________________________________
Meredith Angwin is the founder of Carnot Communications, which helps firms to communicate technical matters. She specialized in mineral chemistry as a graduate student at the University of Chicago. Later, she became a project manager in the geothermal group at the Electric Power Research Institute (EPRI). Then she moved to nuclear energy, becoming a project manager in the EPRI nuclear division. She is an inventor on several patents.Angwin serves as a commissioner in the Hartford Energy Commission, Hartford, Vt.  Angwin is a long-time member of the American Nuclear Society and coordinator of the Energy Education Project. She is a frequent contributor to the ANS Nuclear Cafe.