The American Nuclear Society Special Committee on Fukushima will issue its full report on March 8 at the National Press Club in Washington, DC, at 10AM EST. The press conference will be available for viewing via this link.
The event will also be live tweeted at the ANS twitter feed (@ans_org).
The release of the ANS Special Committee on Fukushima report offers the opportunity to hear an independent, scientifically, and technically informed view on the accident by world-class experts in nuclear science and technology. The leadership of the American Nuclear Society, a scientific and technical organization of 11,600 nuclear professionals,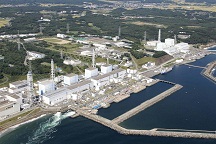 commissioned the Special Committee to provide a clear and concise explanation of what happened during the Fukushima Daiichi accident, and offer recommendations for the nuclear community, for citizens, and for policymakers based on lessons learned from their study of the event.
Special Committee members at the press conference will include:
Co-Chair Dale Klein, Ph.D., former chairman of the Nuclear Regulatory Commission

Co-Chair Michael L. Corradini, Ph.D., vice president/president-elect, American Nuclear Society, Wisconsin Distinguished Professor of nuclear engineering and engineering physics at the University of Wisconsin

Regulatory Issues Lead Jacopo Buongiorno, Ph.D., professor of nuclear engineering, Massachusetts Institute of Technology

Study Director Paul Dickman, Senior Policy Fellow with Argonne National Laboratory
Topics addressed in the press conference and in the report will include risk-informed regulation, hazards from extreme natural phenomena, multiple-unit site considerations, hardware design modifications, severe accident management guidelines, command and control during a reactor accident, emergency planning, health impacts, and societal risk comparison.
The full report will be available for download Thursday morning at the ANS Special Committee on Fukushima dedicated website.
In addition, ANS Special Committee on Fukushima members Professor Akira Tokuhiro and Professor Hisashi Ninokata will hold a press conference at 3:30 - 4:30 Japan Time on Friday, March 9, at the Foreign Correspondents Club in Tokyo, Japan, concerning the ANS Special Committee on Fukushima report release. More information is available at this link.
Visit this ANS Nuclear Cafe post for interviews with the Special Committee Co-Chairs Klein and Corradini concerning the release of the report.
ANS President Eric Loewen and Special Committee Co-Chairs Klein and Corradini discussed the goals of the report in interviews at the 2011 ANS Annual Meeting: