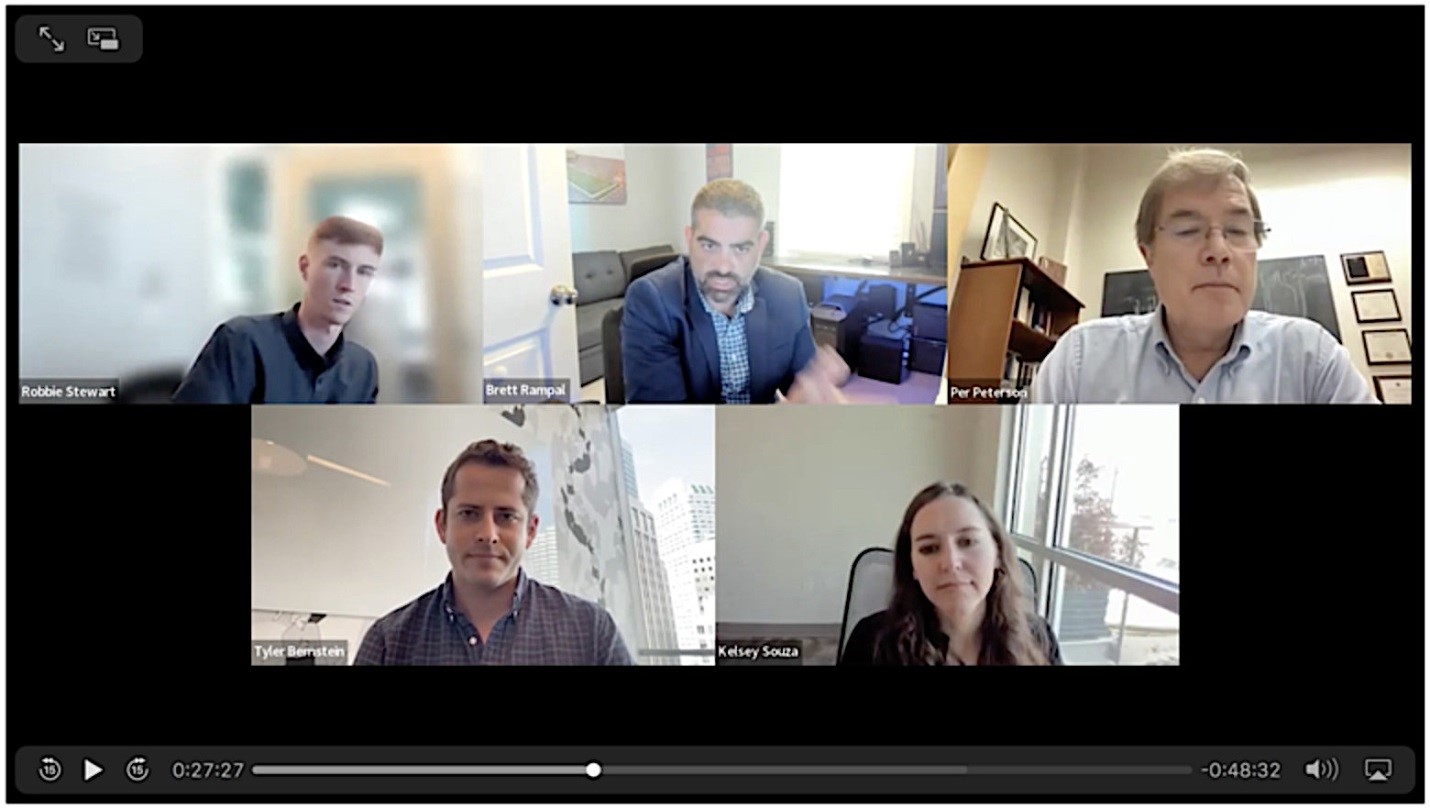 This year, Nuclear Science Week was October 17–21, and the ANS Young Members Group celebrated by hosting the virtual event "Nuclear Entrepreneurship" on October 18. Panelists were Per Peterson, cofounder and chief nuclear officer of Kairos Power; Robbie Stewart, cofounder of Boston Atomics; Kelsey Souza, chief operating officer of Ultra Safe Nuclear; and Tyler Bernstein, chief executive officer of Zeno Power. The event was moderated by Brett Rampal, director of nuclear and power strategy at Veriten and chief technical analyst at Segra Capital Management.
Opening remarks: Rampal began the webinar with the observation that "start-up companies developing next-generation technology concepts have become a growing part of the nuclear industry, as well as clean energy discussions. These ventures are developing new approaches and innovative technologies, as well as seeking more diverse applications for nuclear energy."
He continued, "These enterprises are increasingly attracting public and private attention and venture capital from some of the world's most well-known technologists, as well as billions of dollars in federal funding."
Kairos Power: After an introduction of the panelists by Rampal, Kairos's Per Peterson was the first to present. He described the mission of Kairos Power as "to enable the world's transition to clean energy, with the ultimate goal of dramatically improving people's quality of life while protecting the environment." To achieve this mission, Kairos is prioritizing its efforts on "clean energy technology that is affordable and safe."
Kairos was founded in 2016 as a "spinout from multi-university research programs," and it now has about 300 employees, 90 percent of whom are engineering staff. These days, it is "singularly focused," according to Peterson, on the commercialization of fluoride salt–cooled, high-temperature reactors (FHRs).
The company's business model has been informed by the success of Elon Musk's SpaceX, including the use of iterative hardware demonstrations and in-house manufacturing to achieve cost reduction and cost certainty. "The key thing is that the goal of the company is to achieve cost targets that are competitive with natural gas in the U.S. electricity market and, therefore, to achieve the goal of an affordable supply of electricity. And the schedule is driven by the goal for U.S. commercial demonstration by 2031, to enable rapid deployment in the 2030s."
Peterson explained the path that Kairos is taking to commercialization: "Currently, we're in the process of hot commissioning of an engineering test unit. This is a reactor-scale, nonnuclear prototype that is providing the basis to test components that will then be used in the Hermes reactor, which is a smaller, nonpower test reactor, leading to the demonstration of a full-scale reactor—nonnuclear—and then to the KP-X commercial power plants."
In discussing Kairos's T-Facility for production development, Peterson observed, "One can move rapidly [in technological development] . . . something that SpaceX has demonstrated, and also Kairos is doing the same thing."
Boston Atomics: Robbie Stewart described the work of Boston Atomics as "building the horizontal compact HTGR [high-temperature, gas-cooled reactor], a source of reliable, dispatchable, low-carbon heat and power."
Regarding his company's unique avenue of innovative research, he said, "I think it's helpful for all the nuclear start-ups, for us to think about what our problem statement is. How do we see the industry today, and what do we see as its biggest challenge, and how do we propose solving that challenge? . . . At Boston Atomics, we see cost and construction ability as the biggest challenges facing the industry."
The typical recent nuclear construction project in the United States and Europe, according to Stewart, has run 2.5 times over budget and has taken 2.5 times longer to complete than initially proposed. Thus, "the future of the nuclear industry really relies on well-executed, well-thought-through, highly constructible, highly modularizable structures."
Conventional large plants, he noted, average about 60 meters in height and 45 meters in span, making them "incredibly difficult to construct, very difficult to modularize." Boston Atomics' goal is to is to "take the traditional HTGR structure that is a vertical vessel and a vertical steam generator, and . . . integrate them in a single structure, a single vessel, and we orient the whole system horizontally. We call this the horizontal, integrated HTGR [known as MIGHTR]. Altogether, as a result, our reactor building is likely to be less than 12 meters in height and less than 15 meters in span." This design work results in substantially increased power density, compared with traditional HTGRs: "We can get three times more power out of the same volume," Steward said.
Ultra Safe: Kelsey Souza spoke to Ultra Safe's vision to "provide reliable zero-carbon energy on Earth and beyond that is safer, simpler, and more versatile than today's technologies," which leads directly into their mission to "develop, deploy, and vertically integrate nuclear energy solutions, inclusive of hardware, fuel, execution, and operational know-how, that are safe and commercially viable."
Ultra Safe is "using our nuclear technology for a whole variety of applications," said Souza, including the company's "flagship product"— the Micro Modular Reactor. Other projects are primarily space-based applications of thermal propulsion, electric propulsion, fission surface power, and mobile technologies.
Souza also talked about the growth of Ultra Safe, which has expanded substantially since its establishment in 2011. There are currently more than 260 employees worldwide. "We've really emphasized building the team and giving the best workforce in the locations that they are."
Zeno Power: Tyler Bernstein said that at Zeno Power, "we are commercializing radioisotope power systems for use in space, on the ground, and undersea. We started Zeno at Vanderbilt University in 2018, really focused on this issue of access to energy in austere places." Zeno is currently growing its team in Washington, D.C., and Seattle, and is "quickly moving forward to not just demonstrate our technology in the laboratory but truly deliver it to customers, both government and commercially, in the very near future."
Bernstein hoped that people interested in entrepreneurship would be inspired by the story of his company's founding. What began as a conversation between friends about the reliance of the aviation industry on oil and possibilities for decarbonizing the aviation and transportation sectors led to a meeting with a professor, who happened to be a former deputy assistant secretary in the Department of Energy. The professor connected Bernstein and his friend (Jonathan Segal, Zeno's chief operations officer) to Jake Matthews, a graduate student who was interested in radioisotope power systems for aircraft. "We all got together and really started to look into a deep dive of this technology that's been used to power flagship NASA missions, that's been used for remote sensors in the Arctic. [We realized that] there could be much broader applicability, potentially in aviation, but more broadly in places where energy is difficult." The team received funding from the National Science Foundation for customer discovery. That process led them to fully grasp the many opportunities stemming from their radioisotope power idea.
"Companies can come from a lot of places," he said. "You don't necessarily need a Ph.D. You don't need experience in the field. It certainly helps. But we started as two nonnuclear engineers that were curious and looking at problems, and we got to the point today where we're a company."
ANS events and recordings: A recording of this webinar is available on the ANS website. Other upcoming and recorded virtual events and meetings are also available online.