In the midst of the COVID-19 pandemic, U.S.-based experts from Dominion Engineering led European workers remotely in the execution of ultrasonic fuel cleaning.
Around the world in the mid-March time frame, conditions were changing rapidly due to the COVID-19 pandemic, as was everyone's understanding of it. For nuclear power plants, the pandemic meant dealing with new government regulations and restrictions that were put in place. "U.S.-based support of international clients was especially challenging," said Mike Little, president and principal officer of Reston, Va.–based Dominion Engineering Inc. (DEI). "With border closures going into effect, we were not only focusing on the health and safety of our workers abroad, but also making sure they would be able to return home. Providing remote subject matter expertise from the U.S. through our international service partners was critical to successful job execution during this time."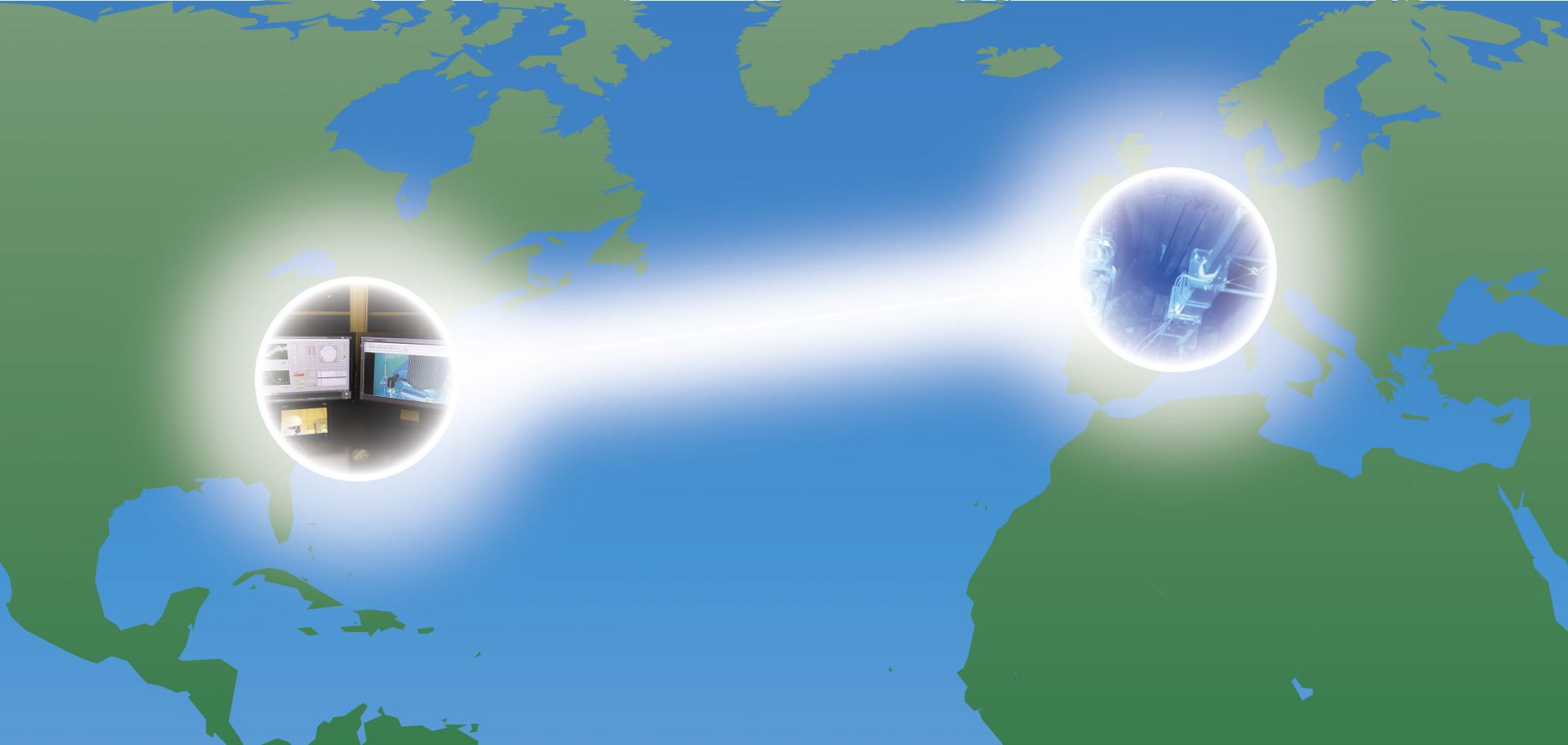 DEI has two prime focuses: engineering consulting and specialized equipment/field services, with work done primarily for the Electric Power Research Institute, U.S. and non-U.S. commercial nuclear utilities, and Department of Energy sites. The company's areas of expertise include materials degradation management, water chemistry, fuel reliability, cleaning and decontamination, radiation protection, filtration, and waste management.
The company provided on-site services for 20 nuclear plant refueling outages during the COVID-19 pandemic this spring, with five of them happening overseas. A main task for the company during these outages was the delivery of specialized ultrasonic cleaning, decontamination, and filtration equipment and services. Ultrasonic cleaning is an area of particular expertise for the company, and since the late 1990s, DEI has developed ultrasonic cleaning and filtration equipment for a range of nuclear plant components, including fuel, heat exchangers, piping, tanks, and vessels.
During one of the spring outages, a team of DEI experts was on-site at a nuclear plant in Europe to perform ultrasonic fuel cleaning. The process removes activated corrosion products (crud) and debris from irradiated fuel bundles during refueling activities and before the bundles are reinserted into the reactor core. The process is effective in mitigating crud-related performance issues such as crud-induced power shift, also known as axial offset anomaly, at pressurized water reactors. It is also effective in preventing and arresting debris-related fuel failures and improving radiological conditions at PWRs and boiling water reactors by effectively removing activated corrosion products and debris from the fuel and reactor system.
As outage activities progressed at this European plant, the rate of COVID-19 infections began increasing exponentially in Europe. As a result, the United States and European countries implemented border closures, at which point DEI made the decision to bring its team of experts back home. "It was a situation where the virus was clearly dictating to us what was going to be possible, and it was unclear whether continued in-person work by our technicians was going to be possible in Europe at that time," Little said. "We made the decision to bring our team back to the U.S. to avoid the possibility that they would be required to stay overseas for an indefinite period."
The challenge, then, was to take the in-person work and determine the best way to execute it remotely, from across the Atlantic Ocean. Working together with a European service partner that was on-site supporting the activity, DEI proposed a work-support arrangement in which networking tools and computer screen sharing would allow its subject matter experts, located in the United States, to guide the ultrasonic fuel cleaning process remotely, with on-site activities performed by European workers at the plant. "Having been applied more than 200 times in six countries, ultrasonic fuel cleaning is recognized as a safe and effective maintenance activity," Little said. "That said, it is not necessarily a routine activity, and initially the plant owner did have some reservations about the DEI team coordinating the activity remotely, especially given that this was a first-of-a-kind activity at this particular plant."
Ultimately, however, the fuel cleaning activity was deemed critical to safely restarting the plant. Given the uncertainty as to when the COVID-19 pandemic would allow the DEI team to return to the European site, it was agreed that remote support by U.S. subject matter experts was the best approach.
Despite initial concerns over performing such a specialized activity remotely, once the WiFi and networking infrastructure were put in place in the work location (in the fuel building near the spent fuel pool), coordination with the European workers on-site and the execution of the work was seamless. "We used a combination of screen sharing and augmented-reality glasses, which allowed our subject matter experts to guide the on-site operators, both when they were sitting at the equipment's control computer and also when more physical interaction with the equipment hardware was required," Little said. "It worked very well. So well, in fact, that we subsequently used this remote support arrangement in three additional outages during the spring outage season, two in the U.S. and one internationally. In all cases, we were successful in remotely guiding on-site operational teams from our headquarters office in Virginia. Having fewer staff members on-site reduced our outage service costs and made it easier for personnel to adhere to new physical distancing protocols being adopted at the plants."
As for many industries, the COVID-19 pandemic is forcing the nuclear industry to adapt and conduct activities differently. It is possible, however, that many of these changes will provide improved safety and economics in the future. "Certainly, for specialized outage activities, on-site support remains preferable," Little said. "Nevertheless, this example demonstrates that remote support is a viable way to reduce the number of workers required on-site during outages. In some cases, plant owners may not have installed WiFi or networking infrastructure in work locations had it not been for COVID-19, but once put it place, it could allow plants to reduce the cost of outage services and radiation exposure to workers by minimizing the number of experts and technicians that need to be physically on-site for future outage activities."
Little, who is in his 40s, has been in the nuclear industry for 20 years and finds himself near the center of the industry's relatively wide workforce demographic, which he sees as both a potential barrier and an opportunity for progress in regard to the integration of new technologies and approaches such as the example discussed above. "On one hand, you have seasoned professionals who are very familiar with, and experienced in, the work to be done, but who are generally less comfortable with the use of technology to improve workflow," Little said. "On the other hand, we have a growing number of younger nuclear industry professionals who are enthusiastic about the use of technology to improve nuclear plant safety and economics. Blending these demographics together provides great opportunities to teach, learn, and make progress in our industry."
As Little watched the spring outage season unfold, from February, when the pandemic wasn't a primary consideration for many countries, to May, when it was a major concern around the world, he made a number of observations. "It was interesting for me to watch the perspective of people change over that four-month period," he said. "The human mind tends to want to hold on to its current vision of how it wants things to play out, and it resists change as long as possible. Many people, including those in the nuclear industry, were generally in denial that the virus was going to change their planned projects or approaches, until the last possible moment when those changes became inevitable. It was interesting to watch that same pathos sequentially unfold in Asia, and then in Europe, and then in the United States. Once people were forced to change their approach, however, most realized that there were alternative and, in some cases, more efficient ways to get things accomplished."
One of the biggest generic lessons learned from the COVID-19 pandemic and from the events of 2020 generally, Little said, is to be prepared for anything, which is something that nuclear industry professionals have always done well. "Within the nuclear industry, we have always trained ourselves to consider unplanned scenarios and to have contingencies in place," he said. "I think that culture has really allowed the nuclear industry to navigate the COVID-19 pandemic effectively, and perhaps better than some other industries. Nevertheless, the current circumstances highlight that we need to be open to continuing to adopt new contingency measures that we may not have considered before, such as installing networking infrastructure in outage work locations to accommodate remote technical support, if needed, even if the 'Plan A' is to have all technicians and experts on-site to perform the services directly."