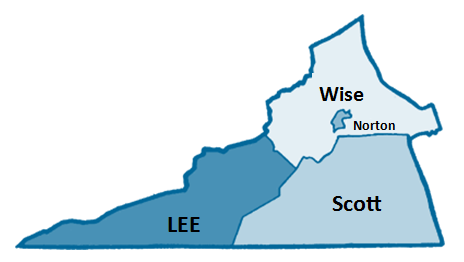 Seven sites in southwestern Virginia have been identified as "competitive hosting grounds" for small modular reactors by a feasibility study Dominion Engineering, Inc. (DEI) prepared for the LENOWISCO Planning District Commission. (The planning district, based in Duffield, Va., serves the counties of Lee, Wise, and Scott and the city of Norton.) At a May 22 press conference at LENOWISCO's offices, DEI chemical engineer and principal investigator Chuck Marks said the review represents the "very early stages of, does this region have what it takes to site one of these reactors, successfully deploy and successfully operate. And the answer is overwhelmingly yes," according to an article in the Cardinal News.
Study methods: The DEI study was prompted by Virginia Gov. Glenn Youngkin's October 2022 announcement that he wanted an SMR built on former coal mine land in the southwestern region of the state within 10 years. It was funded by the Virginia Department of Energy and GO Virginia Region One, a southwestern Virginia organization focused on economic and workforce development, and examined technical feasibility, safety considerations, economic viability, and preliminary sites over a period of three months. The review was "conducted using the Siting Tool for Advanced Nuclear Development (STAND) which aggregates data from multiple governmental sources and ranks the proposed sites with respect to socioeconomic, proximity, and safety suitability," according to the report.
Study findings: The southwest Virginia region would be perfect for SMRs because it has "inexpensive brownfield sites, mine water for cooling, existing right of way to transmissions infrastructure and existing rail infrastructure," as well as the human expertise needed for large civil construction projects, the study found.
The seven potential SMR sites are referred to in the study as the Bullit site, Mineral Gap, and the Virginia City Hybrid Energy Center, in Wise Co.; the Limestone site, in Scott Co.; the Lee County site; Project Intersection, in the city of Norton; and Red Onion, in Dickenson Co.
The study determined that these sites compare favorably with five sites currently being considered that are outside the far southwestern LENOWISCO region: Appalachian Electric Power's Fossil Clinch River site, in Carbo; the Tennessee Valley Authority's Clinch River nuclear site, near Oak Ridge National Laboratory, in Tennessee; TVA's Kingston Fossil plant, in Tennessee; Dominion Energy's North Anna nuclear plant, in Louisa Co., Va.; and the Natrium demonstration site, in Kemmerer, Wyo.
"Each of the LENOWISCO sites compare favorably to the comparison sites (i.e., the LENOWISCO sites are as good or better than the sites selected for future SMR projects)," the report states. DEI president Mike Little said at the press conference, "This particular community ranks as high or higher than almost any other project that's currently either under consideration or under construction toward putting one of these facilities in place."
Community engagement: Another aspect of the site review was community engagement. The LENOWISCO Planning District Commission sent questionnaires to local stakeholders and conducted interviews with representatives from the counties of Scott, Lee, Wise, and Dickenson, and the city of Norton.
All 10 questionnaire respondents said that "they believe energy policies should consider nuclear energy as one of many energy sources to provide electricity and that they prefer to be engaged and informed on presently published energy policies and legislation." They pointed to a number of topics that they believe should be included in future feasibility studies of SMRs, including water use and quality, on-site storage and management of waste, safety and risk management, community benefits, environmental justice, and public education.
The report notes that local government representatives "were eager to continue their involvement in future phases of this work" and that they expressed interest in the expected tax revenues from SMR siting as "a significant boon to their local community." They were also interested in the associated employment opportunities.
The representatives proposed multiple methods of public education regarding nuclear energy. These proposals included "youth education (e.g., sessions education in K-12 schools, boy and girl scout sessions), town hall meetings hosted by industry experts, and training for local leaders and politicians who would go on to interface with their constituents."
Continued evaluation: Duane Miller, LENOWISCO's executive director, noted that additional sites for potential SMR placement might be identified and considered among the 100,000 acres of abandoned mine land in the southwest Virginia region. Marks said that as many as six SMRs could be up and running in the region within 20 years.