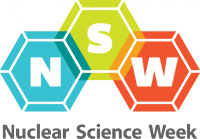 This week is National Nuclear Science Week - an exciting week of learning, teaching and interacting on all things nuclear-related.  (You can read about the history of National Nuclear Science Week, or NNSW, by following this link.)
Each year, this week sees a social media focus (and blitz) on nuclear technologies - technologies that without doubt make our lives better.  These technologies aren't just for generating electricity, either; they encompass a wide variety of disciplines that include metallurgical research, medicine, food preservation, satellite and space power and much more.  In fact, there are so many uses for nuclear technologies that it's hard to cover all of their basics (much less all of their benefits) adequately in just a week.
So, to kick off the 2018 NNSW we're providing some resources.  Perhaps you've only just learned that this week was "a thing"; if so, you've only to browse through the information linked below to get up to speed.
•Navigating Nuclear
The American Nuclear Society's Center for Nuclear Science and Technology Information has joined up with Discovery Education to provide a new resource called "Navigating Nuclear."  Right now, the project features lesson plans, STEM project starters and more for middle school age children; eventually it will expand to elementary and high school levels as well.  The site is a great way to introduce kids to the topics of radiation in our world and nuclear energy.  Radiopharmaceuticals are also covered in a STEM project starter - bringing the project's coverage into the world of modern medicine.  You can find Navigating Nuclear here.
•Nuclear Science Week
The official website for National Nuclear Science Week, sponsored by the National Museum of Nuclear Science and History, provides a rich assortment of materials for all school-age groups (elementary, middle and high school.)  Nuclear energy and related issues are well covered, as is radiation.  Basic atomic fundamentals are also a key area of coverage at this varied site; lesson plans are ready-made and available now.  The site's "Resources" tab also includes a large number of links out to other websites that can satisfy just about any curiosity ignited by the lesson plans and interactions therefrom.  You can find the NNSW Lesson Plans here.  Resources are here.
•US DOE
The US Department of Energy has six poster-style images that can be saved and used for classrooms or handouts on this page.  These are an excellent way to introduce students to the fascinating array of things nuclear technology does for us right now.  Even the Mars Curiosity Rover is shown, because it - the last operating rover - is powered by a radioisotopic battery.  Click here to see the images.
•Nuclear Medicine
Many people who enter the hospital find out that they need a "nuclear medicine" related procedure and become apprehensive when they realize that they have no idea what this really entails.  You can solve that whole problem at this one incredible page, which is sponsored by the Radiological Society of North America and the American College of Radiology.  At this site you'll read about both diagnostic nuclear medicine procedures (used to determine your condition) and therapeutic procedures (designed to treat conditions using radionuclides.)  All of the information is presented in a clear, matter-of-fact way so that anyone can understand and be comfortable with the nuclear medicine procedures.  It's also available in Spanish!  Click here for the RSNA / ACR page on Nuclear Medicine.
That's it for today.  We'll be presenting a different topic on nuclear technologies each of the four days this week during National Nuclear Science Week in brief blog posts right here, so don't miss them!
---
Feel free to leave a constructive remark or question for the author in the comment section below.
---