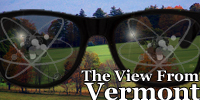 Vermont's Capitol building has a gold-painted domed roof. The media reports legislative activity somewhat derisively as taking place "under the golden dome."
On April 25, Arnie Gundersen (of Fairewinds Associates, of Vermont), a well-known nuclear opponent, spoke before Vermont's House Natural Resources and Energy Committee. He was welcomed with open arms to testify on House bill H-139, regarding post-closure activities at nuclear power plant sites.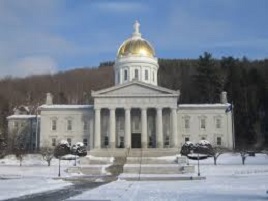 Legislative concerns
Nuclear opponents have continually raised concerns about the return of the Vermont Yankee plant site to a "greenfield" condition after the plant's eventual decommissioning. The opponents assert that the original agreement to build the plant promised that the site would be returned to the condition that existed there before the plant was built. They have asserted that the Nuclear Regulatory Commission's regulations don't require enough cleanup to achieve safe radiation levels and to remove all traces of the plant, and so bill H-139 would require an additional $40-million fund toward site cleanup.
Further, the opponents don't like the fact that used fuel is kept in fuel pools for longer than five years. Used fuel in pools is not covered by bill H-139, but the issue was discussed during the April 25 meeting. A week earlier, the committee heard testimony from Robert Alvarez, of the anti-nuclear Institute for Policy Studies organization, on the fuel-pool issue.  I testified that pool storage of fuel is safe at a session immediately before Mr. Gundersen's.
As it now stands, used fuel in dry casks will remain on the Vermont Yankee site after its decommissioning. Dry cask storage of used fuel already exists in New England at the former Yankee, Maine Yankee, and Connecticut Yankee sites.
A red carpet welcome
The April 25 meeting began with Chairman Tony Klein stating that H-139 is not about radiological safety, but about land use and the risk to ratepayers and taxpayers. He enthusiastically welcomed Gundersen back to testify.
Gundersen stated that he was appearing at the meeting as a private citizen, after having been previously employed by the legislature on panels to review the  Vermont Yankee plant. Since his earlier appearance, he has been to Japan, written a book about the Fukushima accident that is a best-seller in Japan, and is writing a report concerning the San Onofre nuclear power plant in California. He is a leader in the anti-nuclear industry, and all he says and does must be taken in that context.
Painting the blackest possible picture
In his April 25 testimony and during his answers to questions, Gundersen made every effort to link the Vermont Yankee plant to as many problems as possible. In short, it was a skillful presentation by a leading practitioner of Fear, Uncertainty, and Doubt (FUD).
(The points made below are listed in the order in which Gundersen presented them, as taken from my own notes. This makes for a long and jumbled list, but to edit it into a more precise sequence, as a media report might do, would lose the sense of what was presented to the members of the legislature.)
Gundersen said:
Of the 104 nuclear power plants in the United States, five are broken or shut down.

The Kewaunee nuclear power plant (owned by Dominion Generation) in Wisconsin is closing.

Entergy, which owns the Vermont Yankee plant, has two nuclear fleets: six are utility plants and six are merchant plants.

Single-unit plants have a relatively high (per unit) operating cost.

Vermont Yankee is a merchant plant with no rate base to support it.  Vermont Yankee is therefore "Kewaunee east." (My note: Vermont Yankee has a customer, the ISO-New England system.)

For Vermont Yankee, it's not 20 years of operation, it's "20 years of one-night stands."

Vermont's second oversight report on Vermont Yankee (Gundersen was one of the authors) proved that the plant's "tritium leak" was tied to resource allocation. The oversight report was limited to Vermont Yankee's non-safety systems.

The possibility of (an early) shutdown of Vermont Yankee can't be ignored.

The Vermont Yankee plant will break at some point.

Entergy funds its maintenance for Vermont Yankee from a pot of money for all its plants. First to be funded are those things dealing with  NRC requirements, and after that the plants must fight with each other to divide up the rest of Entergy's pot.

The price of electricity is down. A report by financial services company UBS says that Vermont Yankee is on the ropes. Entergy wrote down Vermont Yankee's value by $350 million. Vermont Yankee can't pay its way in the Entergy system.
Questions and... Gundersen's answers?
Question: What happened to the main condenser issue?
Answer:  This recent refueling replaced no major components. (My note: Most who are knowledgeable of boiling water reactors such as Vermont Yankee would consider a recirculation pump motor a "major component.")
Minor repairs for tube leaks were made.
The next refueling will be the "big one"-uprate hearings identified the main condenser as nearing the end of its life.
The next refueling will cost $250 million. If an order for the condenser             and fuel is not placed, then we will know that Vermont Yankee is shutting          down.
The fuel pool is full. Vermont Yankee will need to buy dry casks. (My note: Pool is not full now. There is room for a full-core offload plus the next refueling, at least.)

Vermont Yankee will have to do post-Fukushima mandated modifications. The plant has only 8 hour batteries. Another utility, Constellation Nuclear, has estimated $40 million for these modifications.
Question:  What are other places doing?
Answer: Kewaunee estimates $1 billion for decommissioning. The NRC estimates $500 million.
Vermont Yankee may not have enough money for decommissioning. BWRs such as Vermont Yankee cost more to decommission than pressurized water reactors. Vermont Yankee should have $1.5 billion in its decommissioning fund.

Gundersen's Fairewinds Associates did a cash flow analysis in 2007. The Entergy Vermont Yankee LLC will be bankrupt in 5 to 6 years after shutdown.

With the LLC there is no protection for Vermont. Entergy is off the hook.

NRC decommissioning requirements do not include "greenfield."
Question: What is greenfield?
Answer:  It is not defined by law. Sarah Hoffman (former Vermont Department of Public Service public advocate) says 10 mrem per year above original site dose. The NRC says 25 mrem. Maine Yankee used 10 mrem in its decommissioning.
My experience with decommissioning ...(two stories about manufacturing facilities using nuclear material that had problems, and one story about the Department of Energy's Hanford site).

Vermont Yankee had a leak into the soil around the plant. It will get under the foundations. Decommissioning chases contaminated soil from a leak until the contamination is undetectable. But all foundations must be removed to be sure you get it all.

$40 million may not be enough in the "Greenfield fund."

The decommissioning owner must set aside $60 million (to manage the shutdown plant until decommissioning begins.) The decommissioning fund will reimburse the owners.

(The state) should ask for a cash flow analysis.

"You can be certain Entergy won't pay."
Question:  What will be left above ground?
Answer: Per the NRC, cooling towers and the office building can stay. But in BWRs such as Vermont Yankee, there is contamination "all over the site." All machinery is gone. Buildings are demolished to several feet below grade.
The NRC said that it will go back to the original owners to get enough money for decommissioning.

Entergy's Indian Point-2 and -3, in New York State, are a separate Entergy LLC.

In Japan the company pays all.
Question: Didn't the NRC send a letter to Vermont Yankee saying that its decommissioning estimate was adequate?
Answer: Vermont Yankee estimated greenfield cost at $40 million in 2008. The estimate was done by TLG, an Entergy owned company.
Question:  Why is used fuel kept in the pool?
Answer:  If taken out now, Entergy pays. If taken out in decommissioning, the fund pays. If the plant operates to 2032  and goes into SAFSTOR, the used fuel must be removed from the reactor and the pool.
Chairman Klein: I visited the plant a few times and was told that the dry cask pad will only hold enough for operation to 2012.
(Gundersen) The offsite exposure from Vermont Yankee is pretty significant due to "sky shine." (My note: Committee member Mike Hebert told me that he was not pleased with Gundersen's comment. Hebert is the state representative for Vernon, the town where the plant is located. An elementary school that is nearby to Vermont Yankee has radiation detection equipment and is included in the plant's annual environmental survey. Exposure is background.)

The NRC assumes 5%/year (decommissioning) fund growth and 3%/year inflation.

If there is money available there is no benefit to extending the date of decommissioning after shutdown.
Wrap-up
This issue and bill H-139 will not be considered by the Vermont legislature this session, which will end soon. I expect that the bill will be considered when the legislature returns in January 2014.
As stated above, Gundersen's performance was a skillful use of FUD.
Nonetheless, the evidence contradicts Gundersen. The NRC gave Vermont Yankee a Green (the best) "report card" for 2012. The plant just completed a refueling in less than a month, after a "breaker to breaker" run (non- stop since the last refueling). Entergy is solidly behind the plant, as evidenced by its pursuit of a federal court suit against the state of Vermont for intruding on the NRC's domain of safety. The employees and supporters of Vermont Yankee are firmly behind the plant and its continued operation, as shown by their participation in political activities in support of the plant.
_______________________________
Howard Shaffer has been an ANS member for 35 years.  He has contributed to ASME and ANS Standards committees, ANS committees, national meeting staffs, and his local section, and was the 2001 ANS Congressional Fellow.  He is a current member of the ANS Public Information Committee and consults in nuclear public outreach.
He is coordinator for the Vermont Grassroots Project. Shaffer holds a BSEE from Duke University and an MSNE from MIT. He is a regular contributor to the ANS Nuclear Cafe.