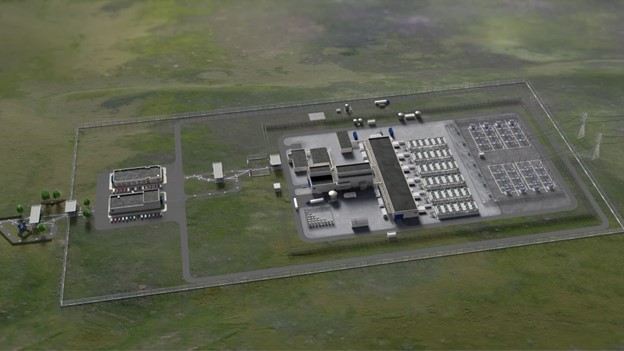 NuScale Power announced October 20 that the Nuclear Regulatory Commission's Advisory Committee on Reactor Safeguards (ACRS) issued a letter the previous day agreeing with NRC staff's approval of NuScale's methodology for determining the plume exposure pathway emergency planning zone (EPZ). As approved, the methodology would permit a smaller EPZ—dependent on site-specific conditions, including seismic hazards—that provides the same level of protection to the public as the 10-mile radius EPZs used for existing U.S. nuclear power plants.
What the ACRS had to say: The plume exposure EPZ for existing light water reactors—about 10 miles in radius—is based on NUREG-0396, Planning Basis for the Development of State and Local Government Emergency Response Plans in Support of Light Water Reactor Power Plants, which in turn was based on accident scenarios from WASH-1400, a reactor safety study released in 1975.
"At the time NUREG-0396 was issued in 1978, prior to the severe accidents at Three Mile Island Unit 2 and Fukushima Daiichi Units 1, 2, and 3, there was little information available regarding severe accident progression in operating light water reactors. Since then, the knowledge base and analytical tools have advanced considerably, allowing for a more mechanistic, systematic approach to sizing the plume exposure pathway EPZ rather than using a bounding generic EPZ radius," the ACRS noted in its letter, which was signed by ACRS chairman Joy L. Rempe and sent to Daniel H. Dorman, the NRC's executive director for operations.
NuScale's EPZ methodology uses engineering insights from probabilistic risk assessments (PRA), yet "is consistent with the technical basis in NUREG-0396 and WASH-1400," the ACRS concluded after reviewing the NRC staff's safety evaluation for NuScale topical report TR-0915-17772, Methodology for Establishing the Technical Basis for Plume Exposure Emergency Planning Zones at NuScale Small Modular Reactor Plant Sites, Revision 3, in September and October.
According to the ACRS, "The [topical report] identifies and evaluates a spectrum of accident sequences and potential releases; it uses the same dose criteria (at and beyond the calculated EPZ boundary) to demonstrate an equivalent level of protection of the health and safety of the public; and it is risk-informed and consequence-based (combining quantitative evaluation and qualitative engineering judgement)."
Implementation of the methodology would require a full-scope PRA addressing both internal and external hazards and all operating modes. "The final EPZ size is the smallest distance at which the dose criteria, chosen to provide a level of protection that meets or exceeds the basis in NUREG-0396, are satisfied," the ACRS noted.
What it means for NuScale: NuScale offers its modular 77-MWe pressurized water reactor design in scalable power plants called VOYGR, including a 12-module plant capable of generating 924 MWe.
"Using this approved method, an EPZ that is limited to the site boundary of the power plant is achievable for a wide range of potential plant sites where a NuScale VOYGR SMR power plant could be located," according to NuScale's news release. "The significance of a NuScale plant with an EPZ limited to the site boundary is the NuScale plant can better accommodate siting of process heat off-takers, businesses, and housing in close proximity, and significantly reduces ownership costs to facilitate a plant's emergency plan."
Siting considerations such as population density are not much of a factor for NuScale's first plant, a six-module VOYGR plant being constructed in the Idaho desert on Idaho National Laboratory land with about $1.4 billion of cost-shared funding from the Department of Energy as part of the Carbon Free Power Project. Operation of the first module is expected in 2029.
"Safety is NuScale's priority, and on top of our design approval in 2020, this endorsement from a world-class regulator—the U.S. NRC—and the ACRS shows the global community our unmatched, innovative technology is first and foremost safe," said John Hopkins, NuScale president and chief executive officer.
What could it mean for other reactors? While the ACRS approval applies only to the staff's evaluation of NuScale's methodology, the committee indicated that the staff could apply lessons learned to similar future applications: "The staff's evaluation is an example of how to use risk information, consequence analyses, and considerations of uncertainty and defense in depth in justifying the adequacy of their safety finding. The staff should preserve the insights gained from this review in guidance that can be used in future applications (consistent with the recommendations from our October 7, 2019, letter report on "Population-Related Siting Considerations for Advanced Reactors"). . . .
"We note that justifying a small EPZ will be different for non–light water reactors with little or no operating experience or sound estimates of the frequency of severe accidents. The uncertainty in severe accidents (e.g., external events) must be balanced against expected lower source terms and the passive and inherent safety features of the design. Engineering judgement may have to replace mechanistic analytic calculations in establishing the relevant accident phenomenology and system response."