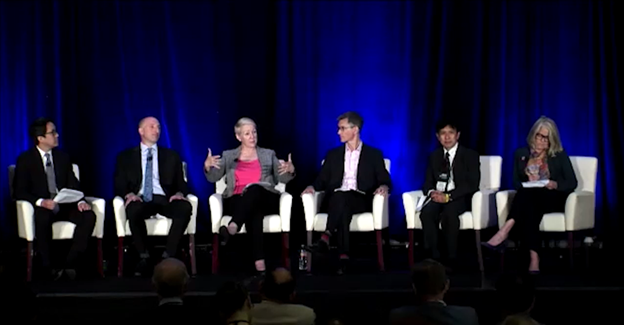 A "bold decadal plan" to accelerate fusion research, development, and demonstration in partnership with the private sector emerged from a March 2022 White House Fusion Summit and inspired the June 14 ANS Annual Meeting executive session titled "The New Fusion Outlook." Moderator Scott Hsu, who is leaving a role as a program director for the Department of Energy's Advanced Research Projects Agency–Energy (ARPA-E) to become a senior adviser to the DOE's undersecretary for science and innovation as well as lead fusion coordinator for the DOE, ably led a panel of fusion stakeholders representing universities, national laboratories, private fusion companies, and public policy and communication. The discussion intended to bring attendees with fission experience up to speed on the rapidly accelerating area of fusion energy and explore how the fusion energy community can work toward a unique path for fusion energy regulation and public engagement.
The nation's plans for a fusion pilot plant are spurred by clean energy goals and by "truly significant breakthroughs that occurred last year that required decades of public investment to get to that point," Hsu said. "The achievement of hotspot ignition on [the National Ignition Facility] and the demonstration of a 20-tesla fusion-scale magnet using high-temperature superconductors—these are trajectory-altering accomplishments."
The panelists: Hsu introduced five panelists in turn, beginning with Troy Carter, a professor of physics at the University of California–Los Angeles, who recently helped lead the DOE Fusion Energy Sciences Advisory Committee's development of a 10-year, community-led strategy for fusion development. "It's time for fusion," Carter said, noting recent scientific progress, advances in technology, and investment in the private sector.
Kathy McCarthy, associate laboratory director for fusion and fission energy and science at Oak Ridge National Laboratory and U.S. ITER Project director, has worked in both fission and fusion and said, "It truly is all-of-the-above in terms of clean energy solutions."
Artem Smirnov is chief technology officer at TAE Technologies, a company that was spun off from the University of California–Irvine in 1998 and is working on an aneutronic-fueled fusion concept that has attracted about $1 billion of private capital using a payment-for-milestones framework.
Satoshi Konishi, cofounder and chief fusioneer of Kyoto Fusioneering, turned to private industry after about 20 years of national laboratory research in Japan and another two decades in academia.
Rounding out the panel, Jane Hotchkiss is president of Energy for the Common Good, which hopes to boost public policy and public enthusiasm about fusion technology. Hotchkiss spent about 30 years promoting the adoption of renewable energy technologies—and faced skepticism about the feasibility of wind and solar technologies early in her career. "That's not a bad history to have when we start with fusion—where it is now and where we hope to move it over the next decade," she said. Fusion "has a story to tell" and "has almost no identity in the public space right now."
Climate imperative: All panelists agreed that climate change mitigation goals are fueling fusion energy goals.
"We need to act," Carter said. "If you have a goal of decarbonization by midcentury, the White House summit is urging us to act quicker. We need to set up these programs. We need to start conceptual design activities around fusion pilot plants right now, and those design activities will now establish the framework for identifying technical gaps that we have to work on in parallel to get the facilities going."
McCarthy made it clear that the recommendation that the U.S. have a fusion pilot plant operating on a 2035 to 2040 timescale was based on commercial feasibility, not technical feasibility. "That date was set specifically by talking with utility representatives, who said if you want us to consider [fusion] in our transition to clean energy, that's the date where you need to have an operating commercial plant," she said. "It was not based on technical feasibility, but we did look at the technical feasibility and felt that it was possible to meet that timescale."
Hotchkiss said she believes that climate and energy delivery needs will mean that "the practical future of energy . . . is going to be more driven by fusion in the future than any of us imagined—but don't tell any of my colleagues in wind and solar because they would immediately kick me out!"
Technical barriers: McCarthy noted that the DOE refocused its fusion energy program on fusion energy sciences a couple of decades ago and at the same time narrowed the number of concepts that were being considered and researched. Today, McCarthy emphasized, the plasma confinement method for a future pilot power plant has yet to be chosen. "Is it going to be a tokamak? Is it going to be an inertial fusion? Is it going to be a stellarator, is it going to be a reverse-field configuration? We don't know yet, and so it is important that investments are going on in all these different areas."
Smirnov said that while "a lot of technological development needs to be done in the field in general," at TAE, "we certainly took it to heart from the early days and pursued the development of all the supporting technologies really needed to make this approach cost-competitive and viable and enable the practical engineering. For us, the remaining problems to address are more in the realm of developing robust supply chains."
Konishi sounded a note of concern, saying that the situation of fusion development is "very serious" and that more attention needs to be given to materials science and engineering. Konishi suggested that in some national research programs, "You are doing science, only very small pieces, or you are doing just simulation, but nobody makes just a chunk of the steel. So that technology is lost already."
Hsu, who will be responsible for helping to resolve some of these concerns in his new role at the DOE, said, "I think we need to solve a lot of our materials challenges possibly even at the first phase of a pilot-scale demonstration. But of course, we also need to accelerate the test facilities that will help us screen the likely candidate materials, so we have to think about a different paradigm of getting to the pilot demonstration. You're not going to solve every problem ahead of time."
Nontechnical barriers: When the panelists were asked what nontechnical barriers to fusion energy need to be tackled first, several noted the importance of building a workforce and integrating the principles of diversity, equity, and inclusion.
Carter, the only university representative on the panel, emphasized training and workforce development and also suggested that private-public partnerships could help build the infrastructure needed for technical development. "We have facilities that we need to get going, test facilities and the like, and the [DOE] Office of Science has a certain procedure for doing so, which often is quite slow," he said. "If you really want to make an impact on a decadal timescale, we've got to find a new way to do business, and perhaps by a partnership we could find a way to build the needed facilities."
McCarthy pointed to economics. "I think that our biggest barrier in fusion is cost-competitiveness," she said. "We need to look at that from the beginning. It is not a low bar. So let's understand where our costs are. How do we reduce them? Because it is necessary in order to compete."
At TAE, Smirnov said, "Our approach to ensuring continuing financeability is technology spinoffs," including accelerators built for cancer treatment. Looking ahead, TAE is interested in ensuring that public-private partnership models that may emerge from federal investments in a fusion pilot plant offer a "really robust regime" for intellectual property treatment of private companies.
Hotchkiss believes that "we want to translate fusion from an academic and research space into a commercial supply space now," and she agreed that medical technology applications such as TAE's send a message about fusion companies that says: "We're self-reflective. We understand the energy markets we're moving into and we're solving some of the problems that exist today with things we've developed while we focus on the bigger picture of power generation."
Hotchkiss urged the panelists and attendees in the fusion field to inform the public about their technologies. "A 'black box' can be interpreted in whatever way the individuals—in this case I'm thinking about largely opinion leaders and stakeholders—are going to see it. Let's open it and explain what fusion is and what we want it to be," she said. "Some would call it the soft side, some would call it the forward-thinking side, but in the end these are the people that make the decisions about how much money is allocated to DOE to fund research and how much money is going to be allocated to a public-private partnership."
Fission and fusion: When the panelists were asked what the fusion community could learn from fission energy, McCarthy had a ready answer. "We should learn from how the fission industry regulates, which in a way stifles innovation. We want to avoid that." McCarthy also mentioned that a 90 percent average capacity factor is being targeted for viable fusion power plants and suggested that tools such as on line monitoring that have helped U.S. fission plants regularly achieve capacity factors above 90 percent could be integrated into fusion power plants from the outset.
The panelists were asked by an audience member if they foresaw fusion superseding fission or coexisting in the future. "I see the two as very much coexisting," McCarthy said. "I talked about the need for clean energy solutions for all different sectors—transportation, industry, and electricity—and it really is going to require a diverse set of clean energy options."
Hotchkiss agreed, suggesting that "the only way for fusion and fission to supersede each other is largely going to be determined by economics and market constraints or advantages. Quite frankly, that's a happy problem to get to."

Look here: Visit the 2022 ANS Annual Meeting website for more information, and keep an eye on Newswire for continuing coverage.