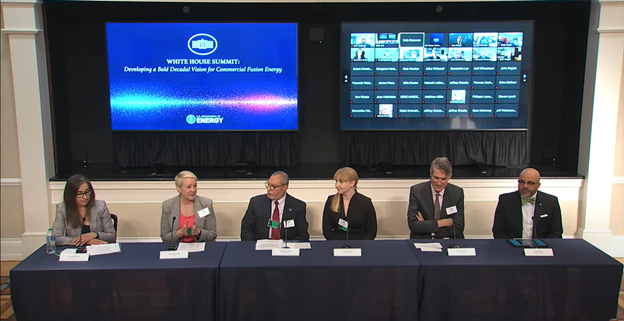 The White House Office of Science and Technology Policy and the Department of Energy cohosted the White House Summit on Developing a Bold Decadal Vision for Commercial Fusion Energy on March 17. The livestreamed event brought together fusion leaders from government, industry, academia, and other stakeholder groups to showcase recent achievements in fusion research and discuss the administration's strategy to support the development of commercial fusion energy. Energy Secretary Jennifer Granholm's announcement of a new agency-wide fusion energy initiative and a funding opportunity worth $50 million for magnetic confinement fusion research made March 17 a lucky day indeed for the U.S. fusion energy community.
Cross-office coordination: Granholm also announced the appointment of Scott Hsu, a program director at the DOE's Advanced Research Projects Agency–Energy (ARPA-E), to the newly created position of lead fusion coordinator at the DOE. Hsu is charged with developing a strategy to accelerate the viability of commercial fusion energy in partnership with the private sector using the 2021 National Academies of Sciences, Engineering, and Medicine report, Bringing Fusion to the U.S. Grid, as a guiding document. The report, published in February 2021, targets the 2035–2040 time frame for an operational 50-MWe fusion pilot plant. A viable design for the plant would be needed by 2028, the report says.
The funding: Following the White House summit, the DOE released details of its plan to provide up to $50 million to support U.S. scientists conducting research in fusion energy science at spherical tokamak facilities in the U.S. and around the world. Up to $20 million will go to research at domestic and international spherical tokamak facilities—including the Mega Ampere Spherical Tokamak Upgrade in the United Kingdom—to improve the modeling and scientific understanding of plasmas. Up to $30 million will support research to improve fusion performance and increase the duration of burning plasmas.
Magnetic confinement in either a toroidal tokamak (such as the donut-shaped plasma planned for ITER) or a spherical tokamak (which minimizes the central void in the tokamak, resulting in a plasma shaped more like a cored apple than a donut) poses many challenges, including extreme heat, plasma exhaust, and plasma interactions with material structures.
The two funding opportunity announcements, "Collaborative Research on International and Domestic Spherical Tokamaks" and "Collaborative Research in Magnetic Fusion Energy Sciences on International Tokamaks," are sponsored by the Office of Fusion Energy Sciences within the DOE's Office of Science and can be found here.
Administration push: A fact sheet released by the White House on March 15 states that seven decades of public funding for fusion research have led to recent advances in fusion science and rapid growth in private investment. "Of the more than 30 fusion companies in the world, two-thirds are based in the U.S., and most were founded in the last decade," the statement reads. "U.S. government action on fusion signals our ambition to work together to grow the U.S. private fusion industry. By partnering with these companies, we have an opportunity to keep these companies growing within our borders and cement U.S. technological leadership on fusion."
They said it: "These funding opportunities support foundational science and technology research connected to high-priority issues for a future fusion pilot plant, including plasma modeling, interactions, and control," said Geraldine Richmond, DOE undersecretary for science and innovation.
"Both the tokamak and spherical tokamak configurations show promise as a design basis for a future domestic fusion pilot plant," said James Van Dam, DOE associate director of science for the Fusion Energy Sciences program. "The advances we make through research at facilities in the U.S. and abroad through international collaboration will address key challenges in magnetically confined fusion devices and play a critical role as the world enters the burning plasma era."