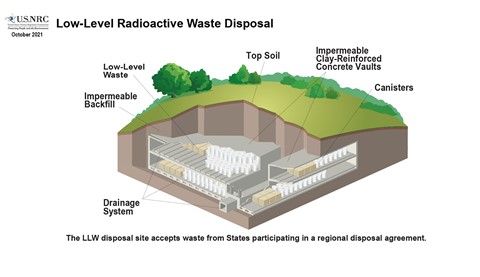 The Nuclear Regulatory Commission will integrate two separate rulemaking activities concerning the disposal of low-level radioactive waste, issuing a "re-proposed" rule that consolidates updates to 10 CFR Part 61, "Low-Level Radioactive Waste Disposal," and proposed changes to the requirements for the near-surface disposal of greater-than-Class C (GTCC) waste.
The three current NRC commissioners voted in March to approve the recommendation of agency staff to combine the rulemaking activities, as proposed in its October 2020 paper, Path Forward and Recommendations for Certain Low-Level Radioactive Waste Disposal Rulemakings (SECY-20-0098). The commissioners' votes and accompanying comments approving SECY-20-0098 were made public on April 5.
The commissioners also approved a provision, included in SECY-20-0098, allowing NRC Agreement States to license the disposal of GTCC waste streams that are suitable for near-surface disposal, along with a staff recommendation to explore regulatory approaches that would allow for a single regulator for an Agreement State licensee disposing of GTCC waste containing strategic special nuclear material.
The directive: In approving the SECY-20-0098 recommendations, the commissioners directed NRC staff to reexamine the technical basis for the performance objectives in Part 61 and ensure that the compliance period following the closure of a disposal facility is based on scientific data.
"Rather than using the same compliance period for disposal sites containing significant amounts of depleted uranium, GTCC, or transuranic waste, the staff should consider a site-specific, graded approach based on when the peak dose is projected to occur or establish a longer compliance period for disposal sites containing significant quantities of mobile, long-lived radionuclides," an April 5 memorandum to NRC staff states.
Rule schedule: The new rule will be submitted to the commissioners for their review and approval before being issued for public comment. While a rulemaking schedule is still being established, with updates to the schedule expected to be made by April 29, NRC staff said in SECY-20-0098 that it expects that it will take about 12 months to complete the proposed new rule.
Members of the public can check the Rulemaking Tracking System on the NRC's website for updates on anticipated publication dates for the proposed and final rules.
Part 61: The NRC began to consider updating 10 CFR Part 61 more than a decade ago to address the disposal of waste streams that were not fully considered when the regulation was first promulgated in 1982. Primarily, the agency wanted to address the disposal of large quantities of depleted uranium generated from commercial uranium enrichment. Such waste could potentially contain material near the upper bounds of the NRC's Class C concentration limits.
Under NRC regulations, low-level waste is characterized on a scale ranging from Class A, the least hazardous, to Class C, the most hazardous. While GTCC waste is considered LLW, the current default disposal option for such waste is in a geologic repository.
A proposed CFR 10 Part 61 rule was published by the NRC for public comment in March 2015, and a draft final rule was submitted for commission approval in September 2016. A year later, however, the commission directed the staff to make "certain substantive revisions" to the draft rule and publish it as a supplemental proposed rule for a 90-day public comment period.
In response, the NRC staff released SECY-20-0098 on October 21, 2020, in which it proposed combining the Part 61 and GTCC waste rulemaking activities. The staff also outlined several changes that it would make to implement the commission-directed revisions to the Part 61 rule, including reinstating a 1,000-year compliance period for LLW disposal sites, narrowing defense-in-depth considerations for disposal sites, and establishing a "grandfather provision" that would apply the new requirements only to future sites or to existing facilities that will accept large quantities of depleted uranium in the future.
NRC staff also proposed changing the definition of "waste" to include LLW streams containing transuranic waste within the scope of Part 61.
GTCC waste: The development of a proposed rule covering the disposal of GTCC waste was originally intended to follow the Part 61 rulemaking. In December 2015, the commission directed agency staff to prepare a regulatory basis for the disposal of GTCC waste through means other than deep geologic disposal, including near-surface disposal. Staff was also to consider whether GTCC waste posed enough of a hazard that the NRC should retain authority over its disposal, or if the NRC Agreement States should be allowed to regulate its disposal.
Based on its regulatory analysis, which was issued for public comment on July 22, 2019, the NRC staff determined that most of the GTCC waste streams analyzed are potentially suitable for near-surface disposal "provided appropriate controls are implemented and a sufficient site-specific analysis is conducted to ensure protection to inadvertent intruders and off-site individuals."
NRC staff also found that most GTCC waste could be safely regulated by agreement states. This excludes waste from the production of molybdenum-99, which could potentially exceed the NRC's critical mass threshold.
Given its findings, the staff recommended conducting a rulemaking on GTCC waste disposal for the following reasons:
Most GTCC waste streams analyzed in the draft regulatory basis are potentially suitable for near-surface and could potentially be safely regulated by an Agreement State.
A rulemaking to provide improved clarity and consistency in the requirements would provide applicants for the near-surface disposal of GTCC waste with greater regulatory certainty than the current case-by-case process under 10 CFR 61.55.
Although the NRC considers permanent disposal the safest and most secure long-term LLW management approach, the rule could make acceptable disposal pathways available sooner than the current, default geological repository pathway.
The recommendation: In SECY-20-0098, the staff offered two options: issue a re-proposed rule that consolidates and integrates the Part 61 and GTCC waste rules, or discontinue the GTCC waste rule and proceed only with the completion of the Part 61 rulemaking.
The staff recommended the first option, based on the additional regulatory changes concerning the GTCC waste rule that members of the public have not yet had an opportunity to comment on and the Part 61 revisions that were directed by the commissioners. Staff also said that a combined rulemaking would provide a more efficient, streamlined process.
Staff also said that if directed, it would discontinue the GTCC waste rulemaking, because current regulations provide for the consideration of near-surface disposal through commission approval on a case-by-case basis, it is not certain that anyone would apply for a near-surface disposal license for GTCC wastes, and there is opposition to the rulemaking by those who consider disposal in a geologic repository the best pathway for GTCC waste.
Agreement state Controversy: As noted by NRC Chairman Christopher Hanson in his comments approving SECY-20-0098, the issue of Agreement States having the authority to regulate GTCC waste has generated significant debate. However, he said, he does not believe there is anything prohibiting Agreement States from licensing a GTCC waste disposal facility, and that the NRC currently has no specific technical safety and security requirements for GTCC disposal.
"I am confident that with clear regulatory requirements, Agreement States will be able to establish adequate and compatible programs for LLRW disposal to institute a consistent regulatory approach across the nation," Hanson wrote.
Commissioner David Wright also approved the provision allowing agreement states to license GTCC waste disposal facilities.
Commissioner Jeff Baran, however, disapproved the Agreement States provision. "In my view," he stated, "the Low-Level Waste Policy Amendments Act of 1985 explicitly provides for exclusive NRC licensing of all GTCC waste disposal. As the staff develops the new proposed rule, NRC must faithfully implement the plain language of the Amendments Act, which provides for exclusive NRC licensing of all GTCC waste disposal."
Some members of the NRC staff also disagreed with allowing Agreement States to have regulatory control of GTCC waste and published a differing views paper echoing Baran's arguments that existing law supports the NRC's exclusive authority over GTCC waste. "For more than 30 years, it was settled law and policy that GTCC waste disposal is a federal responsibility requiring NRC regulation under the Amendments Act," the dissenting staff wrote.