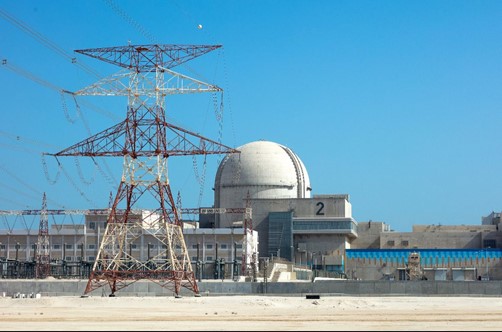 Unit 2 at the United Arab Emirates' Barakah nuclear power plant has entered commercial operation, Emirates Nuclear Energy Corporation (ENEC) announced on March 24. Unit 2 adds an additional 1,400 MW of zero-carbon emission electricity to the UAE's national grid, bringing the total amount of electricity produced at Barakah to 2,800 MW.
With construction completed in July 2020, Unit 2 achieved initial criticality in August 2021 and was connected to the grid the following month.
Barakah-1 began commercial operation in April 2021. The plant's two other reactors, according to ENEC, are in the final stages of commissioning, with the construction of Unit 3 completed and Unit 4 nearing the finish line.
What they're saying: "The Barakah nuclear energy plant is a sustainable powerhouse for the UAE," declared Mohamed Ibrahim Al Hammadi, ENEC's managing director and chief executive officer. "The start of commercial operations at Unit 2 doubles the Barakah plant's generation of emissions-free electricity, enabling rapid decarbonization of the UAE's power sector in pursuit of Net Zero 2050. With Unit 2 reaching commercial operations less than 12 months after Unit 1, we have demonstrated the UAE's megaproject capabilities, building institutional knowledge to enhance delivery to the highest standards and offer a successful case study for other nations looking to diversify their energy portfolio using a proven and sustainable technology."
The UAE's minister of climate change and environment, Mariam Almheiri, termed the start of commercial operations at Barakah-2 a "landmark milestone" for the country as it continues with the rapid decarbonization of its power sector. "With further units due to come on line, the significance of the Barakah plant in achieving net zero becomes ever more apparent, with all four units due to supply 25 percent of the UAE's electricity, while preventing 22.4 million tons of carbon emissions annually," she said.
Background: In 2009, Korea Electric Power Corporation (Kepco) was awarded the prime contract to design, build, and help operate the Barakah plant, located in the Al Dhafra region of Abu Dhabi. In 2016, ENEC and Kepco signed a long-term partnership agreement for the joint ownership of Nawah Energy, the company established to operate the Barakah plant, and Barakah One Company, ENEC's subsidiary in charge of the financial and commercial activities of the project. ENEC owns 82 percent of the two companies, and Kepco holds an 18 percent ownership stake.
Under a power purchase agreement signed in 2016, the Emirates Water and Electricity Company will purchase all electricity generated at the plant for the next 60 years.