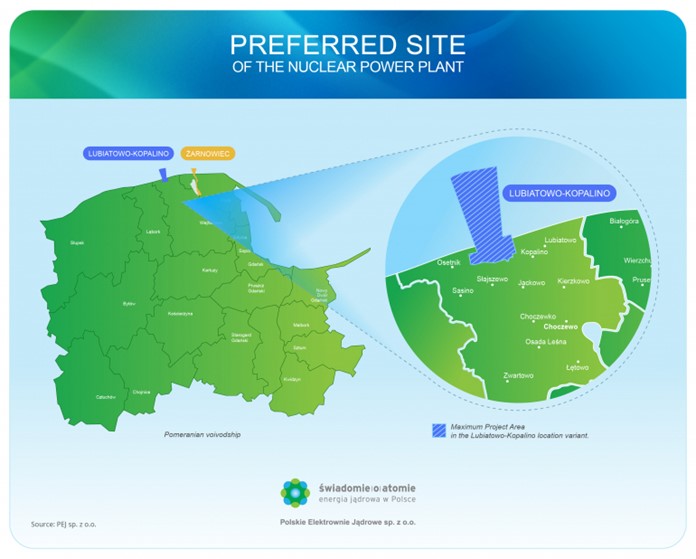 A location in northern Poland near the Baltic coast, Lubiatowo-Kopalino, has been selected as the preferred site for the nation's first nuclear power plant, winning out over nearby Żarnowiec, Polskie Elektrownie Jadrowe (PEJ) announced recently. The site is approximately 40 miles northwest of Gdansk, the capital of Poland's Pomeranian province.
PEJ (also known as Polish Nuclear Power Plants Ltd.) is a state-owned company set up to lead the investment process, conduct site research, and obtain all necessary approvals for the construction of the plant.
According to the announcement, Lubiatowo-Kopalino was chosen on the basis of detailed site investigations and environmental surveys conducted since 2017. At the beginning of the site selection process, as many as 92 potential locations were considered, taking into account factors such as land features, availability of cooling water, and existing infrastructure, the company noted.
Music to our ears: "Poland aims to diversify its energy mix, and the announcement of the preferred nuclear power plant site is a tangible proof of that fact," said Piotr Naimski, Poland's plenipotentiary for strategic energy infrastructure. "The use of this safe, carbon-free, and stable source of energy generation that nuclear power offers was announced and confirmed in our strategic documents, including the Energy Policy of Poland until 2040 and the Polish Nuclear Power Program."
Added Anna Moskwa, minister of climate and environment: "We are working as planned, and the site selection has confirmed it. Poland needs nuclear power, and the construction of the first such power plant is crucial for our entire country in terms of both energy transformation and security of energy supplies."
In case you missed it: Last February, Poland's Ministry of Climate and Environment announced the official adoption of the Energy Policy of Poland until 2040 (PEP2040), originally published in draft form in November 2018 and revised the following year.
In its announcement, the ministry described PEP2040 as "a clear vision of Poland's energy transformation strategy" and "a compass for entrepreneurs, local governments, and citizens in the transformation of the Polish economy toward low emission." By 2040, the document states, more than half of Poland's installed capacity will be zero-emission sources, adding that offshore wind energy and nuclear energy "will play a special role" in reaching that goal.
PEP2040 contains eight specific objectives, one of which is the implementation of nuclear power. According to the document, Poland will launch its first nuclear power reactor in 2033, with a capacity of 1.0 to 1.6 GW. Additional units are to be "implemented" every two to three years after that. The nuclear program envisions the construction of six units by 2043.