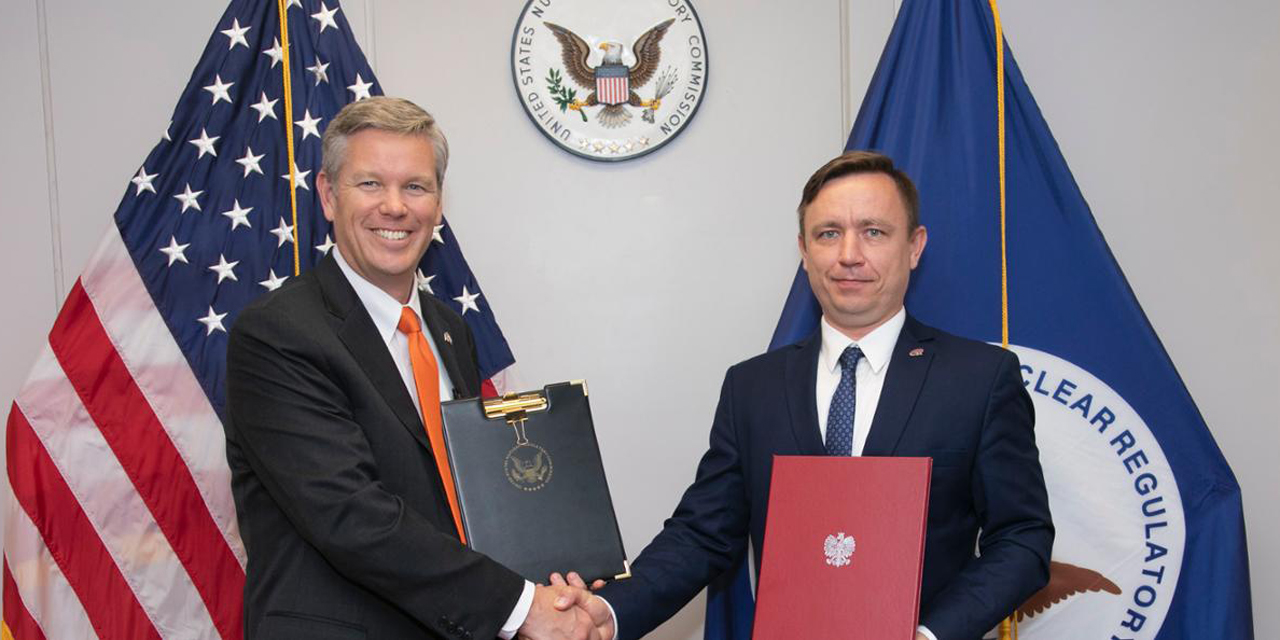 The Nuclear Regulatory Commission and Poland's National Atomic Energy Agency (PAA) have renewed their cooperation agreement for the next five years.
Signed June 16 by the agencies' leaders during a bilateral meeting in Washington, D.C., the pact now includes exchanging technical information on Westinghouse's AP1000 and GE Hitachi Nuclear Energy's small modular BWRX-300 designs, according to an NRC news release. Other areas of cooperation, according to a PAA announcement on the agreement, include nuclear safety research and "training and staff participation in individual projects."
Cooperation between the agencies has been ongoing since 2010, when the first bilateral arrangement was signed, the NRC noted, adding that it has signed more than 50 bilateral agreements with overseas regulatory counterparts over the past 40 years.
Signers' language: "We look forward to continuing to work with our PAA counterparts, sharing our decades of reactor experience as Poland stands up its civilian nuclear power program," said NRC chair Christopher Hanson. "We're eager to provide what we've learned in certifying and licensing the AP1000s at the Vogtle site in Georgia. We'll continue sharing information as we move from preapplication work to a full review of the BWRX-300 for U.S. use. This cooperation with Poland expands on our existing technical collaboration on small modular and advanced reactor designs with our Canadian counterparts."
PAA president Andrzej Głowacki noted the importance of strengthening his agency's relationship with the American regulator, especially given that Poland has selected U.S. firm Westinghouse to supply AP1000s for the first Polish nuclear power plant. "This cooperation is expected to facilitate the licensing and oversight process for the Polish regulatory authority," Głowacki stated. "The NRC has vast experience in this field, and we want to take advantage of this fact."
Another good sign: One day before inking the agreement with the NRC, Głowacki joined Canadian Nuclear Safety Commission vice president Ramzi Jammal in Ottawa to sign the terms of reference for a memorandum of cooperation on advanced reactor and SMR technologies signed in February. That agreement's sphere of cooperation, the agencies said at the time, "may expand to facilitate a joint technical review" of reactor designs, including the BWRX-300.
"When it comes to nuclear energy, international cooperation is crucial for the development of individual institutions," Głowacki said in a June 14 PAA release. "It is very important to exchange knowledge and analysis results, especially at a time of intensive development of new nuclear technologies. We are pleased to have such an experienced partner with many years of expertise as the Canadian Nuclear Safety Commission."
The terms of reference establish a committee composed of experts from both the PAA and CNSC, the release said, tasked with coordinating cooperation between the Polish and Canadian regulatory authorities for large-scale reactors and SMRs. According to the PAA, cooperation is to be based on, among other things:
Developing common approaches to technical reviews of advanced reactors and SMRs. This activity is expected to streamline national regulatory reviews.
Joint design-specific assessments to ensure mutual readiness for an effective review of advanced reactor and SMR designs.
Conducting research, training, and developing mutual regulatory approaches to ensure nuclear safety.
Exchanging information on regulations and regulatory documents dedicated to advanced nuclear reactor technologies.