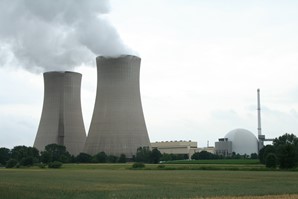 The retired reactors—Brokdorf's Unit 1 (a 1,410-MWe pressurized water reactor), Grohnde's Unit 1 (a 1,360-MWe PWR), and Gundremmingen's Unit C (a 1,288-MWe boiling water reactor)—were taken off line late on December 31. The action removed over 4 GWe from the German grid, reducing by half the country's nuclear power capacity. In the short term, most of the power deficit will be made up by burning natural gas, which is currently at record high prices.
The three nuclear facilities with units still in operation in Germany—Emsland, Isar, and Neckarwestheim—are to be shuttered by December 31 of this year, at the latest.
Just days prior to the three-plant shutdown, Robert Habeck, minister for economic affairs and climate protection, noted in an interview with the German weekly Die Zeit that the government would most likely miss its climate targets for 2022 and 2023. (In response to that comment, Belgian philosopher Maarten Boudry tweeted, "Man, after having shot himself in the foot: 'It appears that I will probably have some trouble walking again for a while.' #netzeroneedsnuclear.")
The official line: "The nuclear phaseout makes our country safer and helps to avoid radioactive waste," stated Steffi Lemke, environment and consumer protection minister, in a December 28 press release from the German government. "Since 2011, Germany has been drawing a line under a highly problematic technology in an orderly, reliable process. . . . My thanks go to the many thousands of people who tirelessly campaigned for the nuclear phaseout and the energy transition, and the employees in the power plants for their responsible behavior in operation and dismantling."
Background: In a stunning policy change following the Fukushima Daiichi disaster in March 2011, German chancellor Angela Merkel announced that her government, which had previously supported nuclear power, would be moving to abandon it entirely. Eight units were shut down immediately, and by May of that year, the government had announced a plan to close all remaining nuclear power plants by 2022.
Prior to the Fukushima accident, Germany obtained about one-quarter of its electricity from 17 nuclear power reactors.
In March 2021, after years of litigation, the German government reached an agreement with plant owners to compensate for losses incurred as a result of the phaseout. The agreement called for €2.4 billion (about $2.85 billion) in total compensation, with €1.4 billion going to Sweden-based Vattenfall and the remaining €1 billion split between German utilities RWE (€880 million), EnBW (€80 million), and E.ON (€42.5 million). In return, the companies assented to the termination of all phaseout-related legal disputes with the government.