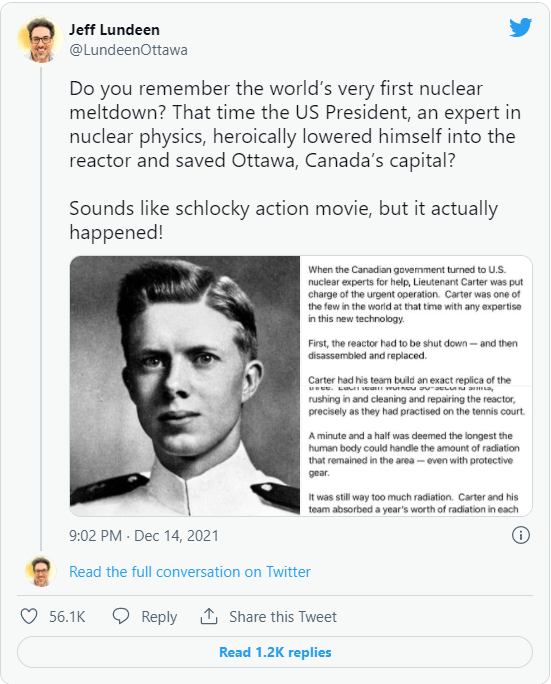 Jimmy Carter is trending on Twitter this week because of his ties to nuclear power. Carter, the 39th president of the United States, was a member of Rickover's nuclear navy about 70 years ago when he was assigned to help in the aftermath of an accident at the Chalk River Laboratory in Ontario, Canada.
Carter's involvement at Chalk River was brought to light by a tweet from a Canadian professor who earlier this week cited a post by the Historical Society of Ottawa noting that "the world's first nuclear reactor meltdown" had occurred in 1952 in the Ottawa Valley and that a young U.S. naval officer was brought in to help in the cleanup. The naval officer, Jimmy Carter, was a 28-year-old lieutenant under Rickover.
The accident: The Ottawa Society's post referenced the December 12, 1952, partial meltdown of the NRX research reactor at Chalk River. According to an article published in 2011 on CNN's website (following the Fukushima accident), Carter recalled, "There were 23 of us, and I was in charge. I took my crew up there on the train. We were fairly well-instructed then on what nuclear power was, but for about six months after that I had radioactivity in my urine. They let us get probably a thousand times more radiation than they would now."
As is the case with many trending topics, it is hard to separate fact from fiction. A number of Twitter comments stated that Carter saved Ottawa from disaster and joked about Carter being a superhero. One commenter then aptly tweeted, "Through my relatively short career, the stories of Carter went from 'He was just one of the navy lads they had help decontaminate after the accident' to 'He single handedly stopped the reactor from destroying Ottawa!'"
Context brought to you by: After becoming aware of the trending Twitter thread about the former president, nuclear influencer and ANS member Katie Mummah began providing context via tweets and then followed up with a blog post on Medium.
Very exciting to see so many tweeting about nuclear history because of Jimmy Carter! Also, let's not over-exaggerate, the facts alone are commendable enough: Jimmy Carter was part of a cleanup team, not a solo hero. The reactor had already melted down, he was aiding the cleanup

— Katie Mummah (@nuclearkatie) December 16, 2021
Mummah supplied background on the accident and the cleanup, and then provided an actual recap of the event. Mummah concluded, "President Jimmy Carter deserves to be commended for his role in cleaning up the world's first nuclear meltdown. He acted bravely in volunteering for a shift inside the high-radiation environment as part of a three-man team. He did not prevent a nuclear meltdown or single-handedly save the nearby(ish) Ottawa from nuclear destruction."
Satire ahead: As part of the Twitter thread about Carter, an old Saturday Night Live skit was posted spoofing the Three Mile Island accident. The skit from 1979 starred SNL legends Dan Aykroyd, Bill Murray, and Garrett Morris, among others, and followed the events of the fictional TWO Mile Island accident. It shows Aykroyd as President Carter entering the damaged containment building and being exposed to radioactive water. The exposure turns Carter into "the Amazing Colossal President." Watch at your own risk!