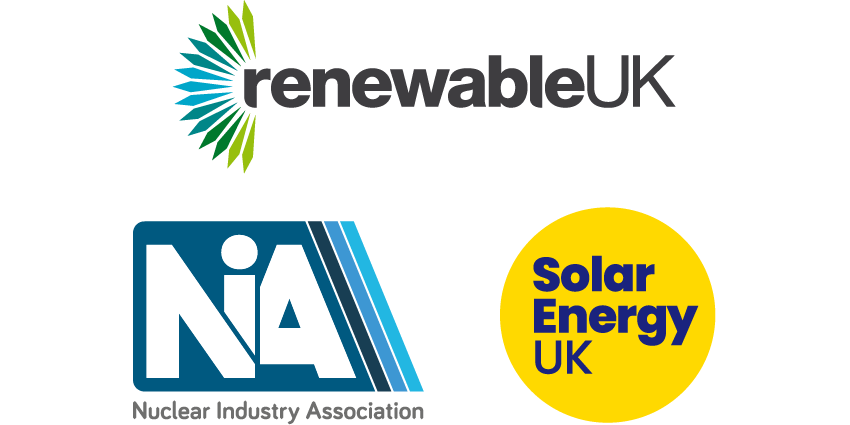 Three United Kingdom organizations—the Nuclear Industry Association, RenewableUK (formerly the British Wind Energy Association), and Solar Energy UK—are calling for urgent action to build new nuclear, wind, and solar capacity and for a binding target of 100 percent grid decarbonization by 2035.
The United Kingdom was the first of the world's major economies to embrace a legal obligation to achieve net-zero carbon emissions by 2050.
With the COP26 summit in Glasgow, Scotland, just six months away, the British grid is "dirtier now than it was a year ago, with heavy reliance on fossil fuels," according to a joint statement from the organizations.
The need for action: The three zero-carbon energy allies cite data from the National Grid ESO, Great Britain's electricity system operator, showing that the carbon intensity of electricity—the measure of CO2 emissions per unit of electricity consumed—was some 5 percent higher in the first four months of 2021 compared with the first four months of 2020. Gas-fired generation was 22 percent higher, even though the nation spent more weeks under COVID-19 restrictions from January to April 2021 than in the same period in 2020. "Despite individual record-breaking days, the grid was on average 20 percent dirtier in April 2021 than in April 2020, with a carbon intensity of 200 gCO2/kWh," the statement says.
Actionable advice: To accelerate progress toward decarbonization, the organizations are recommending an increase in the carbon price that would be consistent with delivering grid decarbonization by 2035. Trading of carbon allowances on the United Kingdom's post-Brexit carbon market began on May 19, with carbon prices reaching more than £50 (about $71) per metric ton, higher than in the European Union.
In addition, each organization has its own recommendation:
The NIA is calling for the government to endorse a financing model for new nuclear projects this year and to set out a plan to restore nuclear capacity to existing levels by the early 2030s.
RenewableUK is looking to the government to set specific 2030 deployment targets for key renewable technologies that it represents: 30 GW of onshore wind, 2 GW of floating wind, and 5 GW of green hydrogen electrolyzer capacity, in addition to 1 GW of marine energy in the 2030s.
Solar Energy UK is calling for a specific government target of 40 GW of solar deployment by 2030. To support this, the group says, the government should reinstate funding and end the value-added tax for green home upgrades, reform business rates for large solar roofs, and provide annual contract for differences auctions for solar until the end of the decade.
Summing it up: "We need to invest in a new generation of nuclear stations to hit net zero and help level up the country," said NIA chief executive Tom Greatrex. "We know that nuclear and renewables work well together to cut emissions, and that strong low-carbon energy mix is our future."