Among the many different reactor concepts being investigated in the late 1950s and early 1960s was the idea that the steam produced by a boiling water reactor, which normally goes straight to the turbine building, could be superheated (or have further heat added once it was already steam) by nuclear energy. This would greatly increase the efficiency of the plant, as well as make dry steam at a high pressure that would allow the use of (less expensive) commercially available equipment in the steam plant. Two reactors were built to investigate the idea of performing both processes in essentially the same reactor-one in South Dakota and (perhaps incredibly to today's readers) another of a very different design on the island of Puerto Rico.
BONUS-short for BOiling NUclear Superheat reactor-was a 1959 project of General Nuclear Engineering Corporation (GNEC), which had been formed when Walter Zinn and some of his associates left Argonne National Laboratory and entered private business. Argonne had arguably been the pioneer of BWR technology, and it was not surprising that the company's first project as a reactor vendor was for a BWR type. This BWR, however, had both a conventional boiler core (rated 37 MWt) and also four nuclear superheater elements arrayed around the core's periphery, using very different fuel element designs (a total of 13 MWt). The reactor had a complex internal and external piping arrangement; recirculation pumps were located below the reactor.
The nuclear plant design was somewhat unique in that not just the nuclear steam supply system was inside the containment; instead, the entire power plant including the control room was inside the 190-foot-diameter structure (see below).
-
Puerto Rico, as an island nation, was interested in nuclear energy because of the fact that it had to import all of its fuel, and this included fuel for electric power generation. Nuclear energy was intended to flatten the fuel cost, as well as to make fuel available for much longer without any disruption (since nuclear plants are infrequently refueled). It was hoped that baseline data on nuclear power on such an island would be obtained through operation of this plant.
As it would happen, the "merger mania" of the 1958-1960 time period caught up with GNEC, which was bought by Combustion Engineering (C-E). While this shook up some of C-E's management, the project at Punta Higuera, Puerto Rico, to build BONUS moved along. The small, 17-MWe plant (net output of 16.3 MWe) was actually formally ordered in January 1960 and construction began in August 1960. The project was a joint effort between the US Atomic Energy Commission and the Puerto Rico Water Resources Authority. As with other projects of this time, the US AEC funded the nuclear portion of the construction while PRWRA funded non-nuclear portions and would provide operating staff.
Construction was complete and the plant started up in April 1964-somewhat later than the anticipated date. Serious delays were incurred during construction as some safety modifications were required after construction began, and the instrumentation and control system had to be modified and refitted with four channel protection (not originally included). Operation was first performed by only boiling water for steam, and in a long graduated program the superheat operation was carefully introduced. The plant finally achieved full-rated power over a year later, in September 1965. This achievement had originally been targeted for February 1963.
Nagging small problems with the plant continued to occur, including corrosion of internal piping (caused by an equipment vendor using incorrect materials subject to corrosion in the high temperature steam environment) and the need to backfit unanticipated equipment to the plant. The AEC, worried about operations, pushed GNEC/C-E to provide a complete certified operating staff to train the PRWRA operators-an expense and complication not foreseen by the vendor.
Because of the mechanical troubles with the reactor and the cost to implement permanent fixes, the decision was made to terminate the project in 1968. (Generally, this also doomed the US equivalent superheat BWR.) The fuel was removed, but almost the entire plant remained; it was entombed in place. Some of the contaminated equipment was placed in the pump room below the reactor and permanently encased. Today, the nuclear plant has been set up as a museum with displays and even the complete control room with indications rigged to appear as when the plant was running. It is not open to the public however, but rather awaits some fate yet to be determined. It is constantly maintained and surveillance by the US Department of Energy (as successor to the AEC for plant ownership) continues regularly.
POSTSCRIPT
The failure of superheating BWRs was somewhat of a blow to those vendors offering BWR type plants generally. It had been hoped that the two small prototype units would be successful, and would lead to much larger units in a fairly short time.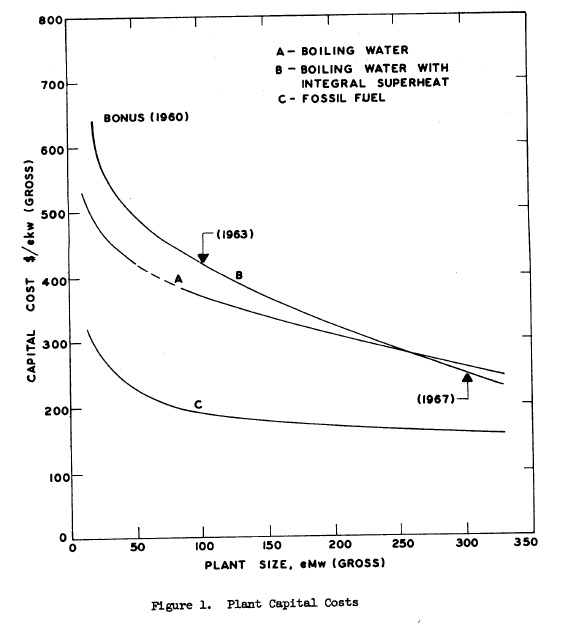 As can be seen from the graph above (PRWRA GNEC 4), the capital cost per kilowatt for superheating BWRs was expected to become better than that for conventional BWRs when the plant ratings reached something over 250 MWe. Failure of these two prototype projects effectively ensured that this never happened.
Puerto Rico had hoped that this plant would lead to bigger and better things. It has already been operating a small test and research reactor prior to this time, in anticipation of having an established program. After the decision to terminate BONUS in 1968, PRWRA began to consider a more conventional nuclear plant. In May 1970, it ordered from Westinghouse a 583-MWe two-loop pressurized water reactor plant for a site at Islote. Practically nothing was accomplished on this project, which was finally cancelled in 1978, ending the Puerto Rican era of nuclear energy projects.
For more information: The other superheating BWR was Pathfinder.
Sources:
2013 Inspection and Status Report for the Former Boiling Nuclear Superheater (BONUS) Reactor Facility, Rincon, Puerto Rico. US DOE Office of Legacy Management 2013.
Long Term Maintenance and Surveillance Plan for the Boiling Nuclear Superheater (BONUS) Reactor Facility, Rincon, Puerto Rico. US DOE Office of Legacy Management May 2005.
Boiling Nuclear Superheater (BONUS) Power Station Final Summary Design Report PRWRA GNEC 6. General Nuclear Engineering Corporation. May 1962.
Boiling Nuclear Superheater (BONUS) Power Station-Supplementary Study-Extrapolation to Large Central Station Integral Nuclear Superheat Plant. General Nuclear Engineering Corporation and Puerto Rico Water Resources Authority PRWRA GNEC 4. January 1960.
--------------------------------------------------------------------------------------------------------------------------------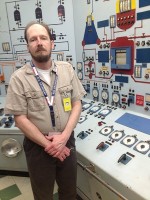 Will Davis is Communications Director and board member for the N/S Savannah Association, Inc. He is a consultant to the Global America Business Institute, a contributing author for Fuel Cycle Week, and he writes his own popular blog Atomic Power Review. Davis is also a consultant and writer for the American Nuclear Society, and serves on the ANS Communications Committee and will serve on the Book Publishing Committee beginning in June. He is a former US Navy reactor operator.