by Will Davis, reporting from the 2015 ANS Annual Meeting
Tuesday at the ANS 2015 Annual Meeting brought two highly anticipated sessions. Both were panel discussions on the vital topic of new nuclear construction. While the Fukushima Daiichi nuclear accident and the general economic recession may have stunted the Nuclear Renaissance to the point where it is not widely considered to have happened, it is fair to say that a resurgence has begun.
The "New Nuclear Construction Around the World: Status Report" panel in the early afternoon showcased progress reports from a number of perspectives, including that of the Nuclear Regulatory Commission, as well as separate reports from England and Taiwan (on the stalled two unit Lungmen ABWR plant), although a report from Korea was by far the most promising.
Poong Hyun Seong, president-elect of the Korean Nuclear Society, gave a highly informative presentation on the Korean nuclear industry. He pointed out that the national goal for nuclear power has been reduced from 41 percent of total generation to 29 percent, and that Korea will need to build up to a total of 43 GWe by the year 2035. Essentially, its electric power must in some heavy way rely on nuclear power. In large part, this is because Korea has little indigenous coal, and no indigenous oil or gas.
Seong noted that Korea currently has 23 nuclear units in operation, with one unit in final testing. Four units are at present under construction: two units at Shin-Kori ("second Kori") and two units at Shin-Uljin. All four are the latest standard Korean nuclear plant, the APR1400. This is the same model plant that is being constructed in the United Arab Emirates by a mostly Korean consortium that includes the Korea Electric Power Company (KEPCO).
Also very interesting were Seong's remarks on the extended plan for nuclear in Korea. He showed plans for a long-term nuclear buildout that will potentially bring some of the larger plant locations to 12 nuclear units per site. Further, there are plans to construct two completely new nuclear plant sites: Chunji and Daejin. Each of these sites, which will be built during the second phase of the 2024 to 2035 buildout, and will house four APR+ nuclear units with a projected 1500 MWe output. The Chunji site is on the coastline, quite a distance south of Shin-Hanul nuclear power plant. The Daejin location is on the same coast, but is situated quite a distance north of Shin-Hanul.
Opposition by locals in these areas is stiff, according to Seong, so that these sites should be labeled as "under consideration" at the moment, even if it is serious consideration.
In regard to the older sites, Seong stated that the overall plan to add ten APR1400 units from 2015-2024 involves building the Shin-Kori site up to eight units. There is chance that the seventh and eighth units may not fit, requiring that they be built somewhere else. This does not change the total need to add units, but merely relocates them.
Seong also presented some illustrations of the prospective APR1000+ nuclear plant. This "right sized" plant almost certainly aimed at the export market (and in the ballpark with the AP1000 and MHI-AREVA ATMEA plants) will draw on the previous OPR1000 design. However,  design and operational features of the APR+ to bring the smaller plant up to the same GEN-III+ standard as the APR+ will need to be added. Deployment of this design was shown roughly in the same time frame as the APR+ (in other words, after about 2024). Also listed in the near-term deployment was the SMART small modular reactor, which now surely will be only for export since it shows up nowhere on the extended KEPCO plan through 2035.
The Annual Meeting Chair's Special Session featured an innovative approach. The chair, Dale Klein, arranged for a number of vendors and two NRC representatives to give short speeches. They encouraged the audience to engage in dialogue that could actually inform and start the process for licensing both light water SMRs and non-water reactors (such as gas-cooled, or fast breeders cooled by liquid metal) in the United States. The NRC's Gary Holahan gave an informative presentation on licensing, and then added his views on a possible licensing path for non-light-water advanced reactors. He then invited commentary.
Attendees of the ANS meeting most certainly left today with a great deal of information both on the status of new nuclear builds worldwide, as well as information about the actual manner in which new reactor types could be licensed in the U.S. Certainly there is reason for much more than a glimmer of hope.
_________________________________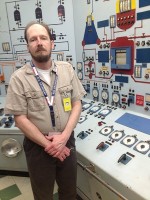 Will Davis is Communications Director, historian, newsletter editor and board member for the N/S Savannah Association, Inc. He is a consultant to the Global America Business Institute, a contributing author for Fuel Cycle Week, and writes his own popular blog Atomic Power Review. Davis is also a consultant and writer for the American Nuclear Society, and serves on the ANS Communications Committee. He is a former US Navy reactor operator, qualified on S8G and S5W plants.