American Nuclear Society President-elect Donald Hoffman recently visited the ANS Student Section at Chattanooga State Community College. Hoffman thanked the students for their outstanding participation at the recent Department of Energy public hearing on proposed mixed oxide fuel technologies for Tennessee Valley Authority nuclear plants, and laid out a vision for the future for ANS, in a presentation before a large audience of 60-70 attendees.
President-elect Hoffman also presented the founding charter for the ANS Chattanooga State Student Section-the most recent to join the network of ANS student sections at colleges and universities across the country.
ANS Nuclear Cafe caught up with Alex Woods, president of the Chattanooga State ANS student section. "Donald Hoffman's passion for the American Nuclear Society and its development was quite infectious. The presentation was impressive throughout, and his good humor, accessibility, and dedication was very inspirational for all of us, to make the absolute most of our new charter at Chattanooga State. It was a pleasure and an honor that he visited our campus."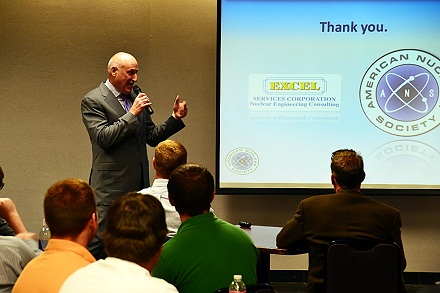 Alex Woods continued: "The importance of our charter's establishment, in my opinion, is that of outreach. I feel like the public relations side of the nuclear industry is lacking. Much of the general public is quick to make assumptions about nuclear energy-based on stereotypical and inaccurate information. Having fresh, youthful faces to engage the public is of critical importance to correct this problem.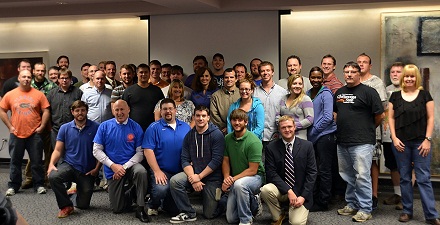 "As we are in a whirlwind of work with our new chapter, we are adding student members all along the way. I would guess there are about 40 members presently. We have several proposed plans of outreach, in schools and public forums, as well as fund raising activities, community, and charitable events, and so forth. It promises to be a very busy year. We are extremely fortunate to have such a broad scope of support, that provides us with wonderful guest speakers as well as tours of a variety of industry related facilities.
"I can certainly say that we are all eager to work to the best of our abilities and resources to establish a charter that will make the overall ANS national organization very proud. The MOX hearing was a gigantic success, for example, and could not have been so without the enthusiastic participation of the students in the nuclear curriculum at Chattanooga State.
"To brag on my fellow students, I am very fortunate to be in the company of such intelligent, focused, and determined students, particularly with regard to the nuclear power operations discipline at the college. They are an impressive group of people to say the least. Our plan is to make President-elect Hoffman, the American Nuclear Society, our mentors, and our faculty very proud of our accomplishments, this year and beyond."
Lisa Miller, ANS faculty advisor and lead instructor in nuclear power, adds: "The ANS Student Section at Chattanooga State gives students the opportunity to organize and work together on Section activities year-round, both on-campus and in professional settings, as well as the very important opportunity to meet and interact with nuclear professionals in the field. The students are incredibly motivated-they respond so well when professionals like Mr. Hoffman give their time, and organize themselves so very well in outreach activities. The Section fosters leadership development that will serve the students very well throughout their careers and life paths."
______________________________________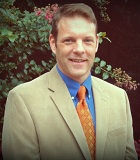 Alex Woods studies health physics and radiation protection at Chattanooga State Community College, and is President of the ANS Chattanooga State Student Section.  Future plans include working at a Tennessee Valley Authority nuclear power installation in the field of Radiation Protection, and eventual eligibility to qualify for the National Registry of Radiation Protection Technologists. In the longer term, he plans to achieve the status of a Certified Health Physicist. He finds the applications of health physics with regard to matters of national security and genetic biodosimetry to be of particular interest.  Alex Woods is the recipient of a Kent W. Hamlin Memorial Scholarship in 2012-2013.

Lisa Miller is a Nuclear Power Instructor in the Engineering Technology Division at Chattanooga State Community College, and is Faculty Advisor for the ANS Chattanooga State Community College Student Section.