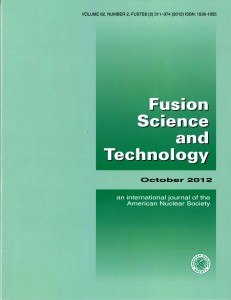 The October 2012 issue of the technical journal Fusion Science and Technology is available electronically and in hard copy for American Nuclear Society member subscribers and others.  Non-subscribers click here to learn how to subscribe to FST and other ANS titles.
FST is the leading journal for information on fusion plasma and plasma engineering. The journal is edited by Dr. Nermin Uckan.
The October issue contains the following peer-reviewed articles:
Test Results of ITER Correction Coil Short Samples CCCN1 and CCCN2, by Huajun Liu, Yu Wu, Pierluigi Bruzzone, Feng Long, Yi Shi, Jinglin Chen, Zhibin Ren, and Min Yu

A New Pellet Injection System for HL-2A, by H. B. Xu, G. L. Zhu, D. Q. Liu, I. Vinyar, M. J. Wang, and A. Lukin

Experimental Investigation of Nonlinear Coupling of Lower Hybrid Waves on Tore Supra, by M. Goniche, B. Frincu, A. Ekedahl, V. Petrzílka, G. Berger-By, J. Hillairet, X. Litaudon, M. Preynas, and D. Voyer

Angular Properties of Lithium Titanate Particles - An Experimental Study, by D. Mandal, M. Vinjamur, and D. Sathiyamoorthy

Phase Congruency Image Classification for MARFE Detection on JET with a Carbon Wall, by T. Craciunescu, A. Murari, I. Tiseanu, J. Vega, and JET-EFDA contributors

Active Learning Using Conformal Predictors: Application to Image Classification, by Lázaro Emílio Makili, Jesús A. Vega Sánchez, and Sebastián Dormido-Canto

Modeling Fusion Data in Probabilistic Metric Spaces: Applications to the Identification of Confinement Regimes and Plasma Disruptions, by Geert Verdoolaege, Giorgos Karagounis, Andrea Murari, Jesús Vega, Guido Van Oost, and JET-EFDA contributors

A New Method to Identify the Equilibria Compatible with the Measurements Using the Technique of the Nets, by F. S. Zaitsev, S. Matejcik, A. Murari, E. P. Suchkov, and JET-EFDA contributors
ANS journals are available for purchase by issue or by article. Please click here to go to the online journals page. A menu of ANS's publications is available online by clicking here.
__________________________