The Browns Ferry nuclear power plant is located on the Tennessee River near Decatur and Athens, Alabama. The site, which has three General Electric boiling water reactors, is owned by the Tennessee Valley Authority.
In 1974, the time of its initial operation, Browns Ferry was the largest nuclear plant in the world. In 2006, the Nuclear Regulatory Commission renewed the licenses for all three Browns Ferry reactors, extending each one for an additional 20 years.
NRC findings
One reactor at the Browns Ferry plant currently carries a "red" finding from the NRC in 2011. That finding stemmed from a faulty valve on a reactor shutdown cooling system that went unnoticed for 18 months until it was needed in a routine shutdown. A backup system intended for use in the event of fire was employed to safely take the reactor off line.
All three Browns Ferry units also carry a "white" finding from a recent NRC inspection that found plant operators and staff would not have been able to satisfactorily perform newly implemented procedures for safe plant shutdown.
Improvements
TVA's Chief Nuclear Officer Preston Swafford and Browns Ferry Site Vice President Keith Polson met September 12 with reporters in the regional media to share news about improvements currently being made at Browns Ferry.
The two executives provided an overview of TVA's nuclear fleet, and shared an Integrated Improvement Plan Summary plan for Browns Ferry, explaining how it was developed and the metrics that will be used to measure improvements. Their update also included a review of the Browns Ferry Road to Recovery report, which explains Browns Ferry's focus and activities in the areas of people, processes, and the plant itself since 2009.
In short, the message from Swafford and Polson:
TVA is committed to making the improvements needed at Browns Ferry to return the facility to a top-operating nuclear plant.

TVA has a detailed action plan to make improvements at Browns Ferry.
TVA is confident it is on track, and already seeing improvements in key areas.

Addressing the NRC's red finding at Browns Ferry is part of a larger effort to improve operations at the plant for the long term.

Nuclear power continues to be a key component of TVA's vision: becoming one of the nation's leaders in low-cost and clean energy by 2020.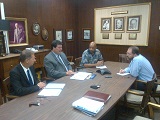 Some of the regional news coverage:
"Browns Ferry executives say they are developing safety measures" -- Decatur Daily
"TVA: Improvements boil down to personnel" - Athens News Courier
"TVA touts fire protection at Browns Ferry" -- Athens News Courier
"TVA in midst of recovery program at Browns Ferry and other nuclear plants" -- The Huntsville Times
_____________________