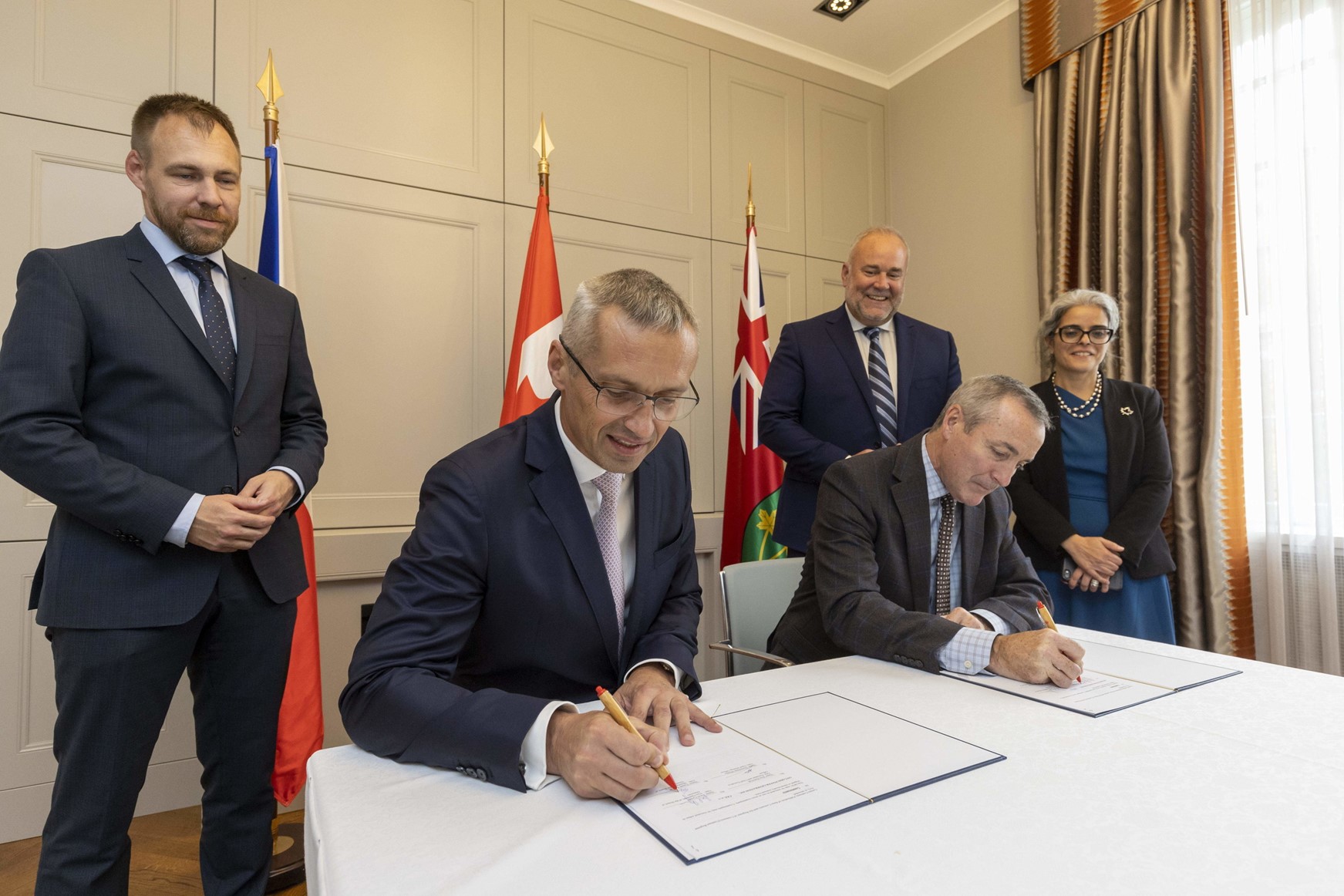 Canada's Ontario Power Generation (OPG) and Czech Republic–based ČEZ have agreed to collaborate on nuclear technology deployment, including small modular reactors, under a memorandum of understanding signed yesterday in Prague.
Ontario's largest electricity generator and the European energy giant have both pledged to achieve net-zero carbon emissions by 2040.
The MOU commits OPG and ČEZ to sharing information related to the deployment of new nuclear projects, with the aim of reducing financial, technical, and schedule risks, according to an OPG media release.
Signers' language: "Working together with entities like ČEZ, we can leverage our combined experience to develop and build the new technology needed to power the future and meet decarbonization goals," said OPG president and chief executive officer Ken Hartwick.
Tomáš Pleskač, member of the ČEZ board of directors and chief of the firm's new energy division, commented, "As a company, we are focused on developing new energy solutions and technologies. We are preparing for the construction of a new nuclear unit in Dukovany and the upcoming allocation of space at Temelín, where the first SMR could be built in the first half of the next decade. The collaboration with OPG is therefore, for us, a logical step forward."
In case you missed it: This summer, OPG and X-energy inked a framework agreement to pursue opportunities to deploy Xe-100 SMRs for industrial applications in Canada, after having forged a similar partnership in April with the Tennessee Valley Authority. In November 2021, OPG announced that it would work with GE Hitachi Nuclear Energy to deploy a BWRX-300 SMR at the Darlington nuclear site, the only site in Canada currently licensed for new nuclear construction.
And in the Czech Republic this past May, ČEZ, its subsidiary ÚJV Řež, and the South Bohemian government signed an agreement to establish the South Bohemia Nuclear Park at the Temelín nuclear plant as a site for SMR development. ČEZ noted at the time that it "has already signed memoranda of cooperation in the field of small modular reactors with NuScale, GE-Hitachi, Rolls-Royce, EDF, Korea Hydro and Nuclear Power, and Holtec."