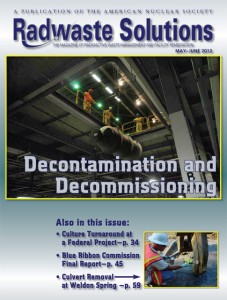 The May/June issue of Radwaste Solutions contains feature articles on nuclear decontamination and decommissioning. The issue is available in hard copy and electronically for American Nuclear Society members (must enter ANS user name and password in Member Center).
The D&D feature articles are:
Navigating a Year of Decisions at Piketon, by Julie Doering

Working Toward a New Beginning: Using Innovative Methods at ETTP to Clean Up the Manhattan Project Legacy, by Wayne McKinney

Oak Ridge Day at Waste Management 2012, by Nancy J. Zacha

And Now for Something Completely Different: An Innovative Path Toward Zion Decommissioning, by Nancy J. Zacha
Other features include an analysis of the final report of the Blue Ribbon Commission on America's Nuclear Future; a story about a 48-hour window to do a cleanup job near a Department of Energy remediation site in Weldon Springs, Md.; and a look at improving the future of nuclear waste management.
_____________________