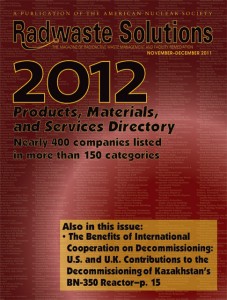 The November/December issue of Radwaste Solutions is available in hard copy and electronically for American Nuclear Society members (must enter ANS user name and password in Member Center).
The issue is the "2012 Products, Materials, and Services Directory," with almost 400 companies listed in more than 150 categories.
The issue also contains the feature article, "The Benefits of International Cooperation on Decommissioning: U.S. and U.K. Contributions to the Decommissioning of Kazakhstan's BN-350 Reactor," along with other industry news.
Past issues of Radwaste Solutions are available here.