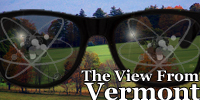 The Vermont Yankee nuclear power plant's original Nuclear Regulatory Commission license expired on March 21, 2012 . The NRC, however, has renewed the license for another 20 years, and a recent court ruling will almost certainly allow the plant to operate for many more years. The American Nuclear Society's Vermont Pilot Project (headed by Howard Shaffer) and the Energy Education Project of the Ethan Allen Institute (headed by me) thought it was time to celebrate! So, we held a rally on St. Patrick's Day, Saturday, March 17, to celebrate the court ruling and 20 more years of Green Power.
Howard organized the rally to take place outside the plant gates at shift change. More than 80 people attended, including people of all ages and from all over the state. It was our largest rally so far! Howard bought some St. Patrick's Day hats, and he encouraged people to make their own signs for the rally. Some examples:  "Only 7300 more days" and "Green and Clean." Two local papers covered the rally, a major TV station put it on the evening news, and two radio shows interviewed me and ran announcements. Rally attendees and plant staff were all very happy with the results. Look at the faces in the pictures (at bottom). We were getting "thank you" emails from people for days! You can see more pictures and a short video on my blog post at Yes Vermont Yankee. We are grateful that Entergy, Vermont Yankee's operator, allowed us to assemble on plant property just outside the main gates, and also for providing refreshments.
Opponent rallies
Nuclear opponents considered March 21 to be a very significant day, and planned all sorts of activities around it. They held out hope that the state's Public Service Board would come up with some reason to shut the plant down. Instead, another federal court injunction intervened.
One of the first of these events was the arrival on March 21 of a group of Buddhist monks at the power plant in Vernon. These monks started their anti-nuclear walk at Oyster Creek, and ended it at Vermont Yankee. (If you look at their itinerary, you can see that they did not actually walk the whole way.)
As the monks walked past Vernon, two plant supporters arranged to have their picture taken with one of the monks and a pro-Vermont Yankee sign. (Yes, the monk does look a little puzzled. Or perhaps he's meditating.) The two women in the picture are Patty O'Donnell, former state representative from the town of Vernon and current Selectboard chair, and Ellen Merkle, married to a Vermont Yankee employee.
The big opponent rally
That picture set the stage for the next day. Plant supporters were not confrontational, but they were not hiding in the closet, either.
On March 22, 1300 people came to Brattleboro to protest the plant. They wore different hats indicating their "affinity groups," and stilt-walkers and persons with megaphones accompanied them. Some demonstrators had taken the kind of training they needed in order to be arrested. (The protest organizers had said that only people who had taken non-violence training could volunteer to be arrested.) Over 100  protestors were arrested. Though the protest was peaceful, the town of Brattleboro was mostly shut down for several hours. This was much to the annoyance of many people who live and work in the town.
Once again, however, supporters were not intimidated by the numbers of opponents. Gwen Shaculmis, a lawyer, sat on the lawn of her building, surrounded by VY4VT signs, while the protestors began their rally across the street. She was interviewed several times in the local papers and on TV. As Alan Panebaker of Vermont Digger wrote:
While the protesters made noise and created a spectacle, subtle signs lined many lawns in Brattleboro supporting the plant, which provides 650 jobs directly and around 1,000 including contractors.
And a few groups held signs saying "VY 4 VT" as the parade marched by.
Gwen Shaclumis, an attorney from Brattleboro, stood across the street from
the common while the protest ramped up.
Shaclumis said opponents of the plant neglect the fact that it is a crucial part of the regional economy.
You can see a video of the protestors and Ms. Shaclumis here.
The meaning of it all
What did we hope to accomplish? What did they hope to accomplish?
We hoped to do two things in our rally. First, we wanted to give plant personnel a chance to celebrate and be glad about the court ruling, and to know they have supporters.
Second, we wanted to encourage other supporters, just by being there, by being on TV, by having press releases about the rally in local papers. The message here:  If we can speak up in favor of nuclear energy, so can other supporters. Howard and I do not take credit for the actions of other supporters. EVERYONE's actions were part of a tapestry of pro-nuclear people who decided to be visible.
Did our rally achieve these two goals? Yes.
Did the opponent rally work? It undoubtedly encouraged the people at the rally. But I personally think that the whole stilt-walker, masks, funny hats business doesn't convince anyone who is not convinced already. I don't think that undecided people, watching on TV, would want to join the opponents' rally. Street Theater is a tired old concept.  It's so...so... '60s, perhaps?
In my opinion, the last few days in Brattleboro were a major step away from the customary silence of pro-nuclear people. Many pro-nuclear people were there; many people chose to be visible. We all encouraged each other to make a difference.
____________________
Angwin
Meredith Angwin is the founder of Carnot Communications, which helps firms to communicate technical matters. She specialized in mineral chemistry as a graduate student at the University of Chicago. Later, she became a project manager in the geothermal group at the Electric Power Research Institute (EPRI). Then she moved to nuclear energy, becoming a project manager in the EPRI nuclear division. She is an inventor on several patents.
Angwin serves as a commissioner in the Hartford Energy Commission, Hartford, Vt.  Angwin is a long-time member of the American Nuclear Society and coordinator of the Energy Education Project. She is a frequent contributor to the ANS Nuclear Cafe.