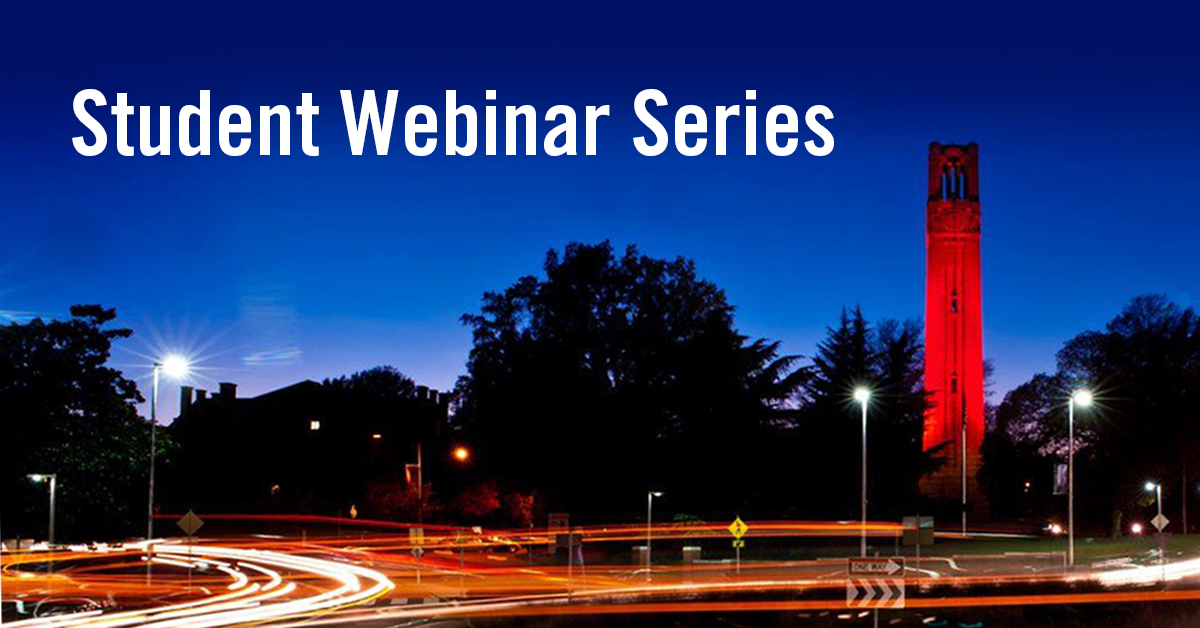 When the COVID-19 pandemic forced 2020 ANS Student Conference organizers to cancel plans to meet in person on the campus of North Carolina State University, they already had a full calendar of events and hundreds of registered attendees. While the meeting could be rescheduled, graduating students who had signed up to participate in the Student Design Competition would miss the chance to present their research. Finding a way for those students to present their work was a priority.
The solution:NC State students, ANS staff, and the Student Sections Committee quickly made a plan. NCSU would host the ANS Student Conference in 2021 and would also help turn some of the planned conference sessions—including the design competition—into a three-part Student Webinar Series. Conference planners shifted their focus to setting the stage for a dynamic online program that could deliver some of the experience of being at an in-person conference.
"These students would have had a large audience see their presentations at the Student Conference," explained 2020 ANS Student Conference General Chair Ishita Trivedi. "To simulate that atmosphere and experience virtually, we decided to create the three-part series introducing some of the more exciting content of the ANS 2020 Student Conference that would invoke interest in the community. We successfully advertised the design competition in the preceding webinars to maintain excitement among the audience."
By all measures the Student Webinar Series was a success. Held on three consecutive Fridays, the live webinars attracted more than 1,500 attendees. "I was very impressed by our community's ability to come together to host such a spectacular event, for the first time ever, even during such uncertain times," Trivedi said.
Expert voices:Rita Baranwal, assistant secretary for the Office of Nuclear Energy at the U.S. Department of Energy, had been scheduled to deliver a keynote address at NC State. Instead, she was the featured presenter during a plenary webinar session held on March 27—the day the in-person conference would have begun. Baranwal spoke about the DOE's portfolio of nuclear science and technology projects, including the Versatile Test Reactor, nuclear hydrogen production demonstrations, and microreactor demonstrations. She discussed the potential for nuclear fuel recycling in the United States and encouraged students to take advantage of education and research opportunities.
ANS Executive Director/CEO Craig Piercy then led a lively Q&A session, moderating the real-time questions that webinar attendees posed to Baranwal. "Our student members are leading the way on adapting to the COVID pandemic," Piercy said. "They're asking the right questions and preparing for careers that see the promise in realities."
The follo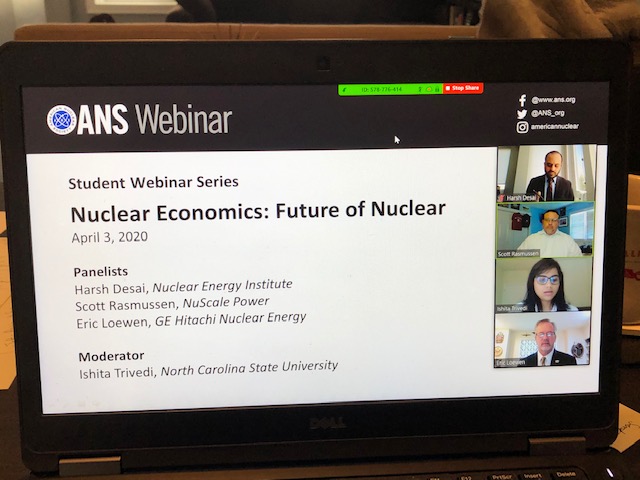 wing week Trivedi moderated a webinar on "Nuclear Economics: Future of Nuclear" that featured Young Members Group Chair Harsh Desai, of the Nuclear Energy Institute; ANS Past President Eric Loewen, of GE Hitachi Nuclear Energy; and Scott Rasmussen, of NuScale Power, discussing the economic drivers for operating nuclear power plants and what will be needed to bring new nuclear plants online.
Student Design Competition:The Student Webinar Series culminated on April 10 with the ANS Student Design Competition, supported by the ANS Education, Training & Workforce Development Division and the ANS Young Members Group. Ten teams competed to win $4,500 in prize money. In first place (winning $1,300) was a team from West Point that developed a paper on "The Use of an Organic Liquid Scintillator for a Deployable Neutron Multiplicity Counter." Coming in second (and winning $1,100) was a team from Ontario Tech University with a paper on "Micro-Nuclear Reactor for Canadian Arctic Applications."
For a complete list of winners and to view the Student Webinar Series, visit webinars on demand.