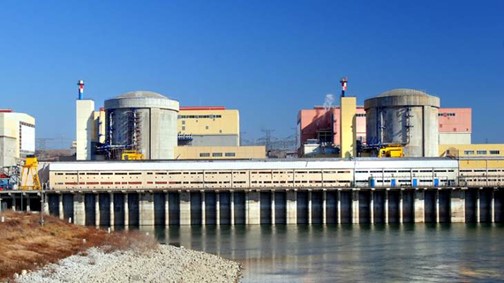 Canada will provide C$3 billion (about $2.2 billion) in export financing to Romania's nuclear operator, Nuclearelectrica, in support of Canadian participation in the project to complete Units 3 and 4 at the Cernavoda nuclear plant, Canadian minister of energy Jonathan Wilkinson announced last week.
Located in southeastern Romania, Cernavoda is the country's only nuclear power facility. It is home to two operating 650-MWe CANDU-6 pressurized heavy water reactors—Units 1 and 2—plus the partially completed 720-MWe CANDU-6 Units 3 and 4, work on which was halted not long after the collapse of the Ceaușescu regime some 34 years ago.
Projected benefits: According to Wilkinson's September 19 announcement, construction of Cernavoda-3 and -4 will achieve the following:
Support economic activity across Canada's nuclear sector and broader power sector.
Drive down emissions while helping Romania phase out coal power by 2032.
Add 1,400 megawatts of clean, nonemitting electricity production capacity to Romania's grid.
Unlock Romania's potential to become a regional hub for secure energy in the face of Russian energy intimidation, while enabling support for Moldova and Ukraine.
Official words: "The export financing announced today to support our Romanian partners will support the creation of new good jobs and economic activity in Canada," declared Wilkinson. "The new Cernavoda reactors will leverage Canadian CANDU technology to deliver clean and reliable power to communities while contributing to Canada's efforts to support European energy security. Canadian nuclear expertise will continue to play an important role in helping the world accelerate to a clean and secure energy future."
Romania's energy minister Sebastian Burduja, who joined Wilkinson in Ottawa for the announcement, noted, "Our countries' bilateral relations go way back. In the '70s, Romania took the historical [sic] decision to be the only country behind the Iron Curtain to develop a nuclear program based on Western technology and the only European country to choose CANDU technology for its nuclear program. As the current geopolitical context has shown, this was the best decision that Romania could have taken at that time. From that point onward, the cooperation between our countries has only grown stronger. I am proud to reaffirm today our unwavering commitment to a long-term and prosperous cooperation between our countries in the nuclear field."
Cosmin Ghiță, director general of Nuclearelectrica, welcomed the news in a September 20 statement. "We are proud and honored to continue the strategic partnership we have had with Canada for over 55 years by operating the only CANDU technology plant in Europe, and one of the best performing in the world in terms of high capacity factor," he said. "Our civil nuclear projects are benchmarks for the nuclear power industry globally and a significant step toward a clean and sustainable energy future with nuclear reactors. This sustainable partnership can set an example for other countries that intend to develop an energy strategy using clean, resilient, and affordable energy—nuclear power."
In case you missed it: Nuclearelectrica announced in June the signing of a support agreement with the Romanian government for further development of the Cernavoda project. According to the utility, the new pact, signed June 9, allows for the start of stage-two activities, including "conclusion of contracts for the elaboration of the critical engineering necessary for the updating of the project; updating the project budget; structuring and contracting the financing and agreeing to an adequate contractual architecture for the implementation of the project; obtaining the favorable opinion of the European Commission . . . ; obtaining the nuclear safety authorization for the construction phase and taking the final investment decision for the transition to stage III (construction)."