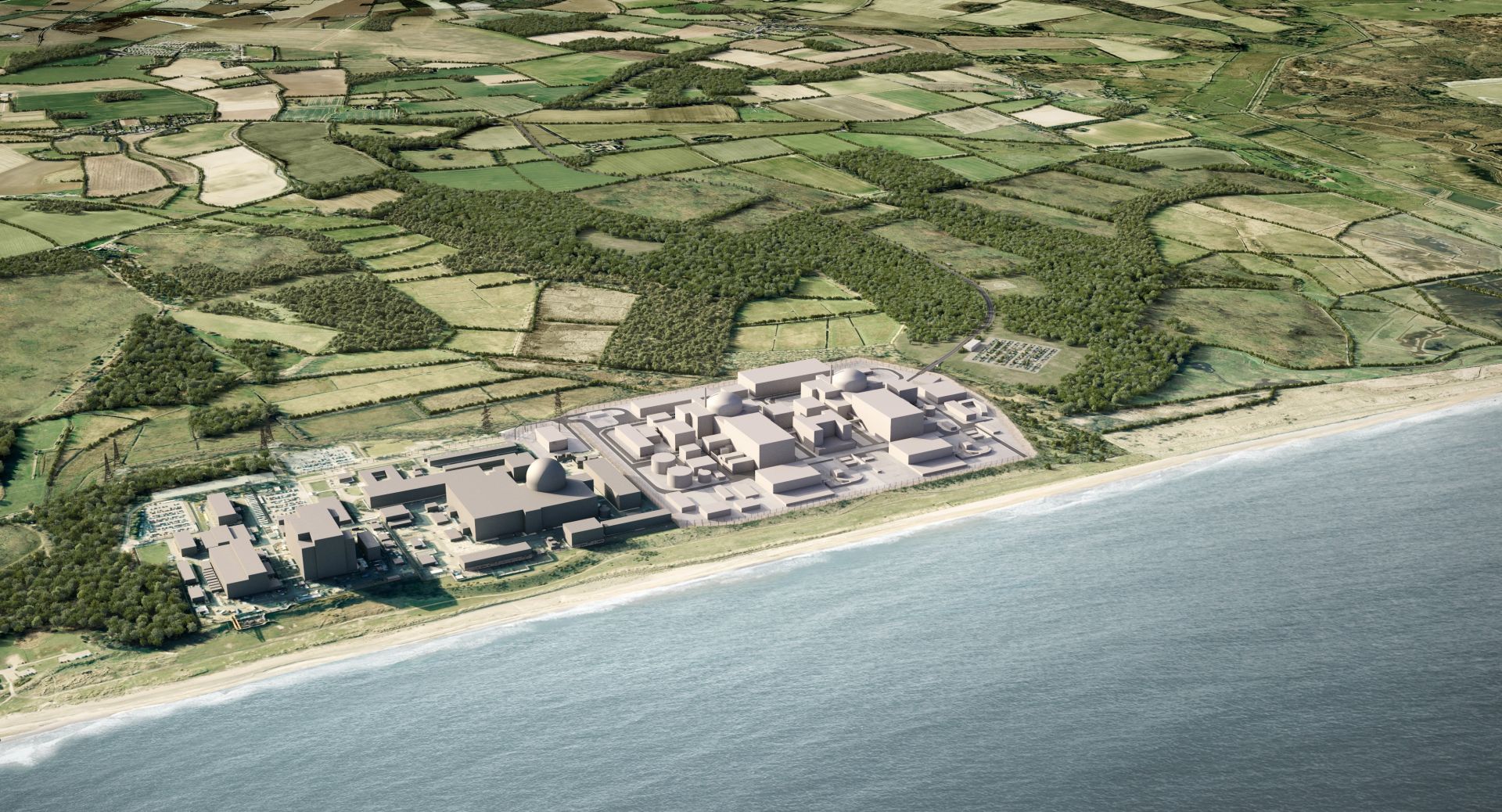 In the second tranche of planned investment in Britain's nuclear sector this summer, the U.K. government has made available £341 million (about $426 million) of previously allocated funding for development work on the proposed Sizewell C project in Suffolk, England.
This latest funding will help prepare the site for construction by procuring key components from the project's supply chain and expanding its workforce, according to an August 29 announcement from the Department for Energy Security and Net Zero. Anticipated work includes building on-site training facilities for 1,500 apprenticeships, further developing the plant's engineering design, and directing investments in the local community ahead of construction.
Like Somerset, England's Hinkley Point C nuclear plant (currently under construction), Sizewell C would comprise two EPR units, generating a total of 3.2 GW of electricity, equivalent to 7 percent of the United Kingdom's electricity needs. This, the announcement stated, would help the government fulfill its ambition to have up to 24 GW of the nation's power coming from nuclear sources by 2050—four times the current level.
Background: The U.K. government established a £679 million (about $848 million) investment scheme in November of last year to fund Sizewell C's continuing development so that the project could be brought to a point at which a final investment decision could be made during the current Parliament.  This July, £170 million of additional funding was announced as a permitted legacy subsidy modification to the investment scheme under the United Kingdom's subsidy control rules. The £341 million that has now been made available represents a permitted legacy modification to the same scheme, according to the announcement.
The government estimates that Sizewell C will provide reliable, low-carbon power to the equivalent of 6 million British homes over 60 years—keeping some 9 million tons of carbon dioxide out of the air each year—and support 10,000 jobs nationwide at the peak of construction work, with 70 percent of the value of construction contracts in the supply chain going to U.K. businesses.
Official words: "Sizewell C will be a significant part of the revival of nuclear energy in this country—providing clean, homegrown power to millions of homes, providing thousands of jobs, and ending reliance on foreign electricity to bolster our energy security," said Andrew Bowie, minister for nuclear and networks. "Today's funding announcement is a clear demonstration of the government's commitment to this vital project and will mean the site will be shovel-ready and work able to start much more quickly."
Sizewell C Company's joint managing director Julia Pyke said, "This is great news and puts us in an even stronger position to start full construction. It will also allow us to implement several community schemes over the next few months. We want people living near Sizewell C to see the benefits of the project as soon as possible, and we're looking forward to getting started on a range of proposals which will bring real improvements to the area well before the main construction gets underway."