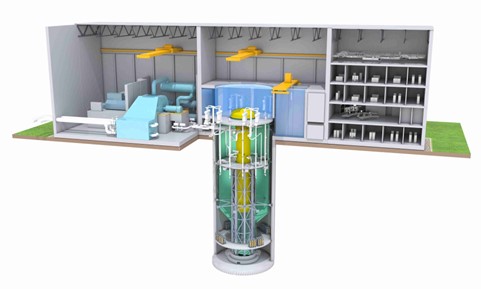 The Canadian government continued advancing its small modular reactor action plan on Saturday with the approval of up to C$74 million (about $54.6 million) in federal funds for SMR development in Saskatchewan, led by the province's main electricity provider, SaskPower.
Jonathan Wilkinson, Canada's minister of energy and natural resources, announced the funding at the Sylvia Fedoruk Canadian Centre for Nuclear Innovation at the University of Saskatchewan in Saskatoon. A participant in the government's SMR plan, the center was established in 2011 to help place Saskatchewan among the global leaders of nuclear research, development, and training.
The new funding will go to support pre-engineering work and technical studies, environmental assessments, regulatory studies, and community and indigenous engagement to help advance the project, according to an August 19 government news release.
From the C$74 million total, up to C$50 million (about $36.9 million) will go to SaskPower from Natural Resources Canada's Electricity Predevelopment Program, and more than C$10 million (about $7.4 million) will go to the Saskatchewan government from Environment and Climate Change Canada's Future Electricity Fund, the release stated.
Official words: "Delivering clean, reliable, and affordable electricity will look different in every region of Canada," said Wilkinson. "That is why the government of Canada is committing up to C$74 million to explore the potential for small modular reactors in Saskatchewan to provide abundant non-emitting power, drive economic growth, and create good jobs throughout Saskatchewan. With today's announcement, we are investing in the future of nuclear technology, building on Canada's decades-long legacy as a responsible global leader in nuclear power, and leveraging Saskatchewan's world-leading production of uranium to position the province to thrive in a rapidly decarbonizing global economy."
Steven Guilbeault, Canada's minister of environment and climate change, added that "Saskatchewan has a significant competitive advantage with an abundance of natural resources to be a leader in the development of a clean, affordable, and reliable electricity grid" and that "building a clean electricity grid in Saskatchewan is good for the economy, good for communities, and good for the planet."
Background: In June of last year, SaskPower chose GE Hitachi Nuclear Energy's BWRX-300 SMR for potential deployment in Saskatchewan in the mid-2030s. The assessment process focused on a variety of factors, including safety, technology readiness, generation size, fuel type, and expected cost of electricity. In addition, the assessment involved a collaboration with Ontario Power Generation, which in December 2021 selected the BWRX-300 as the SMR technology to be deployed at its Darlington nuclear plant.
SaskPower said at the time that its selection of the same technology would help enable a pan-Canadian fleet-based approach to SMR deployment, which could offer many advantages—such as lower regulatory, construction, and operating costs—while eliminating first-of-a-kind risk. The utility also noted that it would not make a final decision regarding SMR construction in the province until 2029.
Also, as part of its planning and regulatory activities to potentially build SMRs, SaskPower in September 2022 selected the Estevan and Elbow regions of Saskatchewan for further study. The Estevan study region includes the areas around Boundary/Rafferty dam and around the Grant Devine dam, while the Elbow region encompasses the area around Lake Diefenbaker, from Gardiner dam to the Diefenbaker dam.