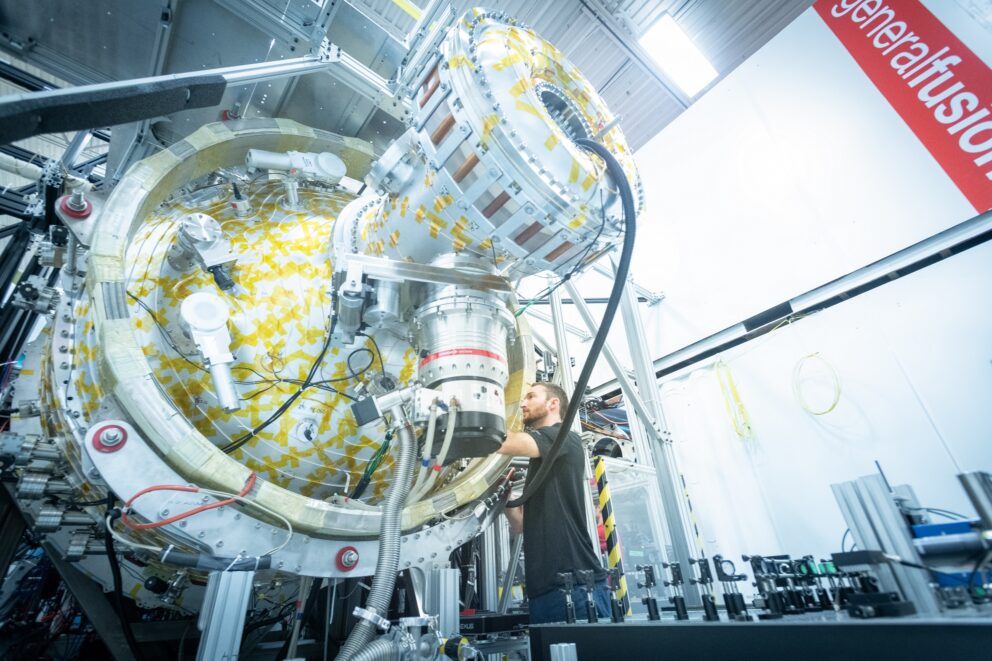 General Fusion announced on August 9 that it will build a fusion machine called Lawson Machine 26 (LM26) at the company's new headquarters in the city of Richmond, British Columbia, near Vancouver. The machine is intended to achieve fusion conditions of over 100 million degrees Celsius by 2025 and progress toward scientific breakeven by 2026 to support the company's vision of commercial fusion energy by the early to mid-2030s.
General Fusion also announced it has recently secured a combined $25 million in funding, anchored by existing investors BDC Capital and GIC and including new grant funding of C$5 million (about $3.7 million) from the government of British Columbia.
The technology: General Fusion, established in 2002, uses a hybrid of both magnetic and inertial confinement fusion concepts that the company calls magnetized target fusion. Its self-described "game-changer" technology is "a proprietary liquid metal liner in the commercial fusion machine that is mechanically compressed by high-powered pistons. This enables fusion conditions to be created in short pulses rather than creating a sustained reaction. General Fusion's design does not require large superconducting magnets or an expensive array of lasers."
This, the company claims, means "the path to generating zero-carbon electricity for the grid is shorter for General Fusion than other approaches, which still need to address longstanding barriers to the commercialization of fusion, such as machine durability (i.e., the "first wall" issue), fuel production, simple energy conversion, and commercial production economics."
Lawson Machine: General Fusion says the LM26 demonstration machine is designed to validate the company's ability to symmetrically compress magnetized plasmas in a repeatable manner and achieve fusion conditions at scale. (LM26's plasmas will be scaled to about 50 percent those of a commercial fusion machine.) The machine will integrate General Fusion's existing operational plasma injector, PI3, with a new lithium liner compression system, and it is designed to achieve deuterium-tritium breakeven equivalent using deuterium fuel.
According to General Fusion, PI3 is one of the world's largest and most powerful operational plasma injectors, based on 24 predecessor prototypes and more than 200,000 plasma experiments. It has demonstrated plasma temperatures of 5 million degrees Celsius and a 10-millisecond self-sustaining energy confinement time.
Future plans: Over the next two to three years, General Fusion plans to work closely with the U.K. Atomic Energy Authority to validate the data gathered from LM26 and incorporate it into the design of a planned commercial-scale demonstration plant to be built at the UKAEA's Culham Campus near Oxford. The company announced plans for that demo in June 2021 and announced in January 2023 that construction would begin this summer, with full operations targeted in 2027.
"Our updated three-year Fusion Demonstration Program puts us on the best path forward to commercialize our technology by the 2030s," said chief executive officer Greg Twinney.
General Fusion has previously announced a memorandum of understanding with Canadian Nuclear Laboratories to support a potential commercial power plant in Canada using General Fusion's design.