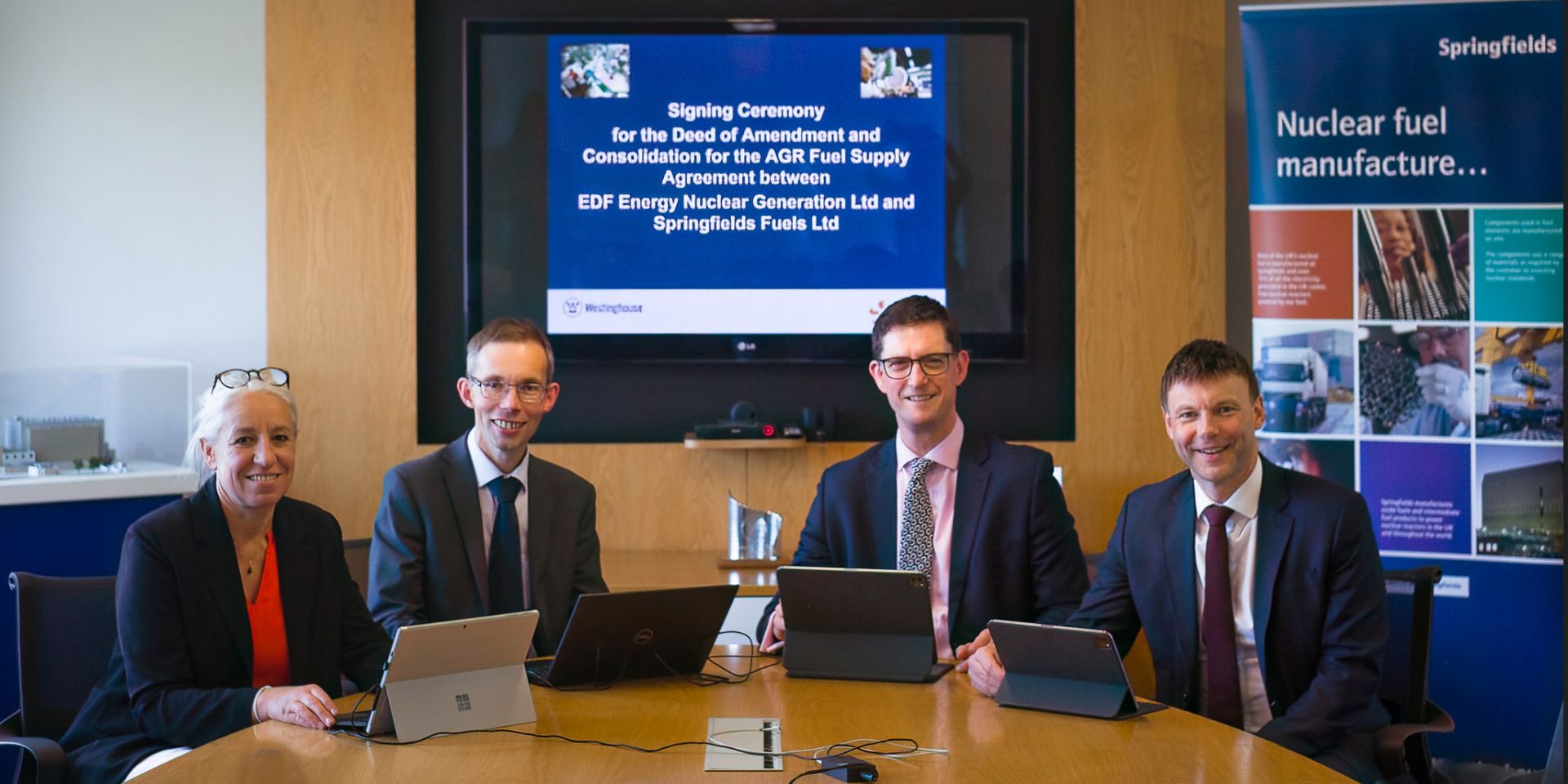 Westinghouse Electric Company has signed a contract extension with EDF Energy to supply fuel for the United Kingdom's advanced gas-cooled reactor (AGR) fleet, the American firm announced yesterday.
The fuel will be supplied by Westinghouse's Springfields fuel fabrication facility, located in Salwick in Lancashire, England.
EDF Energy's current fleet of operating AGR plants includes the two-unit Hartlepool in Durham, the co-located two-unit Heysham 1 and two-unit Heysham 2 in Lancashire, and the two-unit Torness in East Lothian. This March, EDF Energy announced that it intends to keep the Hartlepool and Heysham 1 stations in operation to March 2026—two years past their previously scheduled 2024 retirement dates. The estimated March 2028 closure dates for Heysham 2 and Torness remain unchanged. (Under an agreement with the U.K. government signed on June 23, 2021, EDF Energy was tasked with defueling all of Britain's AGR nuclear stations by the end of the decade.)
Signers' language: "We are delighted to reach this agreement with [EDF Energy], which further reinforces an already strong partnership established over 40 years ago when the Springfields site manufactured the initial fuel for the U.K.'s first commercial AGR," said Tarik Choho, president of nuclear fuel for Westinghouse. "We are proud of this legacy and that the Springfields team can provide ongoing services and support to the AGR stations for the years to come."
Added Mark Hartley, managing director of EDF Energy's generation business, "It has never been more important that the U.K. has a secure, affordable supply of low-carbon electricity. EDF is working hard to make sure the AGR fleet continues to be an important part of that supply for as long as possible, and signing this agreement with Westinghouse is a key part of that work."
In case you missed it: In late March, Westinghouse announced the signing of an agreement with ČEZ, owner and operator of the Czech Republic's nuclear power plants, to supply VVER-440 fuel assemblies to the Dukovany facility. Fuel deliveries will commence next year, replacing Russia's TVEL fuel, with an anticipated term of seven years. One of the Czech Republic's two nuclear power plants, Dukovany houses four Russian-supplied VVER-440/V213 reactors.
The contract followed the companies' agreement in June of last year for the provision of modified Robust Westinghouse Fuel Assemblies (RWFA) for the Czech Republic's other nuclear plant, Temelín, home to two VVER-1000/V320 units.