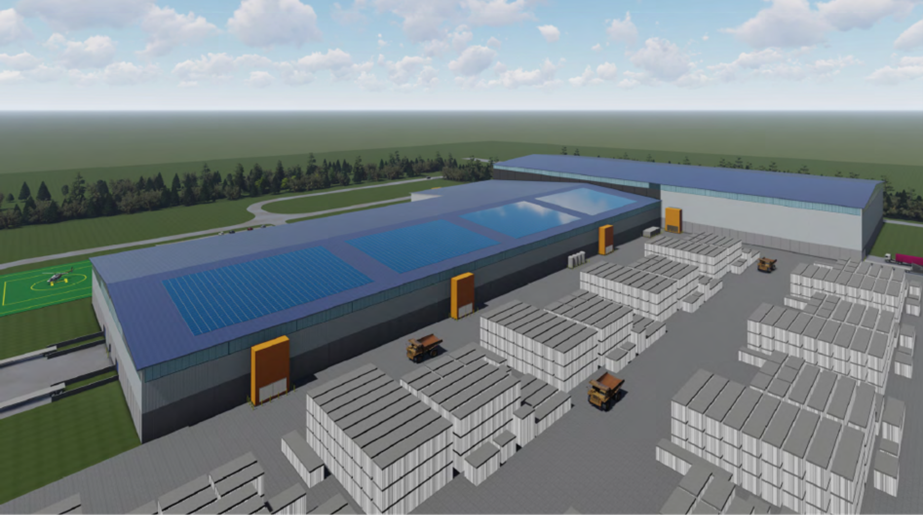 Ultra Safe Nuclear (USNC) announced on June 21 that it has selected the city of Gadsden, Ala., to host a $232 million MMR assembly plant. Modules for the company's high-temperature, gas-cooled and TRISO-fueled microreactor, dubbed the Micro-Modular Reactor (MMR), would be manufactured, assembled, and tested at the "highly automated facility" once it is in operation.
USNC expects construction of the 578,000-square-foot factory to start in 2024 and operations to begin in 2027. The facility will be adjacent to the Northeast Alabama Regional Airport and will be capable of producing up to ten complete MMR units per year, according to USNC.
Gadsden is game: USNC selected the Gadsden site after "a yearlong search spanning 16 states and hundreds of potential sites," with evaluation factors including site suitability and infrastructure, skilled workforce availability, and overall project economics. USNC "emphasized that no radioactive material is to be used or stored" at the factory, which would employ 250 professional and technical workers.
"We are attracted to Gadsden by their skilled workforce and the outstanding training programs and support they are bringing to the table," said Ted Coulter, plant director for the planned facility. "In Gadsden, I have confidence we can hire local talent and operate with both safety and efficiency. We are looking forward to becoming a member of the community."  Gadsden has a population of about 33,000.
"This is a game changer for Gadsden," said Mayor Craig Ford. "With this plant being focused on manufacturing and assembly, our workforce is built for exactly this type of industry. We look forward to filling the hundreds of innovative, technology-driven jobs once this new assembly plant becomes operational in 2027."
The deal: The deal was formalized in a project agreement executed between Alabama Gov. Kay Ivey and USNC, and was announced by USNC chief nuclear officer Dan Stout during the Advanced Reactors Summit X and Technology Trailblazers Showcase in Charlotte, N.C.
"We appreciate the interest and support for this effort from the City of Gadsden, Etowah County, the Alabama Department of Commerce and so many others, including Governor Ivey and her talented team," said Stout. "We especially appreciate the guidance and efforts of April Gray at the Department of Commerce and David Hooks of the Gadsden-Etowah Industrial Development Authority in making this project a reality."
"Alabama is home to an impressive array of highly innovative companies, so our state is an ideal place for Ultra Safe Nuclear's new advanced microreactor assembly plant," said Ivey. "This unique facility will benefit the Gadsden community through a significant investment and the creation of good jobs while also reinforcing Alabama's reputation for cutting-edge manufacturing operations."
Pilot fuel plant delivers fuel: On June 13, the company announced that it had delivered TRISO fuel particles—similar to the TRISO particles that would fuel the MMR—to NASA's Space Nuclear Power and Propulsion program for potential use in nuclear thermal propulsion.
The fuel delivered to NASA consisted of uranium nitride kernels with a tristructural zirconium carbide outer coating surrounding pyrolytic carbon and porous carbon buffer layers, and it was produced at USNC's Pilot Fuel Manufacturing facility, located on the former K-25 site at Oak Ridge, Tenn. USNC celebrated the facility's opening in August 2022.
"It's great to see industry stepping up with investment in infrastructure that delivers," said Jason Turpin, space nuclear propulsion program manager for NASA. "Advanced capabilities like the Pilot Fuel Manufacturing facility mean more tools in the NTP toolbox and that provides a shorter and clearer path to success."
Ethan Chaleff, program manager for nuclear propulsion at UNSC, emphasized how this fuel delivery aligns with USNC's own NTP ambitions. "Delivering fuel to NASA seemed like a distant dream only a few years ago. . . . It's both motivating and exciting how this achievement further enables our efforts to deploy NTP for both government and commercial applications."