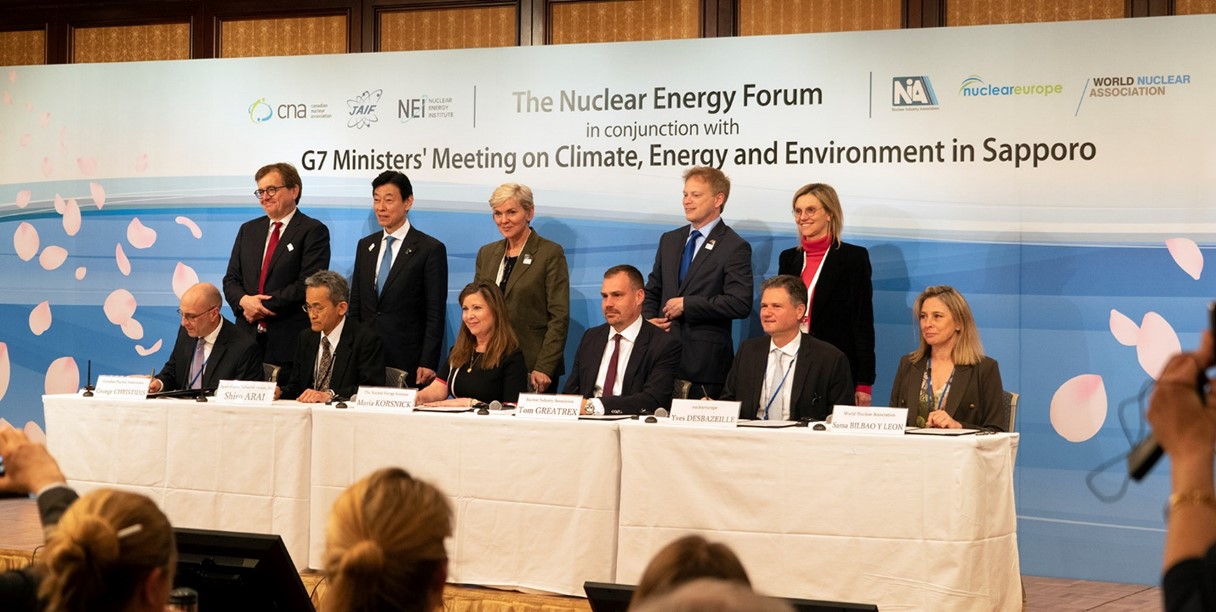 G7 governments should support life extension for today's power reactor fleet, restart operable units, and accelerate the deployment of advanced reactors, states a joint declaration issued April 16 at the Nuclear Energy Forum, a first-of-its-kind colloquy held on the margins of the G7 Ministers' Meeting on Climate, Energy and Environment in Sapporo, Japan.
Signing the document were George Christidis, vice president of government affairs for the Canadian Nuclear Association; Shiro Arai, president of the Japan Atomic Industrial Forum; Maria Korsnick, president and chief executive officer of the Nuclear Energy Institute; Tom Greatrex, chief executive of the Nuclear Industry Association; Yves Desbazeille, director general of Nucleareurope (formerly Foratom); and Sama Bilbao y León, director general of the World Nuclear Association.
Other recommendations in the declaration include the following:
Support international cooperation and the nuclear supply chain.
Develop a financial environment that promotes investment in nuclear power.
Harmonize and modernize highly efficient international regulatory standards.
Support innovative nuclear technology development.
Promote public understanding of nuclear energy.
Collaborate internationally to share best practices, including working toward the realization of final nuclear waste disposal.
Support countries that have newly introduced, or are considering, nuclear energy.
Key quotes: In her keynote remarks, U.S. energy secretary Jennifer Granholm said that the forum displays a "real seriousness of purpose among the G7—or five of the G7—to focus on nuclear. We are really standing at the dawn of a new nuclear age . . . nuclear is a critical, clean, baseload power."
U.K. energy security secretary Grant Shapps added, "Deployment of proven, reliable, safe nuclear technology demonstrates that we are serious about energy security and climate action."