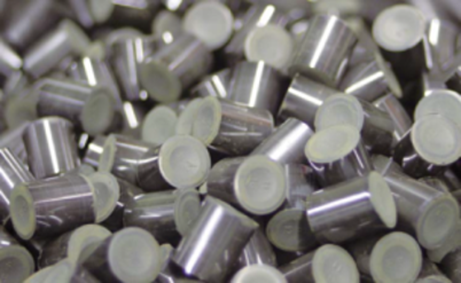 Westinghouse Electric Company announced on March 14 that the Nuclear Regulatory Commission has approved the use of the company's Advanced Doped Pellet Technology (ADOPT) fuel pellets in U.S. pressurized water reactors. That approval brings the company closer to loading lead test assemblies containing ADOPT accident tolerant fuel pellets in Unit 2 of Southern Nuclear's Vogtle plant.
Lead test plans: Southern Nuclear announced in January 2022 that it had signed an agreement to load four lead test assemblies into Vogtle-2 in "the first planned installation of enrichments of uranium-235 greater than 5 weight percent in a domestic commercial reactor." According to Westinghouse, the agreement calls for "licensing and manufacturing in 2023."
High-assay low-enriched uranium (HALEU) includes uranium enriched to between 5 and 19.75 percent U-235, above the traditional 5 percent threshold for commercial reactors. The fuel pellets that are to be installed at Vogtle-2 contain uranium enriched to 6 percent—1 percent higher than the current license limit. According to Westinghouse, "Through its increased uranium density, ADOPT fuel . . . enables U.S. customers to improve fuel cycle economics and extend their operating cycles."
Doped: The NRC explains that fuel manufacturers create doped fuel pellets by mixing other materials, known as dopants, into the pellet during the manufacturing process. Dopants change the pellets' physical properties—for instance, in pursuit of reduced fuel pellet rigidity that in turn could reduce the risk of cladding damage and support more flexible plant operations. Doped pellets also feature increased ceramic grain size to promote fission gas retention within the fuel pellet, which could decrease the release of radioactive gases in the event of a postulated accident.
Westinghouse and other U.S. fuel companies have carried out fuel development work with funding from the Department of Energy's Accident Tolerant Fuel Program.
Future plans: "With this important milestone, ADOPT fuel becomes the first product within Westinghouse's EnCore Accident Tolerant Fuel Program that is licensed for U.S. PWRs," said Tarik Choho, Westinghouse president in charge of nuclear fuel. "ADOPT fuel is the result of two decades of in-reactor experience and provides our customers with improved fuel cycle economics and safety margins. This major achievement illustrates Westinghouse's commitment to the future of nuclear power."
Westinghouse is contracted to deliver reload quantities of ADOPT fuel for three units beginning in 2025.