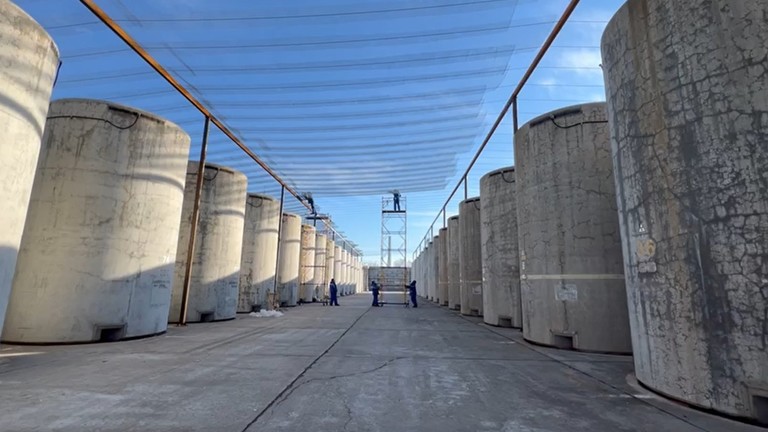 Russia has begun construction of protected covering at Ukraine's Zaporizhzhia nuclear power plant, according to a December 17 report from Russian news outlet RT. The story has been picked up in the West by some news agencies but has not been widely circulated.
Vladimir Rogov, a Russian-appointed official in Zaporizhzhia Oblast, said, "Russia is constructing a protective dome over spent radioactive fuel stores at the [Zaporizhzhia] nuclear power plant as Ukrainian forces continue to target the facility."
Russian officials have claimed for months that Ukrainian artillery shells and armed drones are endangering the plant, while Ukrainian officials have blamed Russian forces for the attacks. In late November, Ukraine's state-owned nuclear utility Energoatom released a statement, via the Telegram messaging platform, reporting shelling that resulted in "at least 12 hits" and damaged equipment. The International Atomic Energy Agency has repeatedly condemned the recurring attacks while refusing to cast blame.
Protection from shelling: According to the RT story, Rogov posted the news on Telegram, along with a short video showing what appears to be a covering being built over the Zaporizhzhia plant's waste storage tanks. "A protective dome is being installed at the ZNPP over the spent nuclear waste storage facility," his post read. According to RT, Rogov explained that the dome is intended to "protect the storage facilities from shrapnel and improvised explosive devices carried by drones" and will be reinforced at a later date.
A dangerous situation: "The construction of the dome comes amid continued attacks on the [Zaporizhzhia] nuclear power plant and the nearby town of Energodar, which Moscow blames on Kiev," continued the RT report. "Russia has repeatedly said that such strikes could result in a nuclear disaster." Meanwhile, Ukraine maintains that Russia is using the plant as storage for heavy weaponry and as a cover for launching attacks—a claim Russia has denied. IAEA director general Rafael Grossi has said that whoever is responsible for the attacks is "playing with fire."