Meteorological winter is here, and a chill is gripping northern Europe. Predictably, renewable generation has entered a seasonal lull and heating demand is up, despite a push to conserve natural gas, which means electricity and gas bills are up too. With a grudging nod to reality, German chancellor Olaf Scholz ensured in October that Germany's three remaining nuclear power reactors will provide a few more months of clean, reliable power. Their premature closure, once scheduled for December 31, is now expected by April 15, 2023.
What if? But what if Scholz's special dispensation hadn't been required? What if all of Germany's Generation II light water reactors of Western design had been allowed a full 60 years of operation? Excluding five Russian VVERs built in East Germany that were shut down by 1990, let's imagine the 20 LWRs that came on line during the 1970s and '80s were still operating today:
Instead of drawing on just three pressurized water reactors offering 4,055 MWe this winter, Germany could have had 13 PWRs and seven boiling water reactors, with a total capacity of 22,985 MWe.
Instead of ranking #14 out of 33 countries with operable nuclear plants at the end of 2021, Germany could have been #6.
Instead of the 6–7 percent of the country's electricity supplied by the three reactors still open today, a resurrected fleet of 20 could have provided over 30 percent.
That supply could have erased Germany's dependence on—and payments for—Russian fossil fuel imports. In the first six months of 2022, coal provided 31.4 percent of Germany's electricity, and natural gas 11.7 percent. Russia has supplied over half of the country's natural gas and nearly half of its hard coal (in 2020 data).
That supply would also mean dramatically lower carbon emissions for Germany, and Europe too. According to Electricity Maps, which tracks and posts live and historical electricity production, consumption, and price data, Germany's electricity grid regularly has a carbon intensity over 700 grams of CO2 equivalent per kWh—five or six times as high as neighboring France.

Coal dependent: The 31.4 percent of electricity produced and fed into Germany's grid that came from coal-fired power plants in the first half of 2022 represents a 17.2 percent increase in coal generation over the first half of 2021, according to the German Federal Statistical Office (Destatis). That agency's takeaway, according to a September 7 press release is that "the importance of coal-generated electricity for Germany's energy supply has continued to grow."
Destatis also states that "the electricity produced from conventional energy sources decreased by 7.1 percent to 51.5 percent of the total electricity fed into the grid, as compared with the same period a year earlier." Coal is counted as one of those conventional energy sources—and so are natural gas and nuclear power. With coal generation up, what accounts for the decrease in generation? The share of natural gas generation dropped from 14.4 percent to 11.7 percent as Germany responded to Russia's cutting off its gas exports to Germany, but nuclear energy's share of generation was cut in half, from 12.4 percent to 6.0 percent, after three baseload nuclear power reactors were retired at the end of 2021.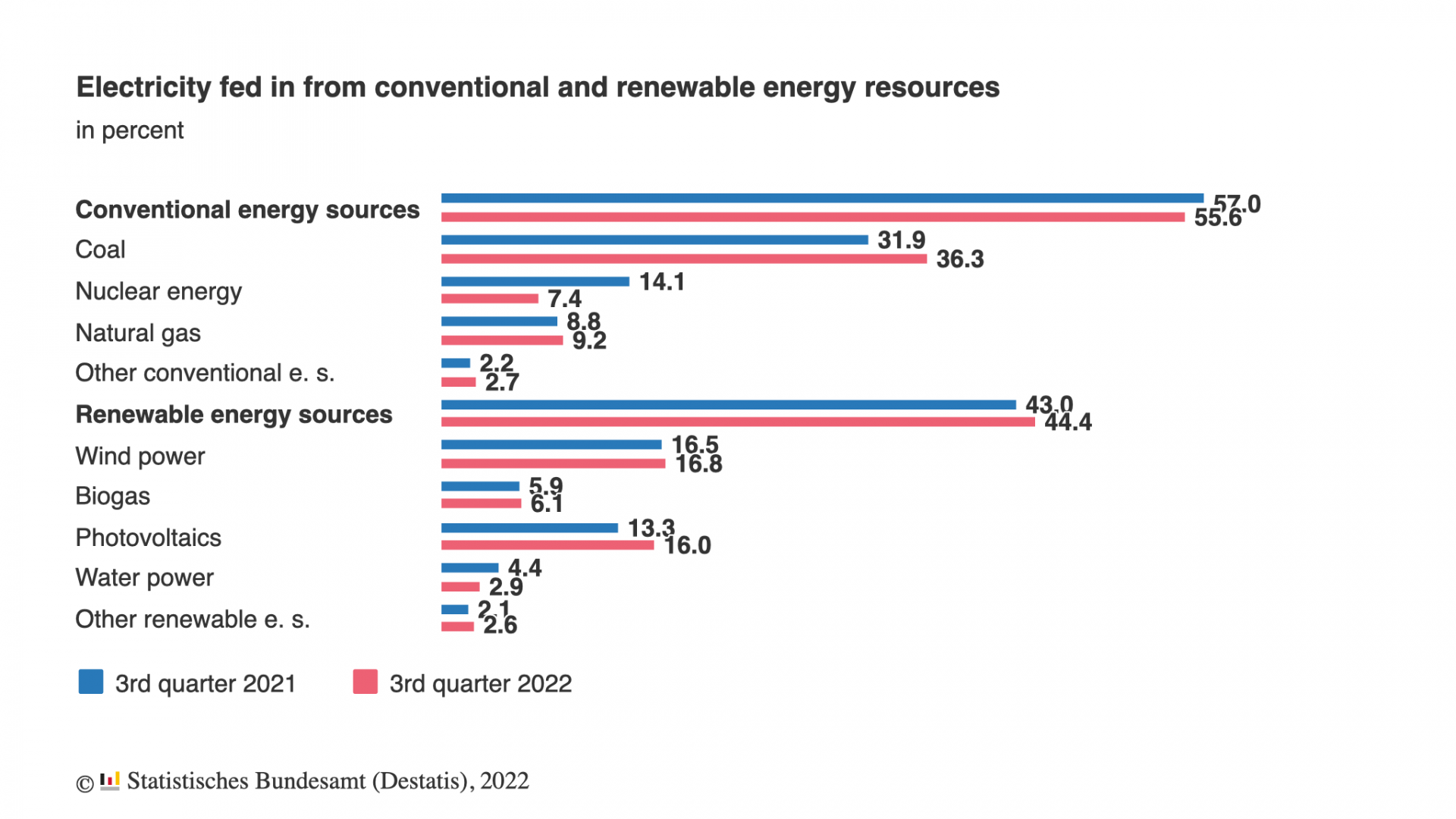 "Conventional"? The German government's choice to group nuclear power with fossil fuel power as "conventional" hides the fact that the percentage of clean electricity generation from low-carbon sources in Germany fell in 2022. Destatis announced in September that "the proportion of electricity produced from renewable energy sources rose by 12.1 percent to 48.5 percent" in the first half of 2022, compared with the first half of 2021. But clean electricity—from nuclear power and renewable power sources combined—accounted for 56.2 percent of Germany's generation in 2021. In the first half of 2022, the share of clean electricity was just 54.5 percent—the drop attributable to premature nuclear power retirements.
Data from the third quarter of 2022, released December 7, show that Germany's dependence on coal is increasing as German citizens prepare for a chilly, expensive heating season and renewable generation faces a seasonal down cycle. Over one-third (36.3 percent) of the country's electricity came from coal generation (a 13.3 percent increase over the third quarter of 2021), while natural gas generation was up 4.5 percent over the year before despite an overall decrease in electricity generation of 0.5 percent from the third quarter of 2021.