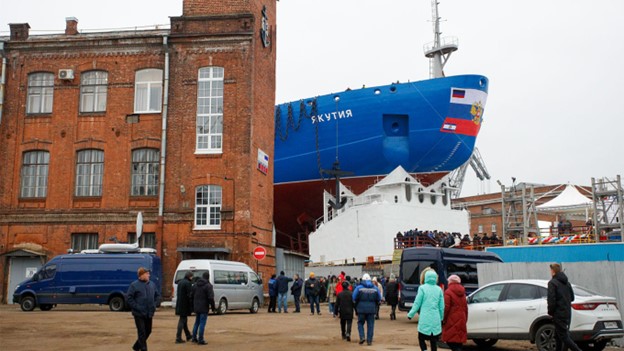 Advancing its efforts to develop the Arctic and establish new energy markets, Russia launched a new nuclear-powered icebreaker, the Yakutia, in St. Petersburg during a November 22 ceremony. At the launching in the northern Russian port city, the Russian flag was raised on another nuclear icebreaker, the Ural. Overseeing the events via video link from the Kremlin, Russian president Vladimir Putin said that the icebreakers "were laid down as part of a large serial project and are part of our large-scale, systematic work to reequip and replenish the domestic icebreaker fleet, to strengthen Russia's status as a great Arctic power."
Expanding nuclear fleet: The Yakutia, scheduled to officially join Russia's fleet of nuclear icebreakers in late 2024, and the Ural, which is to become operational in December, are 569 feet long with a displacement weight of up to 36,972 tons and are designed to smash through ice as thick as 9.8 feet. According to Putin, the vessels will help Russia increase the capabilities of its nuclear icebreaker fleet as the nation further develops the Northern Sea route, which allows Russian ships to reach important Asian ports several days faster than via the traditional Suez Canal route. The nuclear icebreakers Arktika and Sibir, currently in service, are of the same series as the two new ships. Yet another ship of this series, the Chukotka, is slated to begin service in 2026. Moreover, an even larger nuclear icebreaker, the Rossiya—which has a displacement weight of 78,683 tons and can break through ice 13 feet thick—may become operational by 2027.
Dealing with sanctions: Ongoing Western sanctions against Russia related to that country's military offensive in Ukraine, have "given new urgency to plans to redirect energy exports to Asia," in the words of the Moscow Times. The newspaper quoted Putin as saying that the Northern Sea corridor "will allow Russia to realize its export potential in full and establish an effective logistics route to Southeast Asia." The Moscow Times noted that the new icebreakers "are expected to be a game changer for Russia's use of the Arctic," as the nuclear fleet makes year-round use of the far-northern route, which has become "more accessible due to climate change."
Increasing Arctic presence: According to an article in U.S. News & World Report, increased Arctic access is also important to Russia because "vast oil and gas resources lie in Russia's Arctic regions, including a liquefied natural gas plant on the Yamal Peninsula." The article pointed out that during his 23 years in power, Putin has "strengthened Russia's presence in the Arctic, where Russia has more than 24,000 km (15,000 miles) of coastline stretching from the Barents Sea to the Sea of Okhotsk." In addition to developing the Arctic for commercial purposes, Russia has reopened many Soviet-era military bases in the Arctic since 2005.