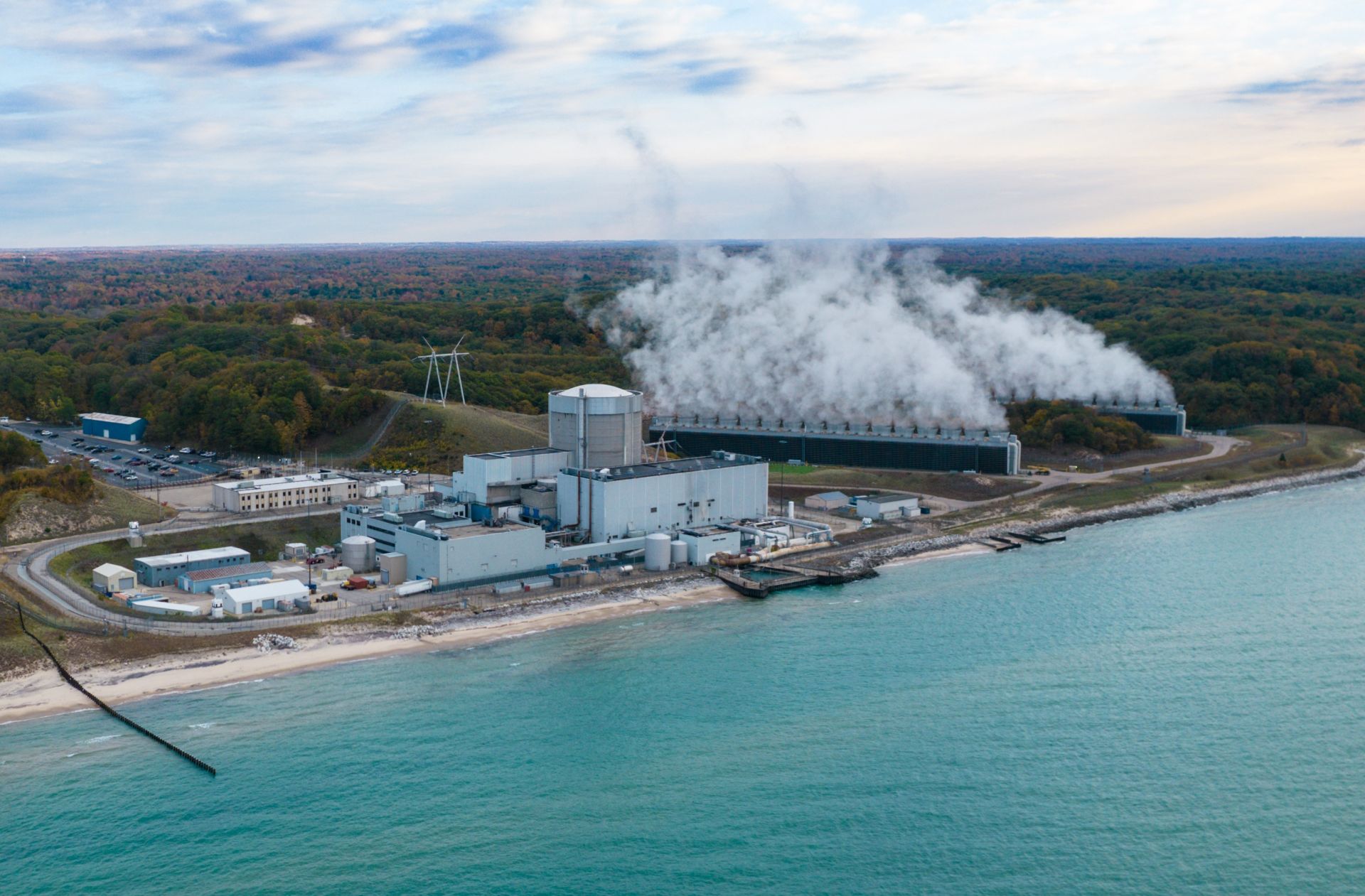 Pacific Gas & Electric's two-unit Diablo Canyon plant—California's lone operating nuclear power facility—has been deemed eligible for the initial round of funding from the Civil Nuclear Credit (CNC) Program, the Department of Energy announced yesterday.
The decision was welcomed by a nuclear community disappointed by last Friday's news that the DOE had rejected Holtec International's CNC application for the recently closed Palisades nuclear plant in Michigan, despite support for the effort from Gov. Gretchen Whitmer.
Funded by the $1.2 trillion Infrastructure Investment and Jobs Act signed into law by President Biden last November, the $6 billion CNC Program was established to offer support to nuclear power plants facing early closure for economic reasons. According to yesterday's announcement, the "conditional award of credits, valued at up to $1.1 billion, creates a path forward for Diablo Canyon to remain open. Final terms are subject to negotiation and finalization by DOE."
The first round of CNC funding focused on reactors facing the most imminent threat of closure, limiting applications to units that had already been slated for early retirement. The second round will prioritize reactors projected to shut down within the next four years. The DOE is expected to begin accepting applications for this second cycle of funding in January.
What they're saying: "This is a critical step toward ensuring that our domestic nuclear fleet will continue providing reliable and affordable power to Americans as the nation's largest source of clean electricity," said secretary of energy Jennifer Granholm. "Nuclear energy will help us meet President Biden's climate goals, and with these historic investments in clean energy, we can protect these facilities and the communities they serve."
PG&E's chief executive officer Patti Poppe termed the DOE's decision "another very positive step forward to extend the operating life of the Diablo Canyon power plant to ensure electrical reliability for all Californians," adding, "While there are key federal and state approvals remaining before us in this multiyear process, we remain focused on continuing to provide reliable, low-cost, carbon-free energy to the people of California, while safely operating one of the top performing plants in the country."
Background: PG&E agreed in June 2016 to permanently shutter Diablo Canyon-1 and -2 in 2024 and 2025, respectively, following discussions with organized labor and environmental organizations. The utility's application to close the plant was approved by the California Public Utilities Commission in January 2018.
This past August, however, due in large part to the yearslong efforts of nuclear advocates—as well as to more recent pressure from Gov. Gavin Newsom, a new convert to the Diablo Canyon cause—the California legislature easily approved a measure providing the option of extending operations at the Avila Beach facility to 2030. The legislation, S.B. 846, included a $1.4 billion forgivable loan to PG&E that was contingent on the plant's eligibility for the CNC Program. Newsom signed S.B. 846 on September 2—the same day that PG&E filed its application for CNC funds.
Holtec hurdles: The unsuccessful effort by Holtec to restart the Palisades plant can be described as unsurprising. In a September statement, the company noted that the Covert, Mich., nuclear facility faced a number of hurdles to a revival of operations, including "financial commitment from the state of Michigan, maintenance and delayed capital improvements of the facility, procuring a power purchase agreement, upgrading the switchyard, partnering with a [Nuclear Regulatory Commission] licensed operator for the restart, staffing an additional 400 or so qualified and trained staff, and, finally, a successful [DOE] application."
Following the DOE's decision on Palisades, Holtec released the following statement: "We appreciate the consideration that the Department of Energy put into our application for the Civilian Nuclear Credit Program. We fully understood that what we were attempting to do, re-starting a shuttered nuclear plant, would be both a challenge and a first for the nuclear industry. While the DOE's decision is not the outcome many had hoped for, we entered this process committed to working with our federal, state, and community partners to see if the plant could be repowered to return to service as a provider of safe, reliable, and carbon-free generation.
"We appreciate the support shown to our plant and workforce throughout this process. As we have said, both before acquiring Palisades and since taking ownership, Holtec remains committed to helping the nuclear and energy industries meet challenges and find solutions here in Michigan and across the country. That commitment remains as our employees focus on the safe and timely decommissioning of Palisades to allow for potential reuse. Our thanks to our team at Palisades who are leading its decommissioning and for whom the health and safety of our community remain the highest priority."