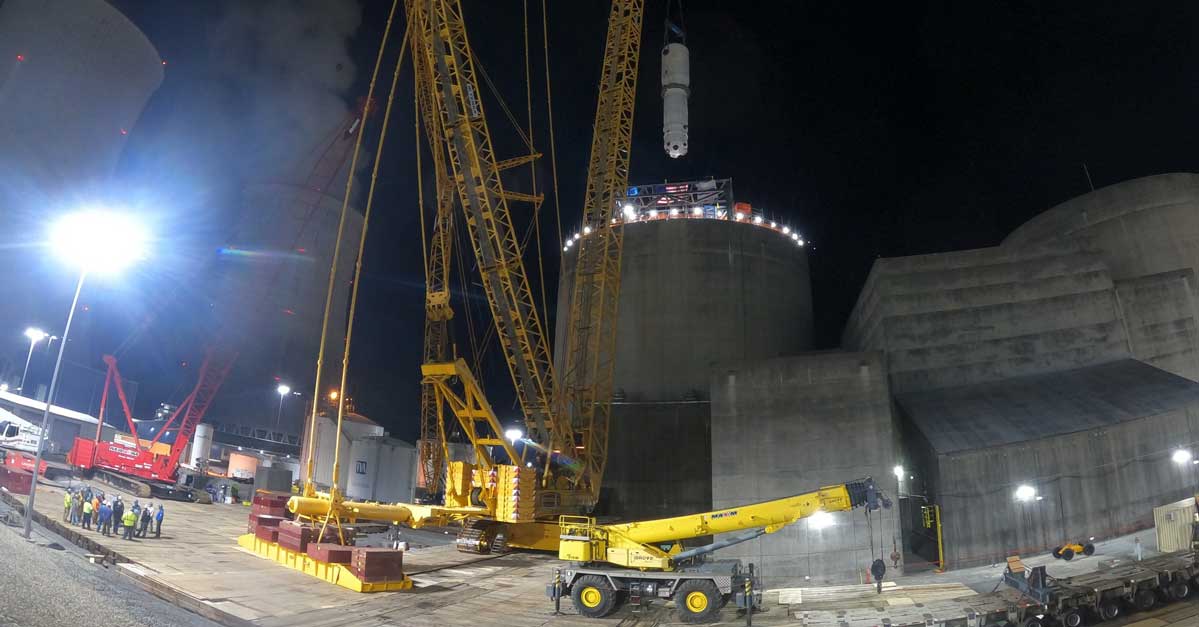 The Steam Generating Team (SGT)—a joint venture of Framatome and United Engineers & Constructors Inc.—has completed a project to replace the Unit 2 steam generators at the Watts Bar nuclear plant, Framatome announced last week.
Watts Barr's owner and operator, the Tennessee Valley Authority, awarded Framatome the contract for the work in early 2020.
Performed during a scheduled outage at Unit 2, the removal and replacement of all four 67-foot, 360-ton components required temporary openings in the reactor building dome, containment, and steam generator enclosures. According to the November 7 announcement, measurements "utilizing meticulous metrology practices, along with optimized 3D fit-up solutions and specialized machining," enabled workers to position the new, upgraded steam generators into the existing plant configuration. (The original generators for Watts Bar-1 were replaced in 2006.)
What they're saying: "This project, like many others performed by SGT, utilized our experienced team and proven processes customized for steam generator replacement," said Art Lembo, company president. "I'm especially proud of our team for completing this outage with zero recordable incidents and personnel exposure below ALARA goals, an accomplishment that speaks to SGT's vigilance in industrial and radiological safety."
Catherine Cornand, senior executive vice president of Framatome's Installed Base Business Unit, said that "SGT's performance in safely delivering this critical and technically complex project is a cornerstone in our commitment to support the long-term operations of our customers' plants in North America," while Scott Reeder, United's chief executive officer, expressed his company's satisfaction at having "performed a significant role for TVA in their investment in the life extension of the Watts Bar plant and its role in providing carbon-free, reliable power to the Tennessee Valley."
Stats: Located in Spring City, Tenn., Watts Barr houses the two youngest power reactors in the nation. The 1,173-MWe Unit 1 entered commercial operation in May 1996, and the 1,129-MWe Unit 2—the "baby" of the U.S. reactor fleet—went into service just over seven years ago, in October 2016.