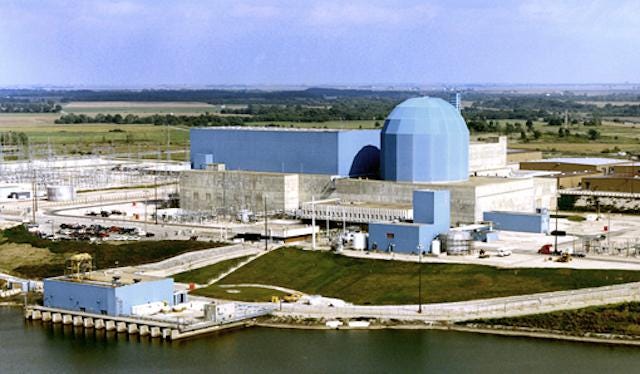 Constellation Energy, owner and operator of the nation's largest reactor fleet, will ask the Nuclear Regulatory Commission to extend the operating licenses of the Clinton and Dresden reactors by 20 years, the company announced Monday, adding that it expects to file license applications with the agency in 2024.
Still operating under its original license, Clinton's lone unit, a 1,080-MWe reactor, is authorized to run to 2027. The much older Dresden units, the 925-MWe Unit 2 and 920-MWe Unit 3, are operating under their initial license renewals, which expire in 2029 and 2031, respectively. If all license renewals are approved by the NRC, the Clinton reactor could operate until 2047, and the Dresden units until 2049 and 2051.
In its announcement, Constellation noted that the two plants, both located in Illinois, were saved from early retirement by state legislation that recognizes the environmental and economic value of nuclear energy.
In addition, according to the utility, the federal government's recently passed Inflation Reduction Act "includes a nuclear production tax credit that will help support continued operation of the nation's nuclear fleet for at least nine years."
From the C suite: "To get to zero emissions in Illinois and nationally, we will need to operate every carbon-free resource we have for as long as we possibly can," said Joe Dominguez, Constellation's president and chief executive officer. "With these extensions, Clinton and Dresden will further demonstrate the capability of nuclear assets to provide always-on clean energy when and where it is needed for decades to come, which is a testament to their unique value in addressing the climate crisis. We credit the Illinois policymakers, members of Congress, and other stakeholders who worked so hard to preserve these zero-carbon resources, and who can be proud of their role in supporting clean, reliable energy and contributing to our nation's energy security."
Background: In June 2016, Constellation, then Exelon Generation, announced that it would be moving forward with plans to shutter two nuclear plants in Illinois—Clinton and Quad Cities—in 2017 and 2018, respectively. According to Exelon, the plants had lost a combined $800 million between 2009 and 2016, despite being two of the company's top performers.
Illinois lawmakers responded to that alert in December 2016 by passing the Future Energy Jobs Act, a wide-ranging piece of legislation that was quickly signed into law by then governor Bruce Rauner. Among its many clean-energy provisions, the FEJA established a zero-emission credit program to compensate Clinton and Quad Cities for their carbon-free power generation.
Exelon returned with another warning in August 2020, announcing its intention to retire Byron and Dresden the following year, again citing long-standing economic pressures. This time, the state's legislature responded with the Climate and Equitable Jobs Act, which Gov. J.B. Pritzker signed into law in September 2021. Another sweeping measure, the CEJA included $694 million in assistance to three of Exelon's struggling nuclear plants—Braidwood, Byron, and Dresden.