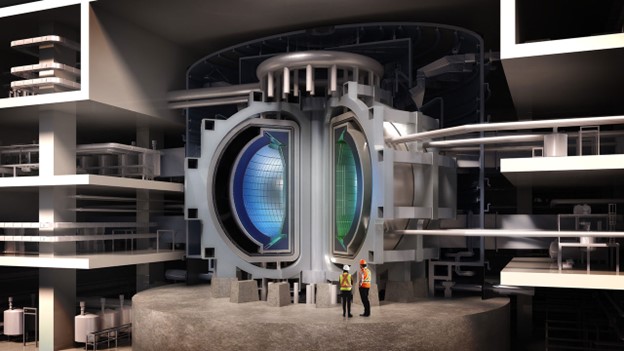 General Atomics (GA) announced on October 20 that it has developed a steady-state, compact advanced tokamak fusion pilot plant concept "where the fusion plasma is maintained for long periods of time to maximize efficiency, reduce maintenance costs, and increase the lifetime of the facility."
"Excitement for fusion energy is at an all-time high, with historic interest from private industry and government," said Anantha Krishnan, senior vice president of the General Atomics Energy Group. "We look forward to working with our partners to make our vision for economic fusion energy a reality."
Concept basics: The tokamak would use superconducting magnets to contain and shape the plasma. Microwaves would be directed into the fuel to heat the plasma to over 100 million degrees Celsius to sustain and control the plasma. Silicon carbide would be used in the walls of the liquid metal breeding blanket that would breed tritium and carry heat away from the tokamak.
The facility would utilize GA's proprietary Fusion Synthesis Engine (FUSE) to enable rapid diagnostics to optimize the power plant for maximum efficiency. According to GA, FUSE is "a highly flexible and modular modeling tool that will allow engineers, physicists, and operators to easily perform a broad range of studies spanning the design of specific components to the optimization of a power-plant concept."
Previous work: GA offers a video with few specifics about the proposed pilot concept. Some elements of the design, however, were previously explored in a paper published in the journal Nuclear Fusion in March 2021: "The Advanced Tokamak Path to a Compact Net Electric Fusion Pilot Plant." GA shared the article, saying in March 2021 that it described "a new design for a compact fusion reactor that can generate electricity and help define the technology necessary for commercial fusion power." That design targeted net electricity of 200 MWe.
The paper was prepared by researchers at the DIII-D National Fusion Facility, which is operated by GA as a national user facility for the Department of Energy's Office of Science. The researchers stated that "what is needed is a facility that can proof out the requirements and approach—a pilot plant—to establish the basis for successor low [cost of electricity] devices. Critical is to show that the energy loop can be closed with net electricity generation (somewhat arbitrarily targeting 200 MWe in this study)."
Modeling and material innovation: This year, GA has continued its fusion energy research and development efforts, announcing a modular breeding blanket concept called GAMBL (for GA Modular Blanket) in July. According to GA, using GAMBL's silicon carbide–tungsten material for interior surfaces of the tokamak offers superior heat-removal capabilities and durability, compared with conventional steel or low-activation steel.
Also in July, GA announced a joint research partnership with Savannah River National Laboratory to address challenges of tritium handling as part of the U.S. Department of Energy's Innovation Network for Fusion Energy (INFUSE) grant program.
"General Atomics has a long and storied history of being at the forefront of fusion innovations," said Brian Grierson, director of GA's Fusion Pilot Plant Hub. "We are proud to be a world leader in plasma theory and modeling, advanced materials engineering, and other areas necessary for commercializing fusion. We intend to bring the full strength of our institutional expertise to this effort as we advance our vision for fusion energy."